Dividend Cushion
Value Trap
Our Equity Component Is Hard to Pass Up
publication date:
Apr 6, 2021
|
author/source:
Brian Nelson, CFA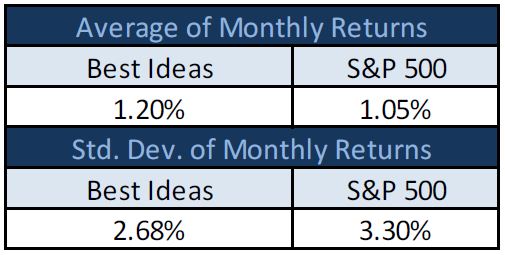 The average monthly returns and standard deviation of returns for the simulated Best Ideas Newsletter portfolio relative to its declared benchmark, the S&P 500 (SPY), on an apples-to-apples basis, from inception, May 11, 2011, through December 15, 2017, with dividends collected but not reinvested for both the newsletter portfolio and the SPY. Returns are hypothetical. Past performance is not an indication of future performance. The hypothetical returns do not represent returns that any investor actually attained and do not include management or trading fees. Valuentum is a financial publisher.
Our Equity Component Is Hard to Pass Up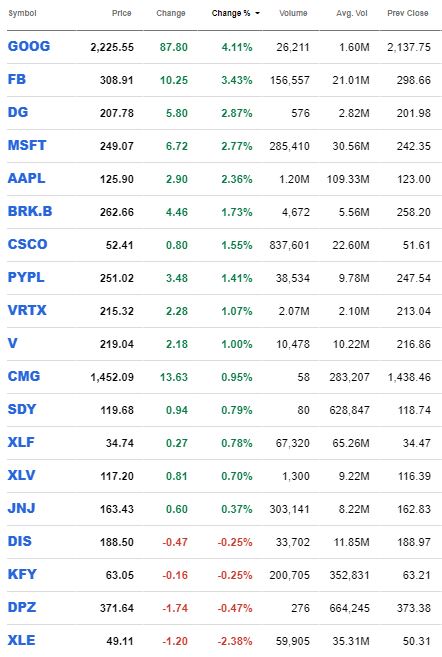 By Brian Nelson, CFA
Hope everyone had a wonderful Easter holiday.
I took some time off yesterday. An unfortunate incident recently happened to one of our team members at Valuentum (he's recovering, and I'm so thankful for him), and sometimes thinking of my recently-passed brother leaves a void of emptiness that won't ever quite be filled.
Yesterday, our newsletter portfolios were absolutely crushing it (see image to the right; source: Seeking Alpha), so I thought a day off would be healthy. Turns out, the day off was worth it. I learned more yesterday than perhaps I did during the past 10 years heading up Valuentum.
The three hour drive to Dyersville, Iowa, home of the

Field of Dreams

was a trek. But it gave me a chance to listen to part of an audio book, the first four CDs out of a set of 15 or so of Ray Dalio's Principles: Life and Work.
As my nine-year old son sat in the back seat playing on his iPad, it was a very humbling experience for me. Dalio talked about meaningful work and

meaningful relationships

. It wasn't but an hour or so into the trip where I learned how I have been on the wrong path in business (and maybe in life, too).
A rush of embarrassment swept over me.
You see -- almost everything about being an independent financial publisher like Valuentum is to discourage meaningful relationships. I can't chat personally about the markets with my dear members (or even friends) without fear of giving personal financial advice. I can't ever tell anyone what to do, when to buy, when to sell -- what to buy, what to sell. I can't do any of what makes me human, what I'm good at, and what could make our team even better -- a greater connection between us and clients.
The meaningful work part has always been easy for our talented firm. I think we've done more than any shop out there the past half dozen years or so. Saving investors tons of capital by warning about collapsing pipeline MLPs in 2015/2016, saving investors perhaps even more on the collapsing "value factor" in 2020, and then of course, our work during the COVID-19 meltdown.
The hypothetical returns and standard deviation shown in the boxes at the top of this article reflect the simulated Best Ideas Newsletter portfolio. What observers may not know is that over the time period of the study, since inception in May 17, 2011, through the end of the measurement period, the portfolio held an estimated ~25% cash position.
Think about this for a second.
If we were to scale that cash position to zero or leverage the equity component (depending on client needs/goals and risk tolerances), it would result in even more impressive hypothetical outperformance.

Clear as day, the equity component of our work is crushing it.

Not over a year, or over five years, but nearly a decade now!!!
It's not like we're just selecting and aggregating tickers either. We're building extensive discounted cash flow models and laying out our theses clear as day for all to see and follow our thought processes. Enough to bring out the champagne for a job well done, right?
Though many are very, very happy as I've come to learn after talking to a handful of our financial advisor members in recent months (about a new money management initiative I'm planning to pursue to continue to help Valuentum members and others), one call stood out to me.
"...underperformance," I repeated in my mind the last word that he had said.
I felt like I was hit by a ton of bricks. This wasn't someone that subscribed a few months ago, where we haven't had the chance to build up years of trust. This was one of the top, long-time members that, in my opinion, might benefit from hiring an equity portfolio manager.
It was difficult for me to understand his perspective--and of course, being in this business, one has to have some thick skin. But it wasn't until yesterday, my trip to Dyersville, Iowa, when it finally solidified in my mind where I had gone wrong with this long-time member.
You guessed it:

meaningful relationships.
This advisor needed my help, and as a financial publisher, my hands were tied. I didn't (because I couldn't) build the
meaningful relationship
over many years that was needed in this case--and I wouldn't ever be able to do so without setting up an advisory myself.
When I left Morningstar in 2011, I originally thought financial publishing was the gold standard to best interest. But our team at Valuentum has been doing unbelievable things, putting up amazing research and hypothetical performance, but to what end?
Without

meaningful relationships

, what then is Valuentum? Valuentum is not a "product" or "vendor." Valuentum is the people behind it. Our vast experience and know-how are the product. Our people are not the data and analytics. Data and analytics are the output of our vast experience and know-how of our people.
Knowing how to use the data is more important than the data, itself.
But there's more that doesn't quite add up as a financial publisher. For example, it should only make sense that when we put up fantastic hypothetical performance and idea generation, it should be viewed positively by members -- after all, we're doing this work for our members. [To preserve analytical independence, neither Valuentum nor me take a stake in the ideas we present.]
But a few tell me they don't want to hear it. It's puzzling to say the least. [That's part of the reason why we stopped highlighting the simulated newsletter performance in each newsletter edition.]
Since we don't capitalize on our ideas in our personal accounts in a bid to promote our core values of integrity and independence (and reduce conflicts), and if we can't showcase our awesome work in writing (and then follow up on the story arc like a good research shop should), what are we?
Here's another one:

Value Trap

took home a bronze at the Axiom awards this year, but a few months ago, at least one member was disgusted when I continued to share and teach out of the book. I'm beyond confused by this. As a financial publisher, if we cannot educate and teach, what are we? Education is basically our product at Valuentum.
Back to my drive. According to some estimates, Ray Dalio is worth $20.3 billion.
I wonder: Could you spend the rest of your life staring at your screen while some tell you that you're not worth a few bucks a year for a membership? I'm not sure that I could live with that. Can you imagine having a great talent and not ever using it? What if you weren't able to help people that you know that you can?
As I reflected on the past 10 years at Valuentum during the long drive to the famous ballpark in the cornfields of Iowa, I realized that I have made a lot of friends in this business. You know who you are. These friendships have been among the most rewarding aspect of the business.
Our in-depth analysis and commentary have paid for itself many times over during the past decade. Many, many, many times over for members. Knowing this has been rewarding, too.
However, as I move into the next chapter of my life, I want to spend more time cultivating

meaningful relationships

in a new advisory and spending more and more time making more of them [Valuentum will be here, too]. The meaningful work component is something we have down pat.
Warren Buffett has said in the past that among the most valuable attributes of an entrepreneur is their communication skills: "If you can't communicate, it's like winking at a girl in the dark--nothing happens. You can have all the brainpower in the world, but you have to be able to transmit it. And the transmission is communication."
For the past 10 years as a financial publisher at Valuentum, I feel like, in some ways, I have been winking in the dark. Huge calls. Awesome hypothetical performance. Yet, all of this has been unsatisfying in some way. I want to turn the light on with the next chapter of my life, and building

meaningful relationships

in money management is only the natural path.
Many of you have written to me about managing money, and I want to thank you for your patience as I prepare both physically and mentally for this journey. It will be one of the most courageous steps in my life and career, but as the months pass, I feel it a necessary one. The time will come, so please stay tuned. Thank you for being here, and thank you for reading this note and for your patience.
My very best to you and yours.
President, Investment Research
Valuentum Securities, Inc.