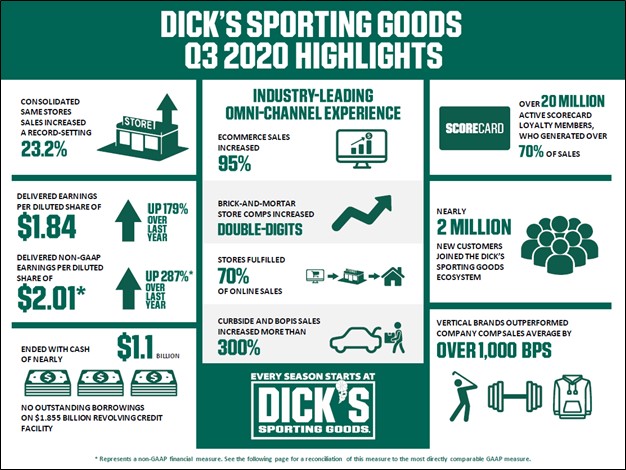 Image Source: Dick's Sporting Goods Inc – Third Quarter of 2020 Earnings Infographic
By Callum Turcan
The ongoing coronavirus ('COVID-19') pandemic, due to the desire of households to socially distance, has driven a meaningful amount of consumer spending to e-commerce platforms. Retailers that invested heavily in their online operations, while also bulking up their omni-channel sales capabilities, were in a much better position when the pandemic hit than those that had to rely largely on their physical footprint. Over the past year, "contactless" delivery options have become much more popular. That includes fulfillment options such as curbside pickup and in-store pickup (usually in specially designated areas), where consumers purchase goods online and then travel to the relevant physical store location to acquire those products. Demand for home delivery services has surged as well.
E-commerce Growth Is Key
On November 27, we added Dick's Sporting Goods Inc (DKS) to the Dividend Growth Newsletter portfolio (link here) to gain exposure to a high-quality retailer with strong omni-channel sales operations, and the rise of e-commerce more broadly (shares are also priced attractively). As we covered the company's financial performance and near-term outlook in this article here, we are going to focus more so on Dick's Sporting Goods' operational improvements and e-commerce strategy in this note.
First, some background information. During the firm's third quarter of fiscal 2020 (period ended October 31, 2020), Dick's Sporting Goods reported that its e-commerce sales jumped higher 95% year-over-year and that its online sales represented ~21% of its total net sales during this period. Strong e-commerce growth played an outsize role in growing its same-store sales by a little over 23% year-over-year last fiscal quarter, which helped the firm to grow its GAAP revenues by 23% year-over-year during this period. The company's store count grew marginally from the third quarter of fiscal 2019 (period ended November 2, 2019) to the third quarter of fiscal 2020.
Curbside and buy online, pick-up in-store fulfillment options posted year-over-year sales growth north of 300% last fiscal quarter according to management commentary during the company's latest earnings call. Dick's Sporting Goods offers curbside pickup at all its physical stores and most of those locations have dedicated parking spots for curbside fulfillment purposes. Management seeks to keep the momentum going in the right direction by adding curbside return options as part of the firm's broader strategy to create a "seamless omni-channel experience."
Furthermore, management noted that over half of Dick's Sporting Goods e-commerce sales came from mobile devices last fiscal quarter during the firm's latest earnings call. Dick's Sporting Goods' digital strategy is paying off because its mobile app is easy to use and comes with plenty of functionally as consumers can browse a wide selection of products, easily identify products that are on sale, view the status of their loyalty program (we will go into this program later), collect loyalty program points, and find nearby stores all within the mobile app.
This is important because retailers that either did not have a serious online presence when the COVID-19 pandemic hit were at a major disadvantage and had to rush to catch up. Rushing the rollout of online platforms often results in operations with limited functionality, poor user interfaces, and ones that are full of technical flaws and bugs. Additionally, rolling out new fulfillment options in the middle of a pandemic is no easy task, which is why Dick's Sporting Goods made the right call by having the necessary digital, physical, and operational infrastructure in place long before the pandemic hit. We appreciate the forward-thinking nature of Dick's Sporting Goods' management team and the firm's strategic goals.
Loyalty Program a Big Success
Pivoting now to Dick's Sporting Goods' customer loyalty program, the firm had over 20 million active 'ScoreCard' loyalty members last fiscal quarter which were responsible for over 70% of the company's sales during this period. The firm has a base loyalty program, a 'Gold' membership, and a branded credit card offering. For reference, the ScoreCard allows customers to earn 'ScoreRewards' which can be redeemed for cash considerations, while also offering members exclusive discounts and various conveniences (such as faster checkout times).
Dick's Sporting Goods has done a tremendous job building up a returning/recurring customer base, and combining its loyalty program with its online operations has helped solidify its relationship with its core customers. These customers generally spend significantly more per transaction than the retailer's customers who are not part of its loyalty program. Here is a key quote from management on the issue from the retailer's latest earnings call (emphasis added):
"Another key to our omni-channel offering is our ScoreCard loyalty program, which provides robust data that we can leverage to increase engagement and drive traffic. With over 20 million active members, our ScoreCard loyalty program drives over 70% of total sales through more meaningful and effective personalized offers and communications. We value our ScoreCard loyalty members deeply. And with members spending approximately 30% more per transaction than nonmembers, retaining existing members and bringing new customers into the program is extremely important to us." --- Lauren Hobart, currently President and Director of Dick's Sporting Goods, who will become CEO effective February 1, 2021
The data Dick's Sporting Goods gains from its customer loyalty program is quite valuable and offers multiple avenues for upside (such as better inventory management systems, insight into what types of products and which brands are experiencing high demand, and greater insight into seasonal spending patterns). Management mentioned that Dick's Sporting Goods' "new customers skew female and younger, representing a great opportunity for future growth" and that "sales from new customers [increased] over 70% compared to last year" during the firm's latest earnings call.
Keeping the Ball Rolling in the Right Direction
We appreciate that Dick's Sporting Goods places a big emphasis on innovation. The firm has continued to roll out new valuable services for its members while also optimizing its internal operations. Here is another key quote from management during the firm's latest earnings call (emphasis added):
"Importantly, while our eCommerce business continues to be highly successful and penetration continues to increase, we also continue to improve the profitability of the channel, especially as stores play a larger role in fulfillment. In the third quarter, we saw significant improvement in eCommerce gross margins driven by higher penetration of curbside and BOPIS [buy online, pickup in-store] sales as well as fewer promotions and leverage of fixed costs.
Furthermore, we continue to make technology enhancements to provide an increasingly seamless omni-channel experience. In fact, as part of this year's holiday campaign, we're highlighting the technology and logistics systems in our supply chain in a unique and an engaging way. From a store perspective, we recently rolled out a contactless, self-checkout app called Scan, Pay, & Play to over 300 stores, which enables an efficient checkout solution for our athletes while also giving them the ability to quickly look up pricing information and product descriptions as they shop in our stores. We will continue to refine this technology and roll it out to additional stores in the near future.
We also recently launched HOME PLATE, a mobile communications app that provides our store teammates with real-time metrics and important communications all while on the sales floor, giving them more time to focus on providing great service to athletes." --- The incoming CEO of Dick's Sporting Goods
As the company continues to scale up its e-commerce business, the firm's profitability should improve considerably. We are keeping a close eye on the retailer's margins. In the third quarter of fiscal 2020, the company's GAAP gross margins rose by over 530 basis points year-over-year, aided by rising economies of scale, rising private label sales (management refers to these offerings as its "vertical brands"), and meaningful profitability improvements across its omni-channel sales operations (namely its e-commerce business).
Concluding Thoughts
We continue to be big fans of Dick's Sporting Goods. The company's Dividend Cushion ratio sits at 3.2, underpinned by its high-quality cash flow profile and impressive growth outlook, earning the firm an "EXCELLENT" Dividend Safety rating. Please note that these two metrics consider our expectations that Dick's Sporting Goods will push through meaningful per share dividend growth over the coming fiscal years. We give the firm an "EXCELLENT" Dividend Growth rating. Looking ahead, Dick's Sporting Goods appears well-positioned to navigate the storm caused by the COVID-19 pandemic as global health authorities continue to work towards putting an end to the public health crisis.
Dick's Sporting Goods' Stock Report (pdf) >>
Dick's Sporting Goods' Dividend Report (pdf) >>
Tickerized for DKS, ADDYY, ADDDF, COLM, NKE, LULU, YETI, PTON, ELY, JOUT, NLS, POOL, LESL, BGFV, CAB, ESCA, HIBB, VSTO, GOLF, CLAR, CWH, SWBI, RGR, SPWH, OLN
-----
Valuentum members have access to our 16-page stock reports, Valuentum Buying Index ratings, Dividend Cushion ratios, fair value estimates and ranges, dividend reports and more. Not a member? Subscribe today. The first 14 days are free.
Callum Turcan does not own shares in any of the securities mentioned above. Dollar General Corporation (DG) and The Walt Disney Company (DIS) are both included in Valuentum's simulated Best Ideas Newsletter portfolio. Dick's Sporting Goods Inc (DKS) and Home Depot Inc (HD) are both included in Valuentum's Dividend Growth Newsletter portfolio. Some of the other companies written about in this article may be included in Valuentum's simulated newsletter portfolios. Contact Valuentum for more information about its editorial policies.