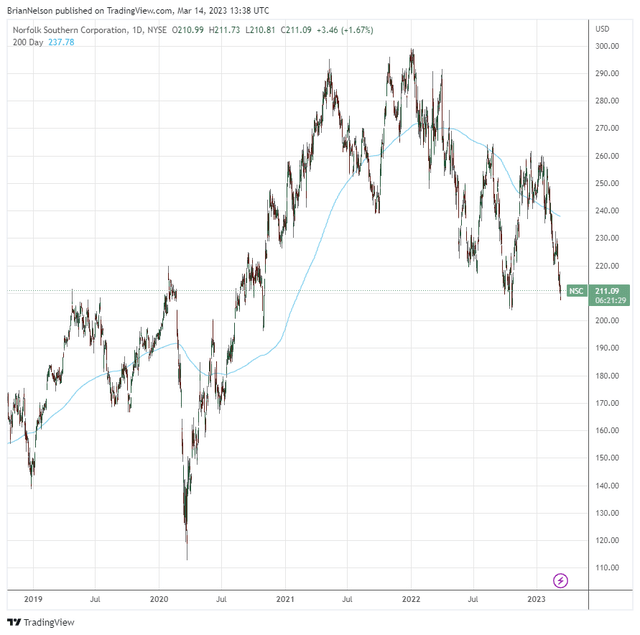 Image: Norfolk Southern's environmental troubles have sent its stock back to pre-pandemic levels. The company is yet another example of why companies cannot take for granted how their operations can negatively impact the environment. Image Source: TradingView
By Brian Nelson, CFA
Environment, Social, and Governance (ESG) dynamics have always commanded a large share of executives' mindshare, but ESG investing has taken on a more prominent role in investing given the preference of many investors to hold stock in companies that share their personal values. But this isn't lip service. Entities that aren't taking the highest care when it comes to protecting the environment and ensuring employee/consumer safety can face a whirlwind of negative publicity and huge backlash that can have tangible implications on the business' intrinsic value.
Norfolk Southern's Disaster in East Palestine, Ohio
The city of East Palestine, Ohio, became ground zero for one of the biggest and most devastating train derailments in United States history, as hazardous chemicals were released into the air, leading to the evacuation of the area surrounding the town (which included parts of Ohio and Pennsylvania). According to the Morning Journal, among the chemicals that were released into the environment were vinyl chloride, ethylhexyl acrylate, ethylene glycol monobutyl ether and butyl acrylate.
Some of the released chemicals were detected in several creeks in the area as well as the Ohio River, and pictures of the contamination in standing water on social media were downright concerning. Thousands of fish perished, affecting a dozen or so different species, but no non-aquatic animals appear to have died from the incident. The news wasn't as heavily reported by the traditional media as perhaps it should have been, but the enormous plumes of smoke containing vinyl chloride gas and other gases that were burned at the crash stie created a very scary picture for many of the residents.
According to professor Ashok Kumar from the University of Toledo, as reported by ABC News, inhalation of vinyl chloride could cause "dizziness, nausea, headache, visual disturbances, respiratory problems and other health-related issues." Longer-term exposure to vinyl chloride could also lead to liver cancer, according to professor Kevin Crist at Ohio University. Other gases that were released, including hydrogen chloride and phosgene, could cause throat irritation, skin problems and even choking, according to Kumar.
The Remediation Costs for Norfolk Southern Are Likely Capped at $75 Million
According to Bank of America, as reported by Seeking Alpha, the costs of cleanup and class action lawsuits could get pricey, but won't put the firm's financial health at risk. Losses to Norfolk Southern associated with the East Palestine disaster will likely be capped at $75 million, which is the upper bound of its self-insurance (it is covered by insurance beyond that level). Here is what BofA had to say in terms of thinking about how to quantify the damages:
NSC may be liable for cleanup costs per the Environmental Protection Agency and is facing class action lawsuits. The company self-insures itself up to $75mil per incident (has third party coverage for third party damage above $75mil and below $800mil, and self-property damage above $75mil and below $275mil). We do not expect damages above coverage levels for this incident, and based on similar non-fatal accidents, costs should be well below self-insurance limits. NSC's far more severe 2005 Graniteville, SC collision (10 killed, 250 injured) incurred a $50mil charge (about 2% of '05 EPS). In 2015, CSX paid approx. $27mil for a non-fatal oil spill in West Virginia.
The probable cause of the East Palestine derailment is reported to have been an issue with a rail car axle (the hopper's wheelset). The Wall Street Journal reported March 3 that it was an overheated bearing on a railcar owned by GATX Corp. (GATX) and made by Trinity Industries (TRN), and that the railcar had been used quite extensively over the past decade or so by four railroads, including Union Pacific (UNP), before faltering on Norfolk Southern's train in East Palestine. We expect government authorities to look at everything related to the incident and come up with new regulations and best practices to ensure that the odds of something like this happening again are significantly reduced.
Norfolk Southern Dropped the Ball When It Comes to ESG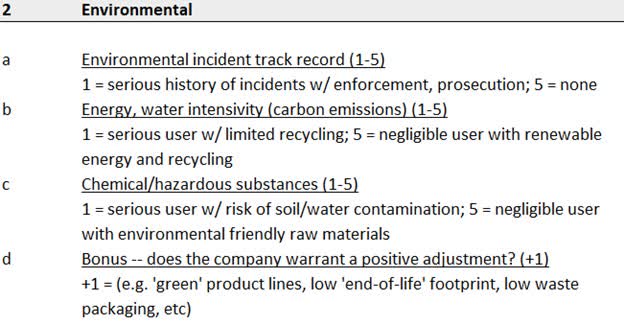 Image: This excerpt from the Valuentum Environmental, Social and Governance Scoring System shows how 'Environmental' considerations are analyzed.
Within the 'Environmental' component of our ESG analysis, we look at how well a company is managing specific things like its environmental incident track record, carbon emissions, and risk of contamination. Each of the aspects in the image above contributes to the total score of a company, as they are important to how the company operates as well as the potential risks if something goes wrong (or if regulations/penalties change in the future). These could also be areas that open up legal risks for companies if there is a spill, contamination, or other environmental event. Obviously, Norfolk Southern has done poorly in this area of analysis.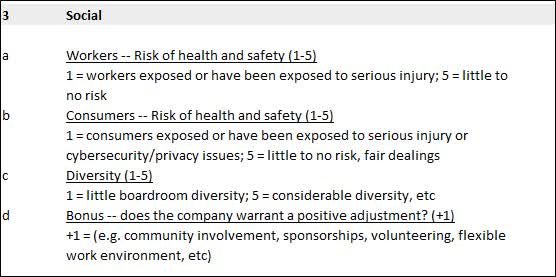 Image: The Valuentum Environmental, Social and Governance Scoring System shows how "Social" considerations are analyzed.
Within the 'Social' component of our ESG analysis, we look at four primary categories of a company within the context of ESG investing. The first two considerations within this analytical subsegment of "Social" (a and b in the above image) are related to the health and safety of people. This could be related to the potential for physical harm or safety risks, but it could also be related to privacy or cybersecurity since that is another way people can be harmed. Valuentum looks at rating stocks in this area from the perspective of their employees, as well as the perspective of their consumers, because both groups face different risks from a company's operations or products.
Clearly, Norfolk Southern has dropped the ball when it comes to social considerations, too, to the point where the National Transportation Safety Board (NTSB) announced a special investigation into the company's organization and safety culture.
Norfolk Southern Under Special Investigation by the NTSB
According to a press release from the NTSB, it has urged "the company to take immediate action…to review and assess its safety practices, with the input of employees and others, and implement necessary changes to improve safety." Here are the significant incidents that have happened at Norfolk Southern since December 2021, where the NTSB has launched investigation teams:
On Dec. 8, 2021, an employee for National Salvage and Service Corporation assigned to work with a Norfolk Southern work team replacing track was killed when the operator of a spike machine reversed direction and struck the employee in Reed, Pennsylvania.
On Dec. 13, 2022, a Norfolk Southern trainee conductor was killed, and another conductor was injured, when the lead locomotive of a Norfolk Southern freight train struck a steel angle iron protruding from a gondola car on another Norfolk Southern freight train that was stopped on an adjacent track in Bessemer, Alabama.
On Feb. 3​, a Norfolk Southern freight train carrying hazardous materials derailed in East Palestine, Ohio. The derailment resulted in a significant fire and hazardous materials release.
On March 4, a 2.55-mile-long Norfolk Southern freight train derailed near Springfield, Ohio.
On March 7​, a Norfolk Southern employee was killed during a movement in Cleveland, Ohio.
There is clearly a pattern of behavior at Norfolk Southern that can be considered unacceptable, especially the multiple incidents regarding loss of life, which are nothing short of tragic, in our view.
Norfolk Southern Is Trying to Make Things Right But Reputational Damage Unavoidable
Norfolk Southern CEO Alan Shaw has been the face of the company during the East Palestine debacle, appearing on CNBC and testifying before Congress. Clearly, the right thing to have done was to prevent such a spill of harmful chemicals into the environment in the first place, but his Congressional testimony reveals a dedication to cleaning up the accident and a commitment to the residents of East Palestine, which may be the next best thing, all things considered:
Chairman Carper, Ranking Member Capito, and distinguished members of the Committee, thank you for the opportunity to appear today to discuss the train derailment in East Palestine, Ohio. My name is Alan Shaw, and I have been the President and CEO of Norfolk Southern since May 2022. I look forward today to sharing our progress cleaning the derailment site, assisting families whose lives were disrupted, investing in the community, and making Norfolk Southern and the railroad industry safer. I am deeply sorry for the impact this derailment has had on the people of East Palestine and surrounding communities, and I am determined to make it right.
We will clean the site safely, thoroughly, and with urgency. We are making progress every day. Working now under the U.S. Environmental Protection Agency's recent Unilateral Administrative Order, we have submitted a long-term removal plan that will guide our comprehensive testing program for the community's water, air, and soil. That testing is guided by science, and we will continue to share the results transparently. The Ohio and U.S. Environmental Protection Agencies, as well as other local agencies, are continually monitoring the air and water quality in East Palestine and report that both the air and water are safe.
Financial assistance cannot change what happened, but it is an important part of doing the right thing. To date, we have committed to reimbursements and investments of more than $20 million in total, including by helping more than 4,200 families through our Family Assistance Center located in East Palestine. Supporting first responders has been a particular area of focus, and our contributions include more than $3 million to assist the East Palestine Fire Department. I would like to express again my profound admiration for the first responders from Ohio, Pennsylvania, and West Virginia who responded to the derailment.
I want to be clear: this financial assistance is just a down payment. I've met with community leaders, business owners, school officials, clergy, and others to begin to identify ways we can invest in the future prosperity of East Palestine and support the long-term needs of its people. We will continue to invest in East Palestine for as long as it takes to help the community recover and thrive.
We are also committed to learning from this accident and working with public officials and the industry to make railroads even safer. In the meantime, we have already launched a series of immediate steps to enhance safety, based on the facts in the National Transportation Safety Board's preliminary report. We look forward to cooperating with the NTSB as it continues its investigation into the root cause of the accident as well as its wider investigation…
To continue reading the testimony >>
Norfolk Southern faces a long, tough rough ahead when it comes to improving its reputation for safety, in our view, but the railroad is doing what it can to recover trust and improve public relations at this point, and for that, we appreciate its dedication to cleaning up the East Palestine disaster and its commitment to the people of the area.
Concluding Thoughts
Neglecting the environment and employee and consumer/resident safety is a sure way for companies to end up in hot water. Norfolk Southern is under special investigation by the National Transportation Safety Board (NTSB) for a series of accidents during the past couple years, punctuated by the derailment and chemical spill occurring in East Palestine, Ohio, in early February. Though the firm's costs associated with the high-profile train derailment may be capped at $75 million, its reputation may be irreparably harmed. Norfolk Southern is a prime example of why ESG investing has an important role in the marketplace, as the company simply dropped the ball when it came to 'Environmental' and 'Social' considerations within the ESG construct.
Tickerized for NSC, GATX, TRN, UNP, BRK.A, BRK.B, CSX, CP, CNI, WAB, RAIL, WERN, SIEGY, SMAWF, SMEGF, GBX, KIQ, USDP, FSTR, RVSN
----------
It's Here!
-----
Brian Nelson owns shares in SPY, SCHG, QQQ, DIA, VOT, BITO, RSP, and IWM. Valuentum owns SPY, SCHG, QQQ, VOO, and DIA. Brian Nelson's household owns shares in HON, DIS, HAS, NKE, DIA, and RSP. Some of the securities written about in this article may be included in Valuentum's simulated newsletter portfolios. Contact Valuentum for more information about its editorial policies.
Valuentum members have access to our 16-page stock reports, Valuentum Buying Index ratings, Dividend Cushion ratios, fair value estimates and ranges, dividend reports and more. Not a member? Subscribe today. The first 14 days are free.