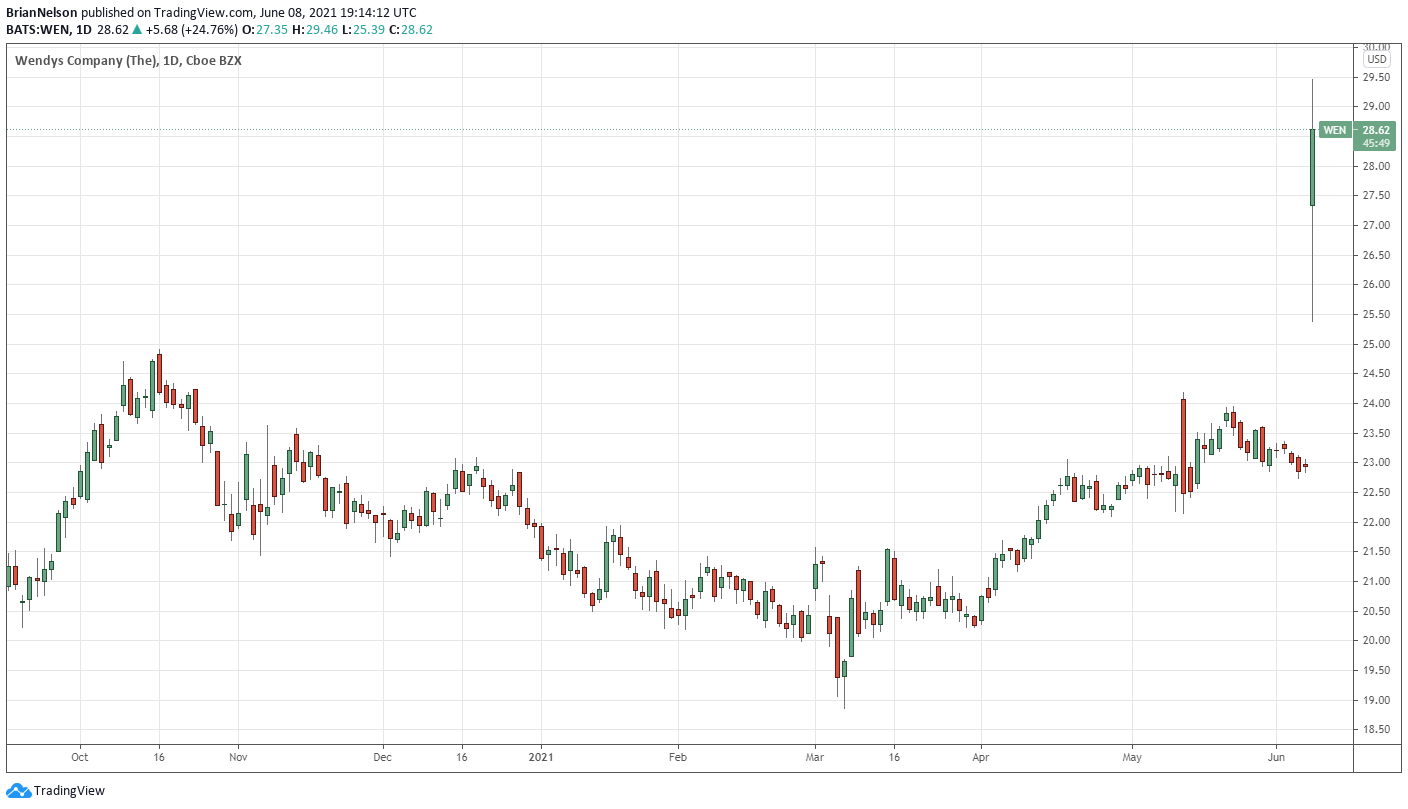 Image Shown: Wendy's is the latest stock to be swept away by the meme-stock craze, providing further evidence that 1) markets are inefficient and 2) prices and returns are based on future expectations that may be realized or not.
By Brian Nelson, CFA
Hope you all are doing great.
We saw a nice breakout of Facebook's (FB) share price yesterday, June 7, and we continue to be fans of the social media giant. We view our long-term assumptions as quite reasonable and peg a fair value estimate of $413 per share for this innovative behemoth. There is considerable upside potential as Facebook continues to monetize its massive user base and pursues new initiatives including e-commerce (Shops) and dating (Dating) and beyond. The company remains 10-rated on the Valuentum Buying Index.
What Is A Fair Value Estimate?
We received a question about our fair value estimates. The fair value estimate is our best estimate of the true intrinsic value of the stock and rests as the highest point on the probability distribution of the fair value estimate range (as shown below), which itself represents a broader fair value estimate of the equity. The fair value estimate is derived by a three-stage discounted cash flow model (enterprise valuation), while the fair value range uses the fair value estimate as a midpoint to ascribe what we think would be a fair market price for the stock to trade within.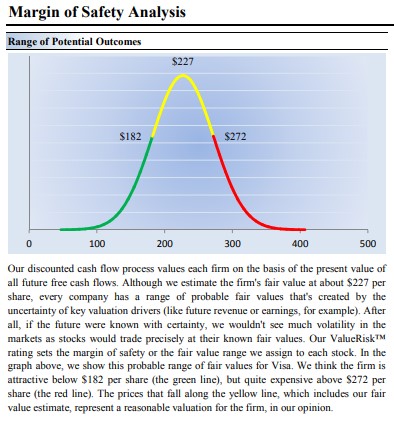 Image Shown: Visa's fair value estimate range. Image Source: Valuentum's 16-page stock report of Visa.
Let's use Visa (V) as an example. Based on our discounted cash-flow process, we value shares of Visa at $227 per share. The stock trades at ~$232 per share at the time of this writing, so its price-to-fair value (P/FV) estimate stands at ~1.02. The low end of our fair value estimate range is $182 per share, while the high end of our fair value estimate range is $272. In other words, we could see shares of Visa rise to as much as $272 per share before we would grow concerned about its underlying valuation.
If Visa's shares dropped below $182 per share and carved out a nice bottom/base (meaning that the market was supporting the equity on a technical basis through strong relative strength and/or share-price momentum), it would register one of the highest ratings on the Valuentum Buying Index, and we would view it as one of the most attractively positioned stocks on the market, along with Facebook – which had been (and continues to be) severely underpriced while showing continued strong share-price momentum; hence, Facebook's high rating on the Valuentum Buying Index.
Importantly, the fair value estimate, the price-to-fair value (P/FV) ratio, the fair value estimate range, and the Valuentum Buying Index are only a handful of metrics on our website to use to evaluate new ideas. The simulated newsletter portfolios help surface our favorite ideas in the construction of diversified equity portfolios, as in the case of the Best Ideas Newsletter portfolio and Dividend Growth Newsletter portfolio (the High Yield Dividend Newsletter portfolio offers even more diversified exposure). When adding or removing companies from the newsletter portfolios, we also consider market conditions and diversification parameters, so it's critical to reiterate that no metric should ever be used by itself.
Crypto and Blockchain
We received a question about "how to play the emerging trends involving cryptocurrencies and blockchain." We're not big fans of any price-agnostic trading, meaning that for any investment, we prefer it to have a future free cash flow stream that we can estimate, discount and arrive at a fair value estimate. For crypto-assets, this isn't the case, so they tend to fall into the "greater fool" camp.
Still, there are various ways to play this emerging trend, including MicroStrategy (MSTR), which owns a lot of Bitcoin, and maybe even Tesla (TSLA), but PayPal (PYPL) is by far our favorite because it is supported by the free cash flows of its core payment processing revenue stream--where crypto is more icing on the cake than a primary driver. PayPal is included in the Best Ideas Newsletter portfolio.
Surging Biotechs and Meme Stocks
Yesterday, June 7, Biogen (BIIB) soared on news that the Food and Drug Administration (FDA) approved its treatment for Alzheimer's Disease. News flow regarding now-approved drug Aduhelm (aducanumab) to treat patients with Alzheimer's disease has been up and down the past few years, and Biogen's share price has been very choppy as a result. However, the Accelerated Approval announcement yesterday confirms that Aduhelm will be "the first novel therapy approved for Alzheimer's disease since 2003," and we'll be taking a close look at our valuation models for Biogen and Eli Lilly (LLY) in the coming days, the latter having Alzheimer treatment donanemab in phase 3 trials.
In other news, we continue to witness extremely volatile trading in "meme" stocks, including AMC Entertainment (AMC) and GameStop (GME) but the crowd has now moved into restaurants of late, centering on Wendy's (WEN), which soared to an all-time high as a result of positive mentions on the Reddit platform. It finished up nearly 26% during the trading session June 8. We think price-agnostic trading--trading that does not pay attention to the underlying value of the security--will create tremendous problems for the financial markets, if not curbed by the SEC (quant and indexing included).
In the meantime, we continue to watch with a cautious eye, and you should, too.
Concluding Thoughts
Our favorite ideas remain in the newsletter portfolios and Exclusive publication--for new members, don't forget to add options commentary to your subscription if you wish. Facebook is our very best idea, and we continue to believe that equity markets are the place to be long term. It's very possible that the 40-year bull market in bonds is over, and their paltry yields leave a lot to be desired, in any case. Alternative asset classes have come of age, but cryptocurrencies pose unique "greater fool" risks, while other alternative assets may not live up to the hype. We believe the very best opportunities continue to rest with diversified stock selection, and that's where we'll continue to focus our efforts.
-----
Related: ESALY, GBTC
Other (Alzheimer-related): AVXL, RHHBY, ALZN
Other (meme stocks): WISH, WOOF, CLOV, CLNE, WAFU, EEIQ, EDTK, CLEU
Valuentum members have access to our 16-page stock reports, Valuentum Buying Index ratings, Dividend Cushion ratios, fair value estimates and ranges, dividend reports and more. Not a member? Subscribe today. The first 14 days are free.
Brian Nelson owns shares in SPY, SCHG, QQQ, DIA, VOT, and IWM. Brian Nelson's household owns shares in HON, DIS, HAS. Some of the other securities written about in this article may be included in Valuentum's simulated newsletter portfolios. Contact Valuentum for more information about its editorial policies.