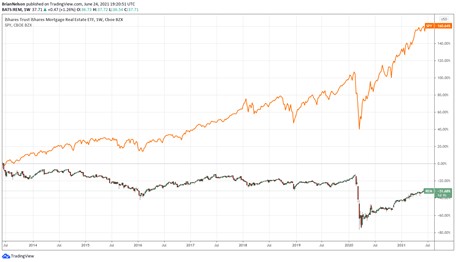 Image: An ETF that tracks the mortgage REIT industry has fallen more than 31% on a price-only basis, while an ETF that tracks the S&P 500 has advanced more than 160% on a price-only basis, as measured from May 2013.
By Brian Nelson, CFA
Mortgage REITs (REM) are popular vehicles because of their deceptively enticing dividend yields, but we've never been bullish on the group. We're reiterating our take today that these instruments are not for the individual investor or even prudent financial advisor and are more complicated vehicles than many investors believe.
In May 2013, we first starting warning about the group, and the performance, as shown in the image above, hasn't been pretty. On a price-only basis, the iShares Mortgage Real Estate ETF is trailing the simpleton S&P 500 index by roughly 190 percentage points since we first laid out our thesis on the group years ago.
Not much has changed from an analytical perspective since 2013 either. Mortgage market dynamics remain inherently difficult to predict, many mortgage REITs have eye-popping leverage, and their book values tend to be more impacted by changes in 'other comprehensive income' (unrealized gains or losses that are marked to market) than net interest spread income.
Annaly Capital (NLY) and AGNC Investment REIT (AGNC) remain the two main mortgage REIT considerations for investors, and while both have advanced in the high-single-digits on a price-only percentage basis thus far in 2021, it's hard for us to get excited about the move in light of their massive historical underperformance and hard-to-predict business models.
The yields on mortgage REIT instruments are certainly very tempting, but the payouts just haven't been high enough to offset their price weakness as book values continue to whipsaw around along with interest rates. We thought it time to take a victory lap on our call made years ago, and we think avoiding mortgage REITs continues to make a lot of sense for most long-term investors.
For investors looking for high dividend yields, please be sure to consider our High Yield Dividend Newsletter >>
-----
The Best Ideas Newsletter portfolio >>
The Dividend Growth Newsletter portfolio >>
Tickerized for holdings in the REM.
It's Here!
-----

Image Source: Value Trap
----------
Valuentum members have access to our 16-page stock reports, Valuentum Buying Index ratings, Dividend Cushion ratios, fair value estimates and ranges, dividend reports and more. Not a member? Subscribe today. The first 14 days are free.
Brian Nelson owns shares in SPY, SCHG, QQQ, DIA, VOT, and IWM. Brian Nelson's household owns shares in HON, DIS, HAS. Some of the other securities written about in this article may be included in Valuentum's simulated newsletter portfolios. Contact Valuentum for more information about its editorial policies.