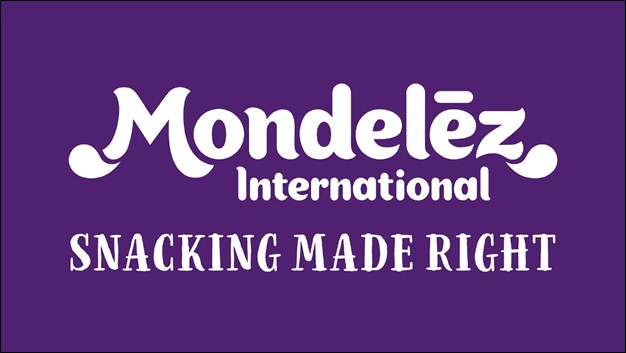 Image Source: Mondelez International Inc – November 2020 IR Presentation
By Callum Turcan
On January 28, snacks giant (generates most of its annual revenues from biscuits, chocolates, gum and candy) Mondelez International Inc (MDLZ) reported fourth quarter earnings for 2020 that beat both consensus top- and bottom-line estimates. Management noted in the earnings press release that the firm "enter[ed] 2021 in a strong position financially and in the marketplace which gives us confidence that we can deliver on our long-term growth targets in 2021 and beyond."
Mondelez reported 3.7% net organic revenue growth in 2020, supported by favorable volume and pricing movements, and negatively impacted by product mix. The firm's GAAP revenues were up just under 3% year-over-year in 2020, held down by foreign currency headwinds.
Looking ahead, Mondelez aims to generate 3% or greater organic revenue growth (a non-GAAP figure), high-single-digit adjusted EPS growth (a non-GAAP figure), and $3.0 billion or more in free cash flow this year. Furthermore, Mondelez expects to benefit from material foreign currency tailwinds in 2021, which based on its current assumptions would add ~3% to the firm's net revenue growth and add $0.10 in adjusted EPS to its performance this year.
Mondelez has been prioritizing its digital investments of late, and so far, this strategy appears to be playing out favorable. During the firm's latest earnings call, management had this to say in response to an analyst's question regarding Mondelez's increased advertising expenses in the second half of last year (emphasis added, moderately edited):
"So in terms of investments… we stepped it up particularly in the second half, but I think you've seen the material we called out that working media is growing 17%. We plan to keep the same level of increases in 2021. So we are building on a continuous investment in working media which importantly comes together with improved ROI, which means high quality media we are putting behind our brands.
We are investing more in digital, which in general terms commands a little bit more ROI than other regular channels.And third, again the essence of diverting nonworking media into working media improves the overall spending ROI. So there is a compounded effect between increasing investment and having a better return on what we spend.
And again… when we look at market and share in Q4 we didn't slow down overall for the company, and what that means, is that, yes, we had clear advantages in terms of supply chain at the beginning of the crisis, but as the situation normalized for us and for other competitors, people continued to favor our franchises to others. And I think one of the drivers is clearly the fact that we have invested more, that we have more meaningful innovation and that we are activating effectively at point of sales." --- Luca Zaramella, CFO of Mondelez
Mondelez appears confident that it will be able to maintain recent market share gains and possibly even further grow market share going forward, aided by a focus on digital advertising campaigns and improving its digital/e-commerce presence more broadly. Dirk Van de Put, CEO and Chairman of Mondelez, noted in the firm's latest earnings call that "if you look at the share gains that we incurred in the second quarter of '20. And then you look at what happened in Q3 and Q4, we - our share gains didn't fade, they remained quite strong" and followed that up with "the share gain in '20 was much higher than in 2019 where we also had a share gain" in response to an analyst's question.
Last year, Mondelez generated $3.1 billion in free cash flow, up marginally from the $3.0 billion the firm generated in 2019. Mondelez had a net debt position of $16.4 billion at the end of 2020 (inclusive of short-term debt), though that does not include the $6.0 billion in equity method investments the firm had on the books at the end of December 2020. Please note that Mondelez owned a sizeable equity stake in JDE Peets NV (JDEPF) and Keurig Dr Pepper Inc (KDP), among other firms, at the end of September 2020 and likely continued to own sizable positions in those firms at the end of 2020. We view Mondelez's net debt load as manageable given its stable cash flow profile and the liquid nature of a large chunk of its equity method investments.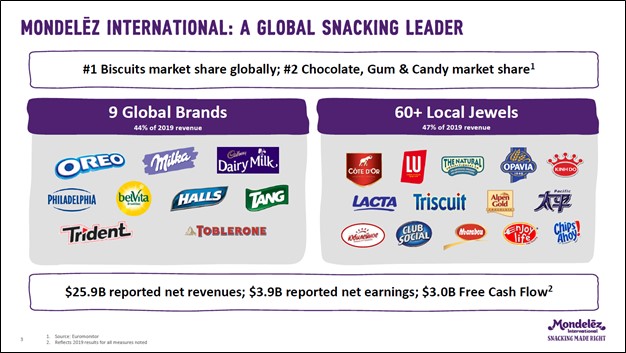 Image Shown: An overview of Mondelez's key brands and products. Image Source: Mondelez – November 2020 IR Presentation
Shares of MDLZ are trading in the upper bound of our fair value estimate as of this writing, and the top end of our fair value estimate range sits at $60 per share. We prefer broad diversified exposure to the consumer staples space through Vanguard Consumer Staples Index ETF (VDC), and that ETF is included in our High Yield Dividend Newsletter portfolio (more here). Mondelez was a top ten weighted holding in the VDC ETF as of the end of December 2020.
Tickerized for MDLZ, JDEPF, KDP, NOMD, TWNK, PEP, KHC, GIS, THS, BRBR, CAG, K, HSY, NSRGY, NSRGF, ADM, SMPL, CPB, BGS, HAIN, MKC, SJM, FLO, POST, DF, FARM, WILC
Other: VDC, PBJ, FTXG
-----
Valuentum members have access to our 16-page stock reports, Valuentum Buying Index ratings, Dividend Cushion ratios, fair value estimates and ranges, dividend reports and more. Not a member? Subscribe today. The first 14 days are free.
Callum Turcan does not own shares in any of the securities mentioned above. Vanguard Consumer Staples Index Fund (VDC) is included in Valuentum's simulated High Yield Dividend Newsletter portfolio. Some of the companies written about in this article may be included in Valuentum's simulated newsletter portfolios. Contact Valuentum for more information about its editorial policies.