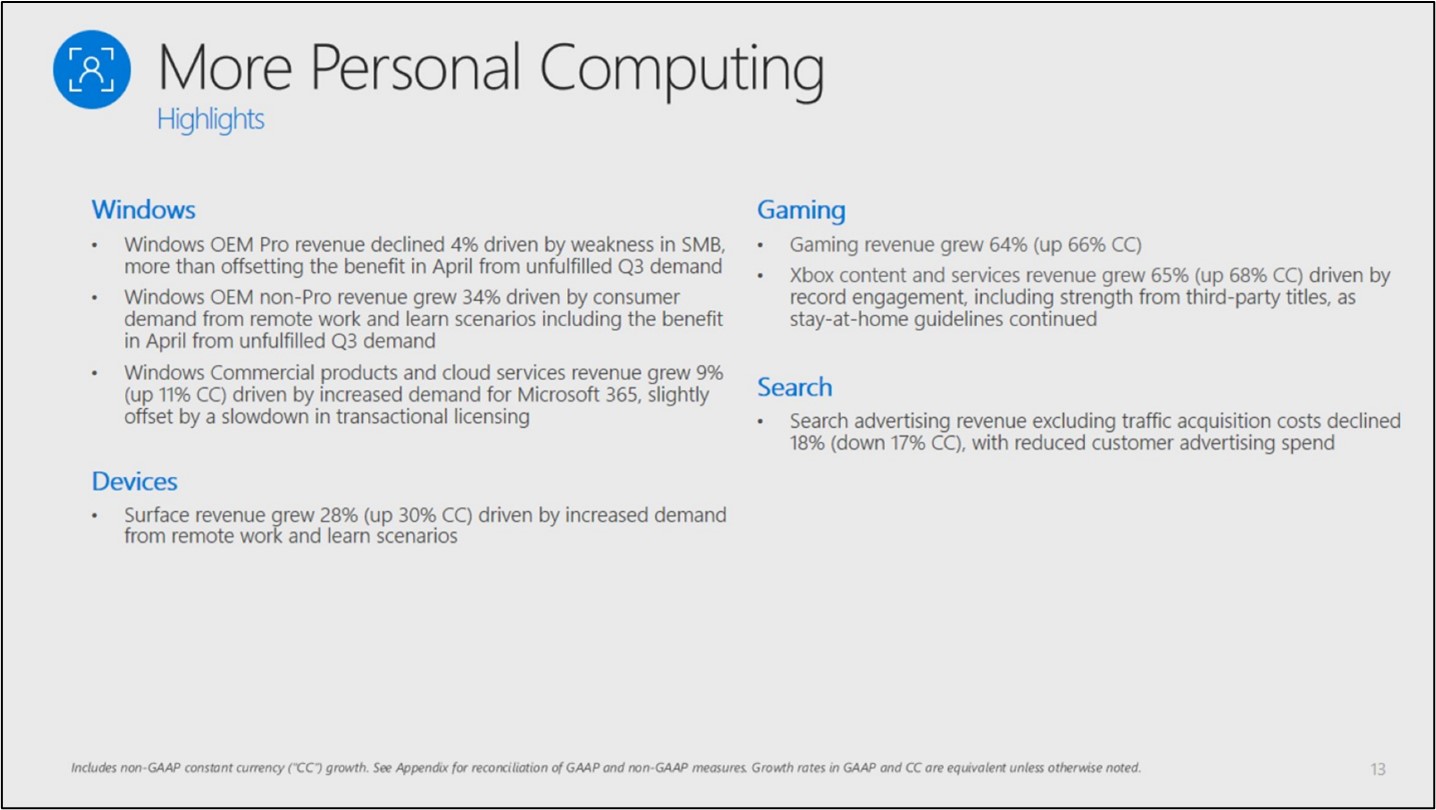 Image Shown: An overview of the performance of some of Microsoft Corporation's business segments during the fourth quarter of fiscal 2020, including highlights from its 'Xbox content and services' segment. We continue to like shares of Microsoft as a holding in both our Best Ideas Newsletter and Dividend Growth Newsletter portfolios. Image Source: Microsoft Corporation – Fourth Quarter of Fiscal 2020 Earnings PowerPoint Presentation
By Callum Turcan
On September 21, Microsoft Corporation (MSFT) announced it was acquiring ZeniMax Media, owner of the videogame developer and publisher Bethesda Softworks, for $7.5 billion in cash. Bethesda is perhaps best known for AAA franchises like Fallout and The Elder Scrolls, among other well-known franchises including DOOM, Quake, Wolfenstein, and Dishonored. Please note that Bethesda makes videogames for both seasoned and casual gamers for console, PC, and mobile devices.
More recently, Bethesda has experimented with launching iterations of game titles that were previously geared towards seasoned gamers on consoles and PCs on mobile devices that are geared towards more casual gamers. This can be seen through the 2019 launch of Bethesda's The Elder Scrolls: Blades videogame on Apple Inc's (AAPL) iOS powered devices and devices powered by Alphabet Inc's (GOOG) (GOOGL) Android. Bethesda later launch The Elder Scrolls: Blades on Nintendo Co. Ltd.'s (NTDOY) Switch console, which is a handheld device. Previously, titles within The Elder Scrolls universe such as The Elder Scrolls IV: Oblivion and The Elder Scrolls V: Skyrim were made for consoles and PCs, and these games were geared more so towards seasoned gamers. We see this leveraging of IP as a clever move by Bethesda.
Key Considerations
Microsoft has an enormous amount of financial firepower ($73.2 billion in net cash on hand as of June 30) and can easily fund the acquisition through its balance sheet. The deal is expected to close in the second half of Microsoft's fiscal 2021 (period likely to end on June 30, 2021) and is not expected to impact Microsoft's non-GAAP operating income in fiscal 2021 or 2022. By that, Microsoft appears to be communicating that this move is longer term in nature and will not move the needle much in the short-term. Microsoft intends to add Bethesda's titles to its Game Pass subscription service, which for a monthly fee allows gamers to play a large selection of games on Microsoft's Xbox console, PCs, and now Android devices (though this service is still just a public beta).
What is interesting about Microsoft's Game pass service is that it allows the company to generate additional recurring revenues. For reference, to play online multiplayer games on the Xbox console, gamers need to acquire Xbox Live which is a paid service. Games like Activision Blizzard Inc's (ATVI) blockbuster Call of Duty titles are an example of videogames that require Xbox Live to access the core gaming content (there is offline content included within Call of Duty videogames that does not require an Xbox Live subscription to access, though generally speaking that content is not what draws gamers to such titles). Microsoft also recently launched Xbox Ultimate, which combines the Game Pass and Xbox Live services, providing another avenue to generate recurring revenues.
Next Generation Console
This upcoming November, Microsoft is reportedly getting ready to launch its next generation Xbox console, the Xbox Series X which will retail for $499. Additionally, Microsoft will reportedly launch a cheaper version, the Xbox Series S, which will retail for $299 and will still be considered a next generation console. Microsoft will reportedly allow customers to rent the hardware over a two-year period at participating retailers or through Microsoft's online store, though that hardware will need to be returned in "good condition" (based on the current offering of this service for current generation consoles, according to the brief legal description provided on Microsoft's website).
Please note this two-year rental package comes with its Xbox Ultimate subscription service, allowing the firm to generate incremental software revenues on top of the hardware revenues. There is no upfront cost to the current version of this package for current generation consoles, and as things stand today, and the monthly fee depends on the type of console being rented (which will likely continue being the case going forward).
Adding Bethesda titles to Microsoft's Game Pass service will likely make it a much more compelling offering to both seasoned and casual gamers. Furthermore, by acquiring Bethesda, Microsoft's new Xbox console could become more competitive against Sony Corporation's (SNE) upcoming launch of its own next-generation console this November, the PlayStation 5 (which will retail at $399 - $499). Microsoft could make certain videogame franchises exclusive to the Xbox console, thus encouraging gamers to pick its next-generation console over Sony's. This is already standard practice.
Microsoft's exclusive videogame titles include AAA blockbuster franchises like Gears of War and Halo (which can now also be played on a PC but cannot be played on a PlayStation through conventional means), and Sony's exclusive videogames include the Uncharted and The Last of Us franchises. Exclusive titles are often a reason more seasoned gamers will choose one console over the other. As it relates to more casual gamers, Microsoft's growing content library (the firm will have 23 creative studio teams after acquiring ZeniMax Media and thus Bethesda, up from 15 currently) may make it more competitive to a broader audience as well.
Concluding Thoughts
Microsoft's acquisition of Bethesda and integration of Bethesda's videogame titles with its existing and future subscription services appears to be how Microsoft intends on bulking up its recurring revenue streams at its 'Xbox content and services' business segment. Though this segment is a relatively small portion of Microsoft's revenues and operating income, we appreciate that Microsoft is focusing on more than just growing its cloud-oriented Azure and its productivity-oriented Office business segments. Bulking up its recurring revenue streams from its Xbox content and services unit will help improve Microsoft's cash flow profile around the margins.
We like Microsoft's pending acquisition of ZeniMax Media and continue to like shares of Microsoft as a holding in both our Best Ideas Newsletter and Dividend Growth Newsletter portfolios. To read more about our thoughts concerning Microsoft, check out this article here that covers one of the firm's recent big wins in the cloud computing arena.
-----
Software Industry – ADBE ADSK EBIX INTU MSFT ORCL CRM
Software (Graphics) Industry – ATVI AVID EA GLUU TTWO ZNGA
Related: AAPL, GOOG, GOOGL, NTDOY, SNE, GAMR, ESPO, NERD, UBSFY
-----
Valuentum members have access to our 16-page stock reports, Valuentum Buying Index ratings, Dividend Cushion ratios, fair value estimates and ranges, dividend reports and more. Not a member? Subscribe today. The first 14 days are free.
Callum Turcan does not own shares in any of the securities mentioned above. Apple Inc (AAPL) and Microsoft Corporation (MSFT) are both included in both Valuentum's simulated Best Ideas Newsletter and Dividend Growth Newsletter portfolios. Alphabet Inc (GOOG) Class C shares are included in Valuentum's simulated Best Ideas Newsletter portfolio. Oracle Corporation is included in Valuentum's simulated Dividend Growth Newsletter portfolio. Some of the other companies written about in this article may be included in Valuentum's simulated newsletter portfolios. Contact Valuentum for more information about its editorial policies.