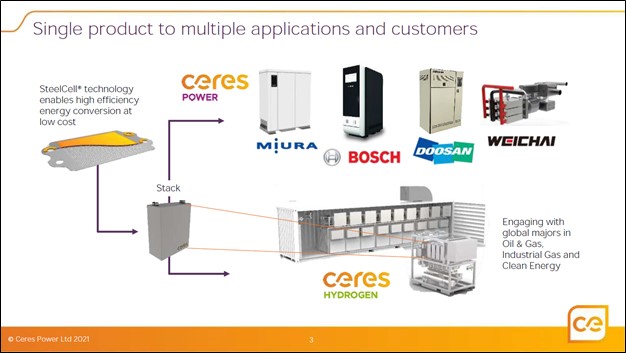 Image Shown: Ceres Power Holdings plc is a pioneer in the fuel cell industry. If Ceres Power and its strategic partners are successful, Ceres Power could offer investors ample capital appreciation upside though we caution that this is a highly speculative name. Image Source: Ceres Power Holdings Plc – First Half of 2021 Interim Report IR Presentation
By Callum Turcan
We wrote about Ceres Power Holdings plc (CPWHF), a UK-based pioneer in the fuel cell industry focused on building up a commercially viable licensing and royalty business, back in February 2021 (link here). The company is an innovator in the solid oxide fuel cell ('SOFC') industry, led by its SteelCell technology, and more recently started pushing into the realm of "green" hydrogen production. Ceres Power published its interim report for the six month period ending in June 2021 at the end of September 2021, which included several key updates we wanted to highlight.
Before we get started, there are a few housekeeping items. Ceres Power publishes its financial statements in accordance with International Financial Reporting Standards ('IFRS'), so US investors should be aware of the different accounting measures. Shares of CPWHF trade over-the-counter ('OTC') in the US, too, and by the middle of 2022, Ceres Power aims to move up to a London Stock Exchange Main Market Premium Listing, a strategy that remains on track.
Caroline Hargrove will become the firm's Chief Technology Officer ('CTO') while stepping down from her current role as non-executive director and Mark Selby, who is currently Ceres Power's CTO, will become the firm's Chief Innovation Officer ('CIO') effective October 25. Ceres Power recently added two new non-executive directors to its board, Tudor Brown who formerly worked at the semiconductor firm ARM Holdings and Professor Dame Julia King, Baroness Brown of Cambridge. We appreciate the deep bench of Ceres Power's executive team and board of directors.
Equity Raise Provides Ample Financial Firepower
In March 2021, Ceres Power launched a secondary offering that saw the firm raise roughly GBP£180 million pound sterling in gross proceeds by issuing just under 17.1 million new shares. Ceres Power's strategic shareholders participated in the deal to maintain their existing equity stakes in the firm, though outside investors were also brought in. The firm's strategic investors include Bosch, a global engineering and technology powerhouse based in Germany (some of Bosch's directors also participated in the secondary equity offering) and Weichai, an industrial giant based in China. For reference, Weichai Group is a state-run entity though Weichai Power [WEICY], which is majority owned by Weichai Group, is publicly traded.
The equity raise enabled Ceres Power to exit June 2021 with approximately GBP£260 million pound sterling in cash, cash equivalents, and short-term investments on hand with no debt on the books. Please note that Ceres Power posted a net loss of GBP£7 million pound sterling in the first half of 2021 and continues to run at an operating loss as the firm is still in process of commercializing its fuel cell technology.
Ceres Power aims to generate just under $GBP32 million in revenues in 2021, up from roughly $GBP22 million in 2020. The firm is generating negative free cash flows (just under $GBP10 million during the first half of 2021), though with its current cash hoard, Ceres Power has the funds to continue scaling up its business.
As Ceres Power has built its business around licensing its fuel cell technology, its gross margins are stellar and stood near ~72% during the first half of 2021. Over the coming years, as Ceres Power continues to grow its top line, the company should eventually become quite profitable.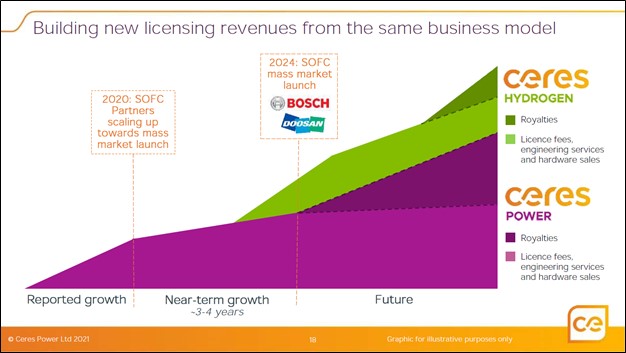 Image Shown: As products built using Ceres Power's fuel cell technology are rolled out over the coming years, the firm aims to build up a sizable licensing and royalty business that should enable Ceres Power to become a financially sustainable entity. Image Source: Ceres Power – First Half of 2021 Interim Report IR Presentation
Key Developments
In July 2019, Ceres Power signed a joint collaboration agreement with South Korea's Doosan Corporation covering the development of SOFC offerings. Doosan announced in September 2021 that it had completed the development of a 10 kilowatt ('KW') SOFC offering for a combined heat and power ('CHP') system, which is geared towards commercial and residential buildings. The new offering delivers "40% higher power generation efficiency" when compared to Doosan's existing Polymer Electrolyte Membrane ('PEM') fuel cell technology while "saving 50% on installation space and maintaining the equivalent power generation capacity" compared to other fuel cell technologies, according to Ceres Power's latest interim report.
Looking ahead, Doosan is planning a soft commercial launch of its new CHP system built on Ceres Power's fuel cell technology in 2022. By 2024, Doosan plans to have the capacity to build 50 megawatts ('MW') of fuel cell stacks built with Ceres Power's SteelCell technology, which if realized would provide a powerful uplift to Ceres Power's financial performance as its licensing and royalties business begins to take off.
Additionally, Doosan signed a memorandum of understanding ('MOU') with Korea Shipbuilding & Offshore Engineering, a subsidiary of Hyundai Heavy Industries, in March 2021 to develop SOFC systems for marine propulsion and power generation needs. The marine industry relies heavily on diesel and bunker fuel to power a staple of the global logistics industry, and Doosan and Hyundai Heavy Industries aim to utilize Ceres Power's technology to create viable green solutions of the industry.
Here is what Ceres Power had to say on its upside on this front during its earnings call covering the first half of 2021 (emphasis added):
"Just a few words on maritime. Maritime is one of those very hard to decarbonize parts of society. And we're seeing more and more of a focus on solid oxide technology to potentially decarbonize shipping. The International Maritime Organization has mandated now a reduction in greenhouse gases by at least 50% by 2050. And if you think about solid oxide, it offers a really good transition technology because of the multi-fuel capability, can run on natural gas, can run on hydrogen and can run on future fuels, such as ammonia, which is increasingly becoming interesting for decarbonization of shipping.
Doosan, our partner in South Korea, has engaged with Navig8 and Hyundai Heavy Industries. So one of the largest shipbuilders in the world. And as I mentioned earlier, we now have U.K. support for feasibility studies with 2 consortia to start to look at exploitation of solid oxide technology and marine applications. So that's a new high-value market for sellers and also higher power kind of applications. It takes us, again, up into the megawatt scale of application.
The potential market for this is obviously very significant industry, estimates about $1.65 trillion will be needed to decarbonize, shipping by 2050.And that translates the power requirements in that industry around 700 gigawatts. So when you think about the challenge to decarbonize all the different parts of society, this is a pretty significant segment for our technology in the future." --- Philip Caldwell, CEO of Ceres Power
There is a vast market opportunity for Ceres Power's fuel cell technology as it concerns the marine industry, should the efforts of Ceres Power and its strategic partners prove successful.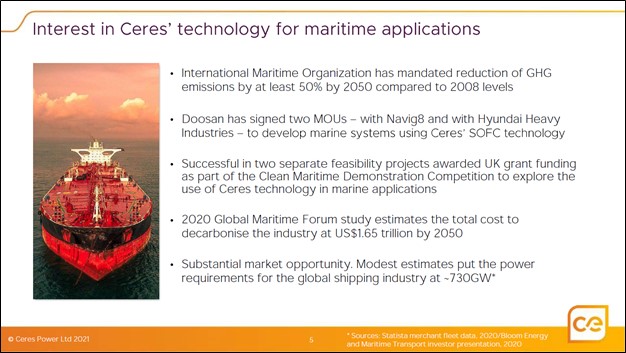 Image Shown: Decarbonizing the marine industry represents a massive market opportunity for Ceres Power. Image Source: Ceres Power – First Half of 2021 Interim Report IR Presentation
Ceres Power also established a new strategic partnership with the Austrian automotive industrial firm AVL List in December 2020. The partnership is in the early stages of exploring the potential commercial opportunities both firms could generate.
Bosch continues to ramp up its manufacturing capabilities of fuel cells built with Ceres Power's technology, targeting 200 MW of annual production capacity by 2024. According to Ceres Power's interim report, Bosch intends to invest EUR€400 million euros through 2024 towards its SOFC business as part of its plan to develop up to 100 small-scale fuel cell power generation stations for data centers, industrial companies, and in residential areas this year. Bosch owns ~18% of the Ceres Power's equity.
Pivoting to Weichai, the Chinese firm continues to collaborate with Ceres Power and recently announced plans to build 30 KW stationary power modules using Ceres Power's fuel cell technology, alongside its existing collaboration agreements involving transportation (for reference, Weichai has a large diesel engine business). Weichai owns ~20% of Ceres Power's equity.
Update on First Commercial Product Launch
In June 2019, Japan's Muira Co launched a new CHP system using Ceres Power's fuel cell technology. This development was important because it represented the first commercial launch of an offering built with Ceres Power's fuel cell technology. We caution that headwinds from the coronavirus ('COVID-19') pandemic have stymied the partnerships efforts on this front to a degree, though things are progressing in the right direction. Here is what Ceres Power had to say on the arrangement during its latest earnings call covering the first half of 2021:
"And then, to the right of that, you see Miura in Japan. Miura is our first partner to launch commercial products, and we're continuing to provide low volume for stacks to Miura to support its commercialization. Some of that commercialization has been somewhat slower with COVID because they address the commercial market at convenience stores, office blocks, et cetera. But we're very pleased with the relationship with Miura and the technology progress that we've made to date there." --- CEO of Ceres Power
The launch of Miura's CHP system may be off to a slow start, though the pandemic has created sizable headwinds here. Most importantly, this product launch highlights that Ceres Power is fully capable of going from the drawing board to commercializing its technology.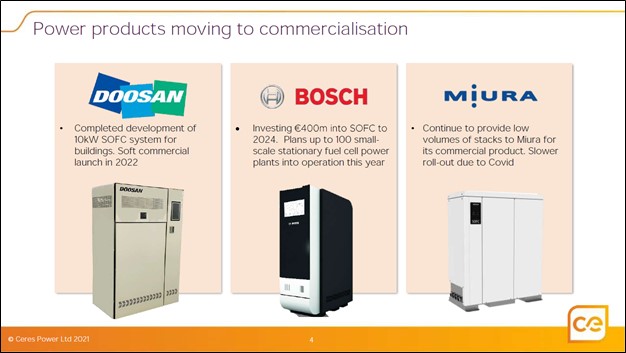 Image Shown: A quick update on some of Ceres Power's strategic partnerships. Image Source: Ceres Power – First Half of 2021 Interim Report IR Presentation
New Tech
Ceres Power included some interesting comments regarding another offering it is working on in the realm of green hydrogen production within its latest interim report:
Work is going well on our first-of-a-kind solid oxide electrolyser ('SOEC') 1MW-scale demonstrator to be operational in 2022. Whilst still early days, we have already seen strong interest from commercial partners, seeking to unlock green hydrogen opportunities for close integration with industrial and energy generation processes. We are engaging with a number of global majors across the oil and gas, industrial and clean energy sectors to demonstrate and commercialise our technology.
Deployment of first commercial SOEC plants is expected from 2025. Ceres is targeting a levelised cost of hydrogen production at <$1.50 per kilogram, which enables green hydrogen production to be competitive with blue fossil fuel based hydrogen in time to meet a market projected to more than double in size every decade from 2030 to 2050. Importantly, access to royalty streams in SOEC will be additive and complementary to royalties already enabled in our SOFC business.
Progress in the high-volume manufacturing of Ceres' core SteelCell should support economies of scale and enable bringing both our fuel cell and electrolysis technology to the mass market. We see significant opportunities to further our commercial relationships and the scope of our existing partnerships.
We are keeping an eye on this development, though please note that these are still early days. Ceres Power continues to innovate and is not leaning on just one offering to eventually become a financially sustainable entity, which we really appreciate.
A lot of the funds Ceres Power raised via its recent equity issuance are expected to go towards developing its nascent SOEC technology (the firm noted ~55% of the funds raised through the secondary offering would go towards developing its new SOEC technology, ~25% would go towards developing its SOFC technologies, with the balance to support these and other operations). Green hydrogen production is often touted as a key way to decarbonizing difficult, energy-intensive industries and activities, and there is an enormous growth runway here in the current environment.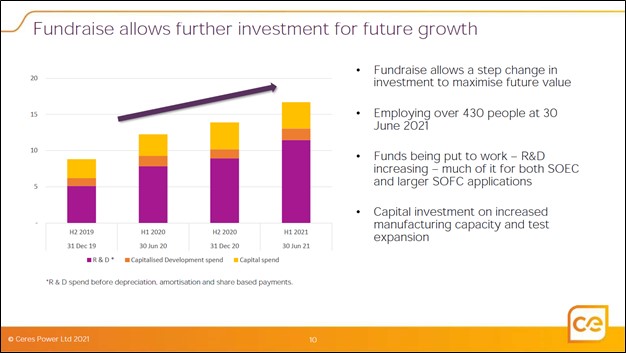 Image Shown: Funds raised via its recent equity issuance are expected to enable Ceres Power to continue innovating, a strategy that involves launching new fuel cell technologies. Image Source: Ceres Power – First Half of 2021 Interim Report IR Presentation
Concluding Thoughts
Ceres Power is a highly speculative entity, and we caution that the company does not generate positive free cash flows and is currently running at an operating loss.
With that in mind, Ceres Power is a pioneer in an attractive industry and continues to secure crucial strategic collaboration agreements with major industrial players worldwide. The company's capital appreciation upside potential could be quite substantial, especially as products built on its SteelCell technology progress from the pilot phase to the commercial phase, providing its core licensing and royalties business a major uplift. Its SOEC offerings could be another source of tremendous long-term upside, though again, these are still early days.
We strongly encourage our members to check out our February 2021 article covering Ceres Power for more information on the firm's business model and its fuel cell technology.
-----
Industrial Leaders Industry - MMM, DHR, GE, HON, BA, GD, LMT, NOC, RTX, WM, RSG, CAT, CNHI, DE, CNI, CSX, UNP, FDX, UPS, FAST, APH, GLW, TEL, ETN, DOV, ITW, SWK, EMR, ROP, PNR, PH, AOS, EXPD, GWW
Related: CPWHF, CMI, HMC, WEICF, EWG, DOOSF, EWY, EWJ, BE
Valuentum members have access to our 16-page stock reports, Valuentum Buying Index ratings, Dividend Cushion ratios, fair value estimates and ranges, dividend reports and more. Not a member? Subscribe today. The first 14 days are free.
Callum Turcan does not own shares in any of the securities mentioned above. Honeywell International Inc (HON), Lockheed Martin Corporation (LMT) and Republic Services Inc (RSG) are all included in Valuentum's simulated Dividend Growth Newsletter portfolio. Some of the other companies written about in this article may be included in Valuentum's simulated newsletter portfolios. Contact Valuentum for more information about its editorial policies.