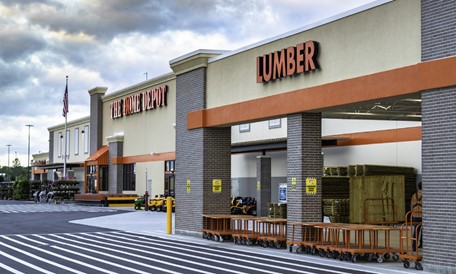 Image Source: Home Depot.
By Brian Nelson, CFA
On Tuesday, February 23, Home Depot (HD) reported fiscal fourth-quarter 2021 results (period ending January 31, 2021) that came in better than consensus estimates across the board. Not only did the top- and bottom- lines beat, but comparable store sales growth of 24.5% exceeded even some of the most optimistic forecasts for the home improvement retailer during the period. The average ticket price and the number of transactions advanced, while both professional ("Pro") and Do-It-Yourself ("DIY") customer revenue increased at a double-digit pace in the quarter. Home Depot also raised its dividend 10% and now yields ~2.5% on a forward-looking basis ($6.60 per-share dividend on an annualized basis). We continue to like the home improvement retailer as a holding in the Dividend Growth Newsletter portfolio.
The COVID-19 pandemic served as a catalyst for people to re-invest into their homes with many discovering that they were not equipped for both living and working quarters amid a global pandemic (but more specially, any future pandemic or stay-at-home natural disaster), especially those with young and growing families. The strengthening housing market has also prompted many to put more money into housing renovations (as many may still be looking to move beyond the Global Financial Crisis from a decade ago), further propelling sales at home improvement retailers and driving higher commodity prices such as lumber.
For Home Depot, these trends manifested into a 25.1% increase in revenue during the fourth quarter, while net earnings leapt to $2.65 per share from $2.28 in the year-ago period, even after considering expenses related to its purchase of HD Supply Holdings. The company continued to experience significant volatility in lumber prices, as commodity inflation cut into its gross margin, which dropped to 33.6% in the quarter from 33.9% in the year-ago period. SG&A also advanced faster than sales during the quarter, so while the top-line growth was impressive, cost pressures were also evident as Home Depot adjusted to the pandemic-influenced sales environment. For full-year fiscal 2021, its operating margin came in at 13.8%, down from 14.4% in fiscal 2020, but we expect operating cost pressures to ease a bit in the current fiscal year.
With COVID-19 almost in humanity's rear-view mirror thanks to what looks to be herd immunity in the coming months due in part to successful vaccine developments, Home Depot will face difficult comps in the current fiscal 2022 year as consumers rush out to do the things they've been wanting to do while cocooning at home. For example, we'd expect many families to choose to go to Disney's (DIS) theme parks this coming spring and summer season than work on their homes, and this may hurt year-over-year comparisons at many home improvement retailers. [As an aside, we include Disney as a holding in the Best Ideas Newsletter portfolio with shares of the company ~$200 at the time of this writing. We view Disney as one of the best "re-opening" plays out there.]
Here's what Home Depot's management had to say about its outlook in the fourth-quarter earnings press release:
We were pleased with our record financial performance in fiscal 2020. As we look ahead to fiscal 2021, while we are not able to predict how consumer spending will evolve, if the demand environment during the back half of fiscal 2020 were to persist through fiscal 2021, it would imply flat to slightly positive comparable sales growth and operating margin of at least 14 percent.
Secular trends including a broadening home-improvement customer base and the company's "One Home Depot" strategy that emphasizes the digital experience should continue to propel Home Depot's expansion for years to come. For many, the home has never been more important, and according to management commentary on its fiscal fourth-quarter 2021 conference call, "sales leveraging (its) digital platforms increased approximately 86% versus last year and approximately 60% of online orders were fulfilled through a store." Not only have we encountered a catalyst in COVID-19 that may re-start the housing boom, especially in single-family homes, but Home Depot is ready to meet customer demand through any channel.
At the end of fiscal 2021, Home Depot held $7.9 billion in cash and cash equivalents against long-term debt of $35.8 billion and long-term operating leases of $5.4 billion. Though we're not big fans of Home Depot's balance sheet, the company's free cash flow generation is phenomenal. For example, during fiscal 2021, it hauled in $18.84 billion in operating cash flow and shelled out just $2.46 billion in capital expenditures, resulting in traditional free cash flow of ~$16.4 billion. Cash dividend payments during the fiscal year were $6.45 billion, revealing excellent free cash flow coverage of the payout. Home Depot's Dividend Cushion ratio stands at 1.5, revealing very health dividend coverage.
Concluding Thoughts
We continue to like Home Depot as a holding in the Dividend Growth Newsletter portfolio. We're huge fans of its "One Home Depot" strategy and the strengthening housing market will provide a nice tailwind to financial results even as the company faces some headwinds as a result of the economy "re-opening." We have no qualms with Home Depot bringing HD Supply back into the fold as it will only augment its MRO (maintenance, repair, overhaul) capabilities. Importantly, management expects to continue to grow its dividend every year as it grows earnings. Home Depot has paid a cash dividend for 136 consecutive quarters.
Home Depot's 16-page Stock Report (pdf) >>
Home Depot's Dividend Report (pdf) >>
Tickerized for HD, LOW, LL, SHW, TSCO, PHM, KBH, TOL, OC, AOS, HDS, PPG, MAS, RPM, TREX, AZEK, GFF, TTC, MHK, SWK, FBHS, SSD, BZH, DHI, LEN, HOV, CARR, LII, TMHC, IBP, JELD, LEG, WHR, GWW, FAST, BECN, CBPX, SITE, AXTA
ETFs: ITB, XHB, WOOD, CUT
It's Here!
-----
Valuentum members have access to our 16-page stock reports, Valuentum Buying Index ratings, Dividend Cushion ratios, fair value estimates and ranges, dividend reports and more. Not a member? Subscribe today. The first 14 days are free.
Brian Nelson owns shares in SPY, SCHG, QQQ, and IWM. Some of the other securities written about in this article may be included in Valuentum's simulated newsletter portfolios. Contact Valuentum for more information about its editorial policies.