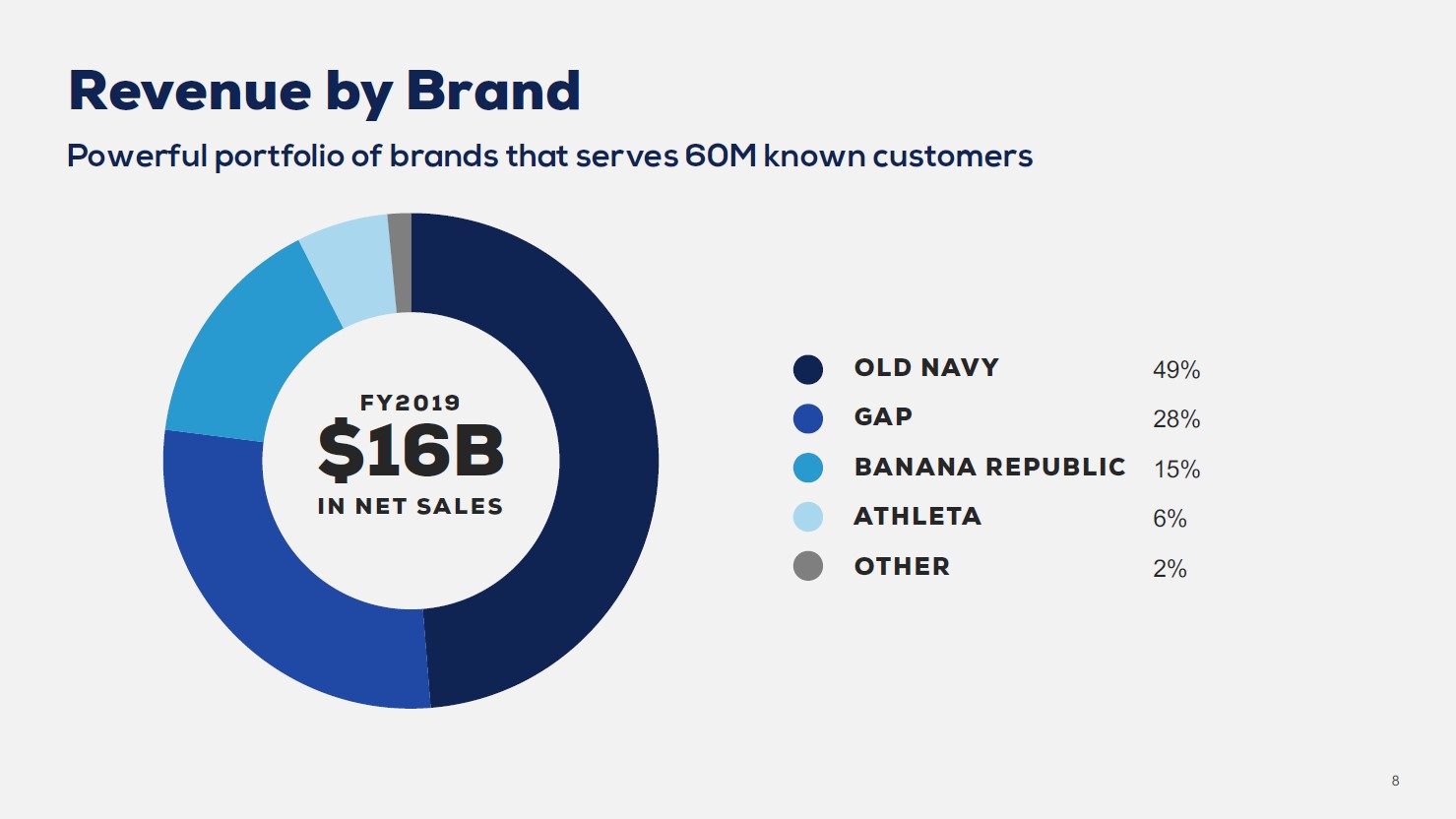 Image Shown: An overview of Gap Inc's net sales by brand. Image Source: Gap Inc – First Quarter Fiscal 2020 IR Earnings Presentation
By Callum Turcan
On June 4, Gap Inc (GPS) reported first quarter fiscal 2020 earnings (period ended May 2, 2020) that missed both consensus top- and bottom-line estimates. Shares of GPS have gotten crushed due to the ongoing coronavirus ('COVID-19') pandemic as consumers (particularly those in the US) have spent far less on discretionary goods (like apparel) over the past several months. Combined with the negative impact of physical store closures and the lack of a meaningful online presence, Gap shares sank as its outlook turned dire. Though Gap operates stores in over 40 countries, please note about ~80-82% of its GAAP net sales came from the US from fiscal 2017 to fiscal 2019, highlighting its dependence on the US consumer.
Background
According to data from the US Commerce Department cited by CNBC, domestic sales of clothing and accessories surged in the month of May 2020 versus April 2020 levels, hitting $8.4 billion last month (please note this is not on a seasonally adjusted basis). However, that is still down sharply from the $22.9 billion consumers spent on clothing and accessories in the US back in May 2019 (again, not on a seasonally adjusted basis).
The latest retail sales data in the US covering May 2020 indicates there is likely a recovery in consumer spending underway, though please keep in mind that this is off a low base. While the WSJ notes US retail sales rose 17.7% sequentially in May 2020 on a seasonally adjusted basis, US retail sales were still down 6.1% year-over-year.
With this information in mind, it becomes clear why shares of GPS have sold off heavily since the middle of February. Gap suspended its dividend in late March and withdrew its full year guidance for fiscal 2020. Given the pressure facing its financials, Gap may not resume dividend payments for quite some time.
The large premium mall-focused real estate investment trust ('REIT') Simon Property Group Inc (SPG) is suing Gap over unpaid rent. CNBC reports that Simon Property Group's assets are home to over 410 Gap stores when including Banana Republic and Old Navy locations, making Gap one of the REIT's largest tenants. Simon Property Group is seeking $66 million from Gap (missed rent payments and other fees) along with future rent payments as the clothing retailer stopped paying rent on stores that were closed by pandemic containment efforts starting in late-April. Gap contends it should not have to pay rent for stores that are temporarily closed while Simon Property Group contends that Gap signed a contract with the REIT and that the rent is due regardless of containment efforts. Litigation is ongoing.
Fiscal First Quarter Earnings Update
As of May 2, 2020, Gap had $1.1 billion in cash, cash equivalents, and short-term investments combined on the books versus $0.5 billion in short-term debt (drawn on one of its revolving credit lines) and $1.25 billion in long-term debt. Compared to many of its peers, Gap's balance sheet is far stronger given its relatively modest net debt load (for a US retailer). The firm generated sizable negative free cash flows last fiscal quarter due in large part to government-mandated COVID-19 containment efforts, which prompted management to take action to shore up Gap's liquidity position (from the earnings press release):
Early in the [fiscal] second quarter, the Company issued $2.250 billion of senior secured notes. A portion of the proceeds of the notes will be used to redeem the previously issued $1.250 billion unsecured notes due April 2021. The Company also repaid the outstanding $500 million borrowed under its prior revolving credit facility [appears to be Gap's outstanding short-term debt balance at the end of the fiscal first quarter]. In addition, the Company secured a $1.868 billion asset-based revolving credit facility that replaced its existing unsecured revolving credit facility. As of [the June 4] earnings release, the $1.868 billion has not been accessed and remains available for Company use. The Company currently believes this new capital structure provides sufficient liquidity to navigate the COVID-19 pandemic.
In the upcoming graphic down below, Gap provides an overview of the actions it took to ride out the storm created by the ongoing COVID-19 pandemic (a strategy that included reducing its capital expenditure expectations, suspending its dividend and share repurchase programs, and issuing out long-term debt). Please note that the coupon on Gap's recently issued debt was quite hefty considering the firm issued out $0.5 billion in 8.375% Senior Secured Notes due 2023, $0.75 billion in 8.625% Senior Secured Notes due 2025, and $1.0 billion in 8.875% Senior Secured Notes due 2027.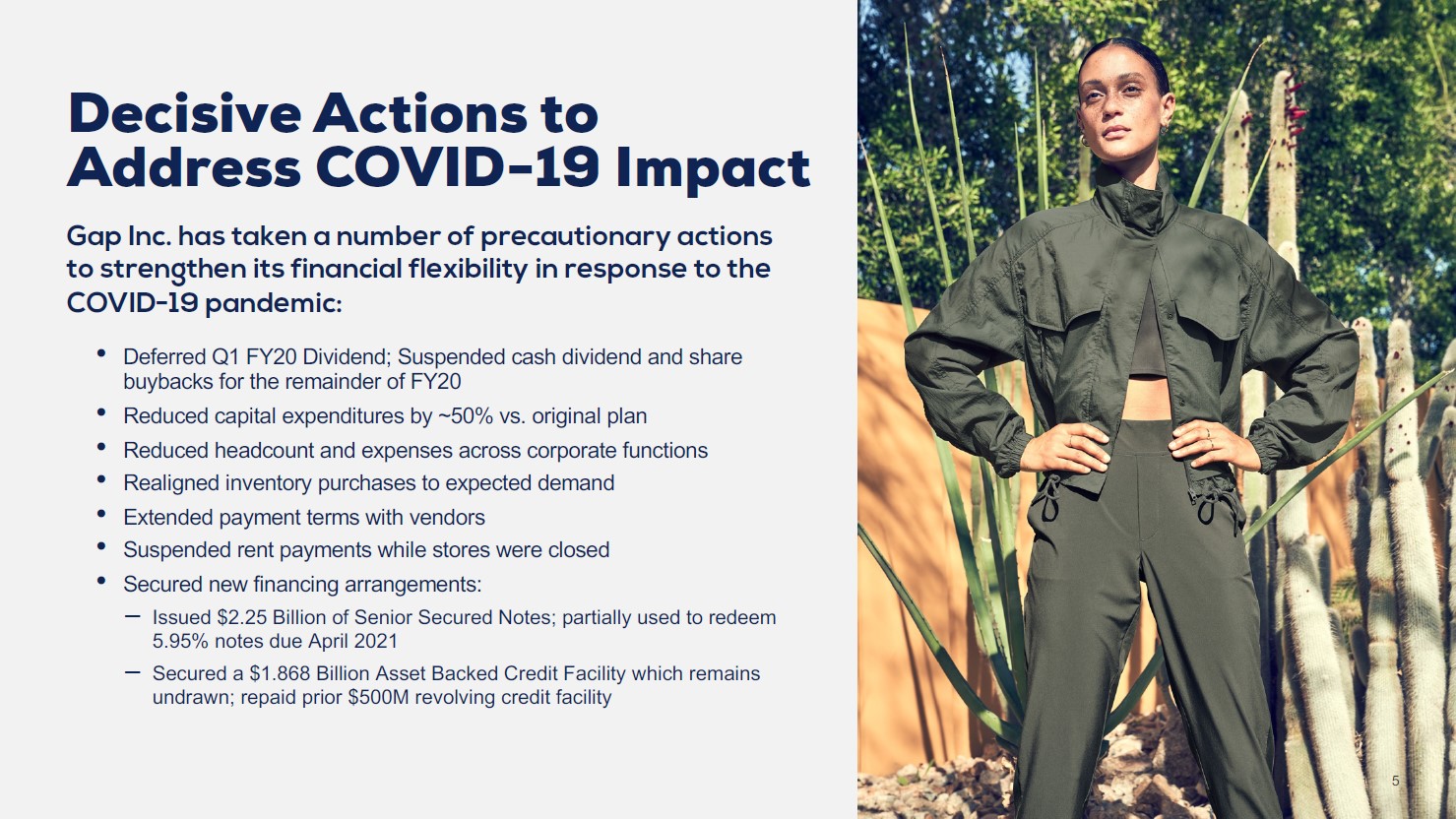 Image Shown: An overview of the various moves Gap made to shore up its financial position and bulk up its liquidity levels to ride out the storm. Image Source: Gap – First Quarter Fiscal 2020 IR Earnings Presentation
Gap reported its GAAP net sales dropped by 43% year-over-year in the first quarter of 2020 and both its GAAP gross and operating margins were decimated. The firm's online sales grew by 13% year-over-year last fiscal quarter, and those sales really started to pick up pace in April and May. Here's what Gap's CEO, Sonia Syngal, had to say during the retailer's latest quarterly earnings call:
"Our team's ability to pivot quickly and lean into our strong online business resulted in an encouraging 40% online sales growth in April. While net sales and store sales continue to reflect material declines in May due to the store closures and demand shock, we saw over 100% growth in online sales during this past month of May."
The company is in the process of reopening its physical stores which will improve its outlook assuming customer foot traffic returns. By the end of June, Gap aims "to have the vast majority of our North American stores re-opened" which given its reliance on in-store sales, successfully re-opening its stores will go a long way in helping revive its sales trajectory. While Gap's digital sales saw strong growth last fiscal quarter and apparently during the start of its fiscal second quarter, online sales represent just a small part of the retailer's business.
Concluding Thoughts
Gap was able to buy itself some time by issuing debt with hefty coupons, but ultimately the clothing retailer needs to re-open its physical stores to revive its financials. The company is well on its way to resuming operations in the "new normal" environment (Gap's stores will need to comply with social distancing and other hygiene measures given the pandemic, such as compulsory wearing of masks indoors, in most if not all US states), though we caution that high unemployment rates will weigh negatively on consumer purchasing power in the US and abroad going forward. Members interested in reading more about the embattled retail space in the US should check out some of our latest commentary on Macy's Inc (M) here---->>>>
----------
Dollar Store and Department Store Industries – KSS M JWN BIG DG DLTR PSMT
Specialty Retailers Industry – AAN BBBY BBY GME HD LOW LL ODP SHW TSCO WSM
Food Retailing Industry – CASY COST CVS KR SYY TGT WBA WMT
Retail REIT Industry – CONE DLR FRT O REG SPG WPC
Related: AMZN, FDS, SPY, VDC, VNQ
----------
Valuentum members have access to our 16-page stock reports, Valuentum Buying Index ratings, Dividend Cushion ratios, fair value estimates and ranges, dividend reports and more. Not a member? Subscribe today. The first 14 days are free.
Callum Turcan does not own shares in any of the securities mentioned above. Dollar General Corporation (DG) and Vanguard Real Estate ETF (VNQ) are both included in Valuentum's simulated Best Ideas Newsletter portfolio. Realty Income Corporation (O) and Digital Realty Trust Inc (DLR) are both included in Valuentum's simulated Dividend Growth Newsletter portfolio. Vanguard Consumer Staples ETF (VDC), Digital Realty Trust and Vanguard Real Estate ETF are all included in Valuentum's simulated High Yield Dividend Newsletter portfolio. Both the simulated Best Ideas Newsletter and Dividend Growth Newsletter portfolios include a SPDR S&P 500 ETF Trust (SPY) put option holding with a $295 per share strike price that expire on August 21, 2020. Some of the other companies written about in this article may be included in Valuentum's simulated newsletter portfolios. Contact Valuentum for more information about its editorial policies.