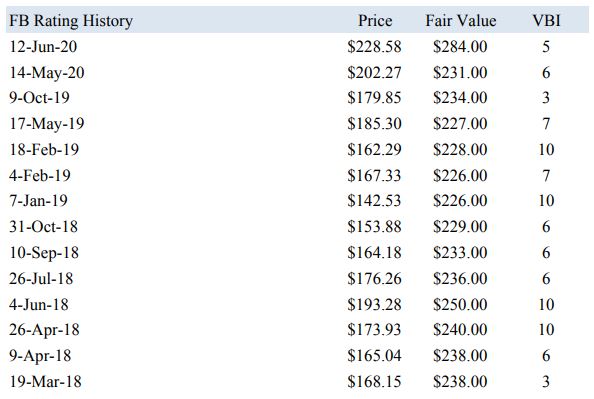 Image: The Valuentum Buying Index is not a stair-step trading strategy, and we view only 9s and 10s and 1s and 2s as material considerations to consider buying or consider selling criteria. We have held prior 9s and 10s in the newsletter portfolios until they reach our fair value estimates, until their technicals roll over, until they register ratings of 1 or 2 on the VBI, or due to changes in certain criteria with respect to market conditions or overall portfolio constitution. Our best ideas remain in the newsletter portfolios and Exclusive publication.
By Brian Nelson, CFA
The Valuentum Buying Index (VBI) is NOT a monthly, quarterly, or report-update by report-update trading methodology (it can be if you want, but that's not how we think about it). The VBI is a long-term investing methodology. It seeks to highlight companies that may fit the criteria of "Valuentum" stocks with ratings of 9 or 10 (10 = best). At the time of the rating, the newsletter portfolio management team evaluates whether that particular stock fits the criteria for addition to the respective portfolios. It may be added to the newsletter portfolios, or we may pass.
The VBI, while systematic, is not a mechanical strategy as it has a qualitative portfolio management overlay. We use the VBI as another data point to source ideas for the newsletter portfolios, in conjunction with a business model evaluation, fair value estimate range assessment, portfolio construction impact, dividend growth and income assessment (where applicable), as well as other considerations. In the case of Facebook, there may not be a stock that has better fit the Valuentum methodology. That's why it has been weighted at the very top in the Best Ideas Newsletter portfolio for so long!
For example, the four instances of a 10 in its rating history (see image above) may comprise roughly 15%-20% of all 10s in the history of the VBI rating system. That means something to us. We wouldn't seek to remove Facebook from the portfolio as its rating falls to a 7 or 6 or 3, but rather we'd hold it until it registers a 1 or 2, or meets other "consider selling" criteria as it relates to its technical/momentum considerations, or with respect to dynamics noted above.
Unlike quantitative systems, the Valuentum Buying Index is NOT after grouping hundreds and hundreds of similar ratings together, but rather, it seeks to identify the best of the best to add to the newsletter portfolios, and Facebook has been one of them, and it has definitely delivered. Facebook has been a holding in the Best Ideas Newsletter portfolio for a very long time, and we expect further upside on the basis of the high end of our fair value range, which is $355 per share, as of August 25, 2020 -- download its stock report here (pdf).
We understand many of you are dividend growth and yield/income investors, and some of the best ideas in this area are in the Dividend Growth Newsletter portfolio, or the High Yield Dividend Newsletter portfolio, which can be added to your membership here. Please note we made a few recent changes to the newsletter portfolios here, and the newsletter portfolios on the website will be updated at the time of the respective newsletter release.
At a 10%+ weighting in the Best Ideas Newsletter portfolio, Facebook is up over 30% on the year. In the past year, it is up over 50%. We've had a lot of success with this name, and we still like it. It has a strong net cash position, solid future expected free cash flows, one of the most competitively advantaged business models (network effect) out there, and it is tied to secular growth tailwinds. Our favorite names for consideration continue to be in the newsletter portfolios and generally in the areas of big-cap tech, large cap growth, and the NASDAQ.
We're available for any questions. View Facebook's stock page >>
-----
Valuentum members have access to our 16-page stock reports, Valuentum Buying Index ratings, Dividend Cushion ratios, fair value estimates and ranges, dividend reports and more. Not a member? Subscribe today. The first 14 days are free.
Brian Nelson owns shares in SPY and SCHG. Some of the other securities written about in this article may be included in Valuentum's simulated newsletter portfolios. Contact Valuentum for more information about its editorial policies.