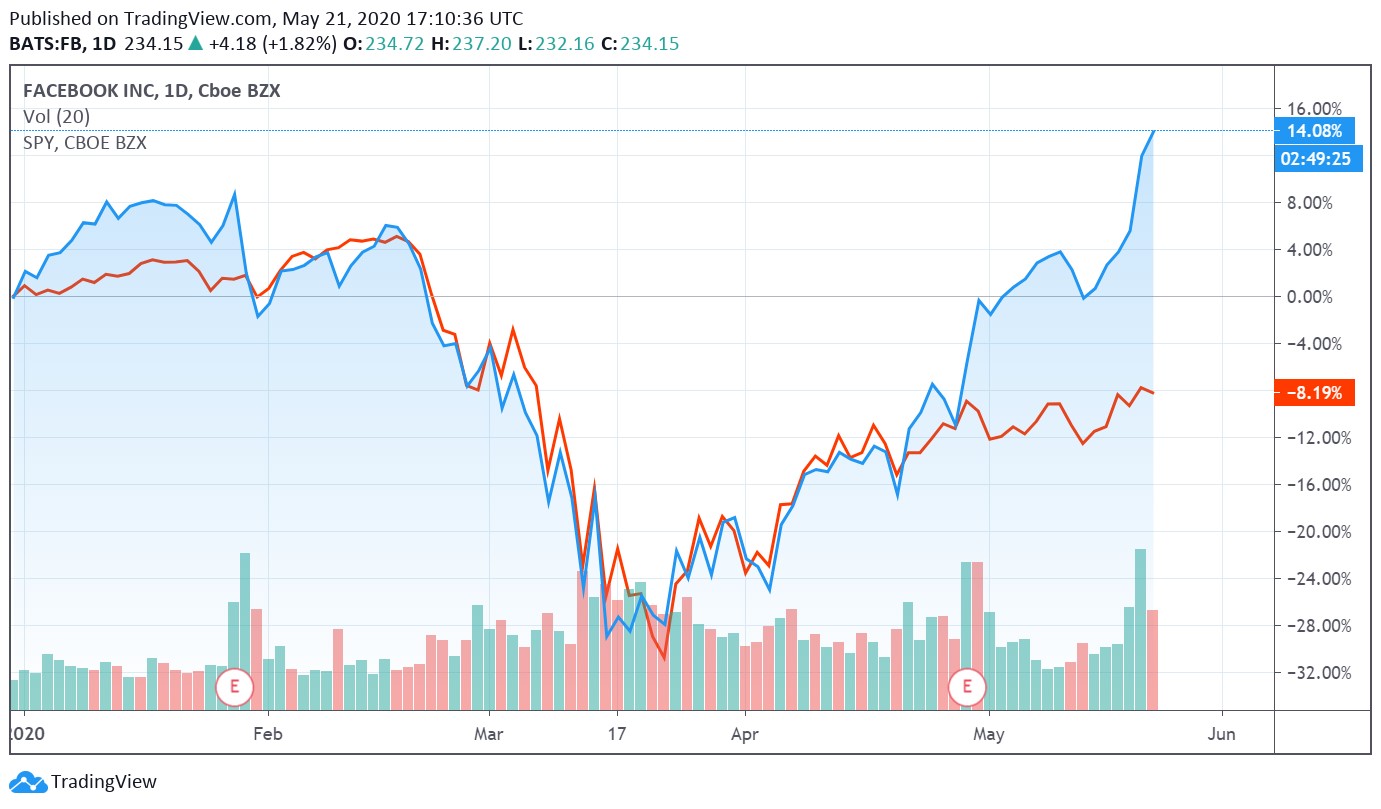 Image Shown: Shares of Facebook Inc have outperformed the S&P 500 index year-to-date, as of this writing on May 21, by a wide margin.
By Callum Turcan
Facebook Inc (FB) is a top-weighted holding in the Best Ideas Newsletter portfolio and shares have surged upwards of late, sparked in part by its strong first-quarter 2020 performance, relatively speaking, given the ongoing coronavirus ('COVID-19') pandemic. Members interested in reading our thoughts on Facebook's latest earnings report are encouraged to check out this article here. As of this writing on May 21, shares of FB are up ~14% year-to-date while the S&P 500 (SPY) is down ~8% during the same period (this is before taking dividend considerations into account; however, that doesn't change this picture by much).
We continue to like Facebook as a top-weighted holding in the Best Ideas Newsletter portfolio and please note that the top end of our fair value estimate range sits at $289 per share. Given the company's strong fundamental and especially technical performance of late, there's room for shares of FB to march significantly higher from current levels.
Background
For a long time, Facebook has wanted to diversify part of its business away from digital advertising, and towards the e-commerce and financial tech (namely payment processing and payment solutions) space. Digital advertising is still a very lucrative business, but having more diversified revenue streams by expanding into areas adjacent to its core business is a good move by Facebook, in our view.
In previous articles covering Facebook, we highlighted how the company was teaming up with a local partner in India (a major telecommunications and digital platform conglomerate, Jio Platforms) to better enable consumers to connect with small grocery stores by integrating JioMart (owned by Jio Platforms) with Facebook-owned WhatsApp. We also highlighted in the past Facebook's desire to launch its own "stable coin" digital currency, Libra, which would be backed by a basket of real world currencies from major developed nations. On the Facebook-owned Instagram app, users can purchase products featured in posts and advertisements, and when that service was launched, we mentioned to our members that this new offering is entirely incremental to our fair value estimate and fair value estimate range concerning Facebook.
There's also the Facebook Marketplace offering that's similar to Craigslist and eBay Inc (EBAY), where consumers can buy and sell new and used products. Facebook also has launched various forms of payment processing and payment solutions services, which we'll cover later on. All of these moves point towards Facebook's growing desire to get into the e-commerce and financial tech space one way or the other.
Launching Shops
Very recently, Facebook's CEO Mark Zuckerberg rolled out a new concept called 'Shops' via a Facebook Live session. This e-commerce strategy is built around businesses having their own Facebook Shop or Instagram Shop, with products and promotions displayed prominently on those webpages similar to what Amazon Inc (AMZN) offers small- and medium-sized businesses through Amazon Storefront and to larger entities through a different service. Businesses can design these webpages with tools provided by Facebook for free to make the user experience more engaging. Additionally, Facebook isn't competing with its potential small business partners as Amazon often is, which may make Shops more enticing to those seeking a digital partner.
Facebook Shop will launch first, followed by the launch of Instagram Shop later on (management is targeting for the service to launch in the summer of this year). These Shops will be promoted through ads and "stories" (defined as user generated compilations of photos and videos, specifically on Facebook and Instagram) across Facebook's slate of social media sites. Facebook is integrating these offerings so a business can have potential customers click on a link in the business' live video feed (for example) and end up at their Facebook Shop. For Instagram Shop, potential customers can browse products at Instagram Explore or click on a link in a photo and end up at the relevant business' Instagram Shop (for example).
Part of the appeal of these offerings is that businesses (particularly small businesses) will get to leverage Facebook's existing catalog and customer engagement infrastructure. The social media giant is also aiming to support integrated promotional programs. Facebook will take a small cut per purchase conducted through its various e-commerce marketplace offerings if the consumer uses Facebook's checkout option and payment processing infrastructure. Furthermore, please note that part of the Shops strategy involves encouraging businesses to spend more on their digital advertising budgets across Facebook's slate of websites and apps.
Bigger picture, Facebook wants to create an ecosystem that goes beyond allowing its user base to communicate with friends and family, and towards one that allows users to conduct a whole range of activities online across Facebook-owned properties.
While these are very early days, we are intrigued by Facebook's push into the world of e-commerce. Longer term, we expect Facebook to leverage Shops to push further into the realm of payment processing and payment solutions. Facebook is already present in these arenas as money can be sent through WhatsApp or Facebook Messenger on a peer-to-peer basis, and the firm built its payment processing infrastructure up from the ground floor as it relates to handling payments concerning games and ads purchased across Facebook's slate of businesses. Additionally, Facebook Payments can be used to handle purchases at the firm's Facebook Marketplace offering and at other websites. Expanding on that, by pushing deeper into the world of e-commerce, Facebook aims to drive greater usage of its payment options over time by creating an ecosystem that users engage with more regularly (at least in theory).
Facebook is encroaching on Shopify Inc's (SHOP) territory, though users of these types of third-party platforms will be able to manage Facebook Shops and Instagram Shops through Shopify directly. Shares of SHOP have more than doubled year-to-date as of this writing on May 21, as e-commerce is playing a much greater role in consumer's daily lives given the ongoing COVID-19 pandemic and related stay-at-home orders in the US and elsewhere. That trend is expected to continue even after the crisis has past, which is why Facebook is making a big push in this space. Facebook is also encroaching on PayPal Holding Inc's (PYPL) territory (Venmo, owned by PayPal, is a very popular peer-to-peer money transfer app), another favorite of ours that's included with a near top-weighted holding in our Best Ideas Newsletter portfolio. However, we see ample room for both firms (and many others) to thrive in the financial tech space.
Concluding Thoughts
While the digital advertising market will take a hit in the short-term due to the COVID-19 pandemic and economic slowdown experienced worldwide, we expect that the digital advertising industry will bounce back relatively quickly once the global economy begins to restart. We continue to be impressed with Facebook's long-term growth strategy and are excited to see how its push into the e-commerce and financial tech space plays out, which for the most part is entirely incremental to our fair value estimate and fair value estimate range concerning shares of FB.
-----
Financial Tech Services Industry – MA MELI PYPL VRSK V
Banks & Money Centers Industry – AXP BAC BBT BK C DFS FITB GS HSBC JPM KEY MS NTRS PNC RF STI TCF USB WFC
Software Industry – ADBE ADSK EBIX INTU MSFT ORCL CRM
Internet Content & Services Industry – GOOG GOOGL BIDU FB JD TECHY TWTR
Internet Content and Catalog Retail Industry – BABA AMZN BKNG EBAY EXPE GRPN IAC OSTK QRTEA STMP
Related: EBAY, SHOP, SOCL, SPY, MILN
-----
Valuentum members have access to our 16-page stock reports, Valuentum Buying Index ratings, Dividend Cushion ratios, fair value estimates and ranges, dividend reports and more. Not a member? Subscribe today. The first 14 days are free.
Callum Turcan does not own shares in any of the securities mentioned above. Bank of America Corporation (BAC) and Oracle Corporation (ORCL) are both included in Valuentum's simulated Dividend Growth Newsletter portfolio. Alphabet Inc (GOOG) Class C shares, PayPal Holdings Inc (PYPL), Facebook Inc (FB) and Visa Inc (V) are all included in Valuentum's simulated Best Ideas Newsletter portfolio. Some of the other companies written about in this article may be included in Valuentum's simulated newsletter portfolios. Contact Valuentum for more information about its editorial policies.