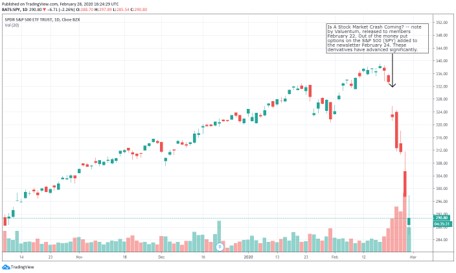 Image: We "added" out of the money put options on the S&P 500 ETF (SPY) Monday morning, February 24. The markets have crashed since.
Hi everyone,
We trust you are well and staying safe during this crisis.
One of the biggest takeaways of our book, Value Trap: Theory of Universal Valuation, is just how volatile the markets might become in the event of the next crisis as a result of price-agnostic trading, or what we define as passive indexing and quantitative algorithmic trading--buying and selling anything at any price irrespective of intrinsic value.
Well, that next crisis has now arrived.
After our call to "add" deep out-of-the-money put options to both the Best Ideas Newsletter portfolio and Dividend Growth Newsletter portfolio February 24, I have received lots of questions and feedback. Many members were interested in learning more about options, and it has been an area that we haven't spent much time on in providing educational material to members.
Those September 18, 2020 put options that we "added" with strike $250 are now trading at $10.45. The idea has advanced almost 500% since the last Friday close, and based on member feedback, that price is now up about 300% since Monday's open, or thereabouts. This performance is atypical, and a home run by any measure, but it does bring up a few things. Without our providing ongoing option-related ideas and commentary, our members may be missing out on potentially valuable alpha-generating and hedging ideas.
That is now going to change. Beginning April 2020, we'll be starting to release via email options-related ideas (two per month) and commentary, as well as educational information, to those that subscribe. Depending on market opportunities, ongoing ideas could include commentary associated with writing covered calls for income, identifying mispriced securities over distinct time horizons and identifying mispriced volatility, as well as other considerations.
If you would like to add more options-related ideas and commentary, please add this as part of your membership here ($500/year). You will receive a registration and confirmation email soon after we receive payment. Given the vast success of the Exclusive publication, we will be limiting these ideas and commentary to 500 members. No refunds. Cancel anytime.
As an important note, please stay safe out there as COVID-19 continues to spread around the world. Your support across our service and products is greatly appreciated. Thank you for your interest. Please let us know if you have any questions.
President, Investment Research
Valuentum Securities, Inc.
-----
Please be sure to ask your financial advisor if options may be right for you. Derivatives trading is risky, can result in complete loss of premium (capital), and most options expire worthless