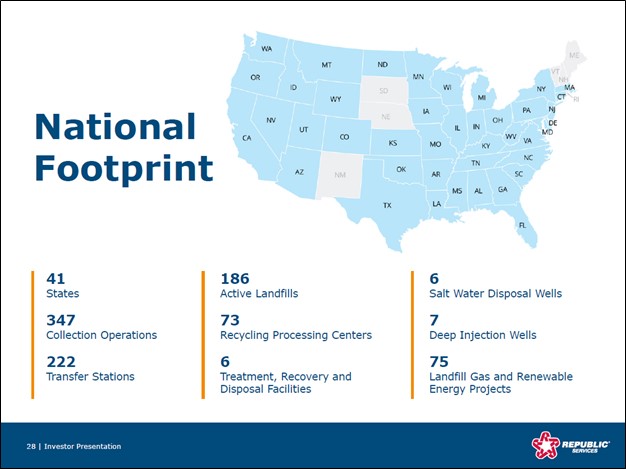 Image Shown: An overview of Republic Services Inc's expansive waste management operations across the US. We include shares of Republic Services as an idea in our Dividend Growth Newsletter portfolio. Image Source: Republic Services Inc – May 2021 IR Presentation
By Callum Turcan
The waste management business is highly appealing when it comes to finding potential dividend growth opportunities. Our favorite idea in the space, Republic Services Inc (RSG), is included in the Dividend Growth Newsletter portfolio. Shares of RSG yield ~1.5% as of this writing and have been on a nice upward trend during the past few months. The top end of our fair value estimate range sits at $125 per share (RSG trades at ~$110 per share at the time of this writing).
Earnings Update
Republic Services reported first-quarter 2021 earnings May 5, and the results were mixed. The garbage hauler beat consensus bottom-line estimates but missed consensus top-line estimates. More importantly, however, Republic Services raised its full-year guidance for 2021. Now Republic Services expects it will post $3.74-$3.79 in adjusted diluted EPS (up from $3.65-$3.74 previously) and $1.35 billion-$1.4 billion in adjusted free cash flow (up from $1.3 billion-$1.375 billion previously) this year. We appreciate Republic Services' confidence in its outlook.
During the first quarter of 2021, Republic Services reported 2% year-over-year GAAP revenue growth due primarily to its pricing strength as volumes fell moderately in the period. On the trash taker's first quarter earnings call, Republic Services noted that it expects volumes will steadily improve going forward. Approximately 80% of Republic Services' revenues have an "annuity-type profile," and its collection business represents roughly 75% of its revenues.
Republic Services' GAAP operating income rose 14% year-over-year as its GAAP operating margin expanded ~200 basis points in the first quarter. Management noted that "the outsized margin expansion is a direct result of pricing in excess of our cost inflation and effective cost management," aided in part by its digital initiatives. Republic Services' website and mobile app function as online account management, tools and its e-commerce operations provide the firm with a lower cost sales channel that still enables it to meet the needs of its current and future customer base.
The rollout of the company's RISE dispatch platform and RISE in-cab technology system offers Republic Services further cost savings. By providing more real-time routing information and data visualization tools, Republic Services aims to generate sizable productivity gains by improving the ability of its employees to efficiency and safely operate. The garbage hauler noted that "we continued our high-performing safety record, reducing safety incidents 18% versus the prior year" in the first quarter.
Additionally, Republic Services is focusing on improving customer connectivity and enabling automated service verification communications to further support its operations. In 2020, Republic Services largely completed the rollout of its RISE dispatch platform and this year, the firm will be focused on rolling out the RISE in-cab technology improvements. These types of digitally-oriented investments support Republic Services' long-term outlook.
Financials Remain Rock-Solid
In the first quarter of 2021, Republic Services generated $330 million in free cash flow, up from $223 million in the same period last year. The firm spent $136 million covering its dividend obligations and $13 million buying back its common stock in the first quarter of this year, activities that were fully covered by its free cash flows and then some. While Republic Services had a significant net debt load of $8.7 billion (inclusive of short-term debt, exclusive of restricted cash and marketable securities) at the end of March 2021, we view that burden as manageable.
Republic Services' cash flow profile is stable and its future cash flows are quite visible given the "essential" nature of its businesses. The firm retains access to capital markets at attractive rates, as seen through its refinancing activities conducted last year (which played a key role in reducing its interest expenses by $18 million in the first quarter of 2021 versus year-ago levels according to recent management commentary).
In August 2020, Republic Services entered into a $1.0 billion 364-day revolving credit agreement that expires in August 2021. At the end of March 2021, there were no borrowings against that facility. Additionally, in 2018, Republic Services entered into a $2.25 billion revolving credit agreement that expires June 2023. This facility also did not have any borrowings against it at the end of March 2021, though it did have just under $0.4 billion in letters of credit outstanding against it at the end of this period.
Historically, Republic Services has kept a relatively modest amount of cash and cash equivalents on hand. Its revolving credit facilities provide it with ample access to liquidity to meet its near-term funding needs. In the upcoming graphic down below, Republic Services highlights its well-staggered debt maturity schedule as of the end of March 2021. Please note that its two credit facilities were nowhere close to being fully drawn at the end of March 2021 (the light blue bars in the below graphic are to highlight Republic Services' access to liquidity). We appreciate Republic Services' investment grade credit rating (Baa2/BBB+/BBB).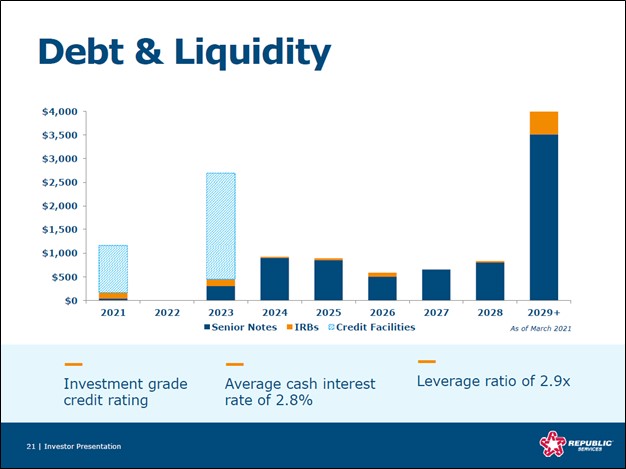 Image Shown: Republic Services' debt maturity schedule was well-staggered at the end of March 2021, making future refinancing activities an easier task. Image Source: Republic Services – May 2021 IR Presentation
Acquisition Update
In early May 2021, Republic Services closed its acquisition of Santek Waste Services, a vertically-integrated firm that provides recycling and waste management services to customers primarily located in the southern part of the US. Not a lot of information is readily available on the acquisition, though Republic Services did reportedly need to make a deal with the US Department of Justice ('DOJ') as it relates to divestments to comply with anti-trust rules.
Tuck-in acquisitions enable the company to realize synergies quite quickly, and the trash taker views its deal pipeline as "robust" which speaks favorably to its long-term outlook as an industry consolidator. Republic Services needs to be mindful of its net debt load when analyzing potential M&A activity, in our view, though its strategy is sound given the ample operational overlaps and potential cost savings.
Concluding Thoughts
We think Republic Services is a great idea for long-term dividend growth investors. The firm's latest guidance boost is a welcome sign, and its digital initiatives offer long-term upside by boosting productivity while improving worker safety and customer connectivity. Republic Services' outlook is very bright, and we expect management to keep pushing through meaningful dividend increases in the coming years. We continue to like Republic Services as an idea in the Dividend Growth Newsletter portfolio.
Downloads
Republic Services' 16-page Report (pdf)
Republic Services' Dividend Report (pdf)
-----
Tickerized for RSG, WM, WCN, CWST, SRCL, EVX, USMV, CLH, CVA, DAR, ECOL, VEOEY, SZEVY, ENGIY
Industrial Leaders Industry - MMM, DHR, GE, HON, BA, GD, LMT, NOC, RTX, WM, RSG, CAT, CNHI, DE, CNI, CSX, UNP, FDX, UPS, FAST, APH, GLW, TEL, ETN, DOV, ITW, SWK, EMR, ROP, PNR, PH, AOS, EXPD, GWW
Valuentum members have access to our 16-page stock reports, Valuentum Buying Index ratings, Dividend Cushion ratios, fair value estimates and ranges, dividend reports and more. Not a member? Subscribe today. The first 14 days are free.
Callum Turcan does not own shares in any of the securities mentioned above. Honeywell International Inc (HON), Lockheed Martin Corporation (LMT), and Republic Services Inc (RSG) are all included in Valuentum's simulated Dividend Growth Newsletter portfolio. Some of the other companies written about in this article may be included in Valuentum's simulated newsletter portfolios. Contact Valuentum for more information about its editorial policies.