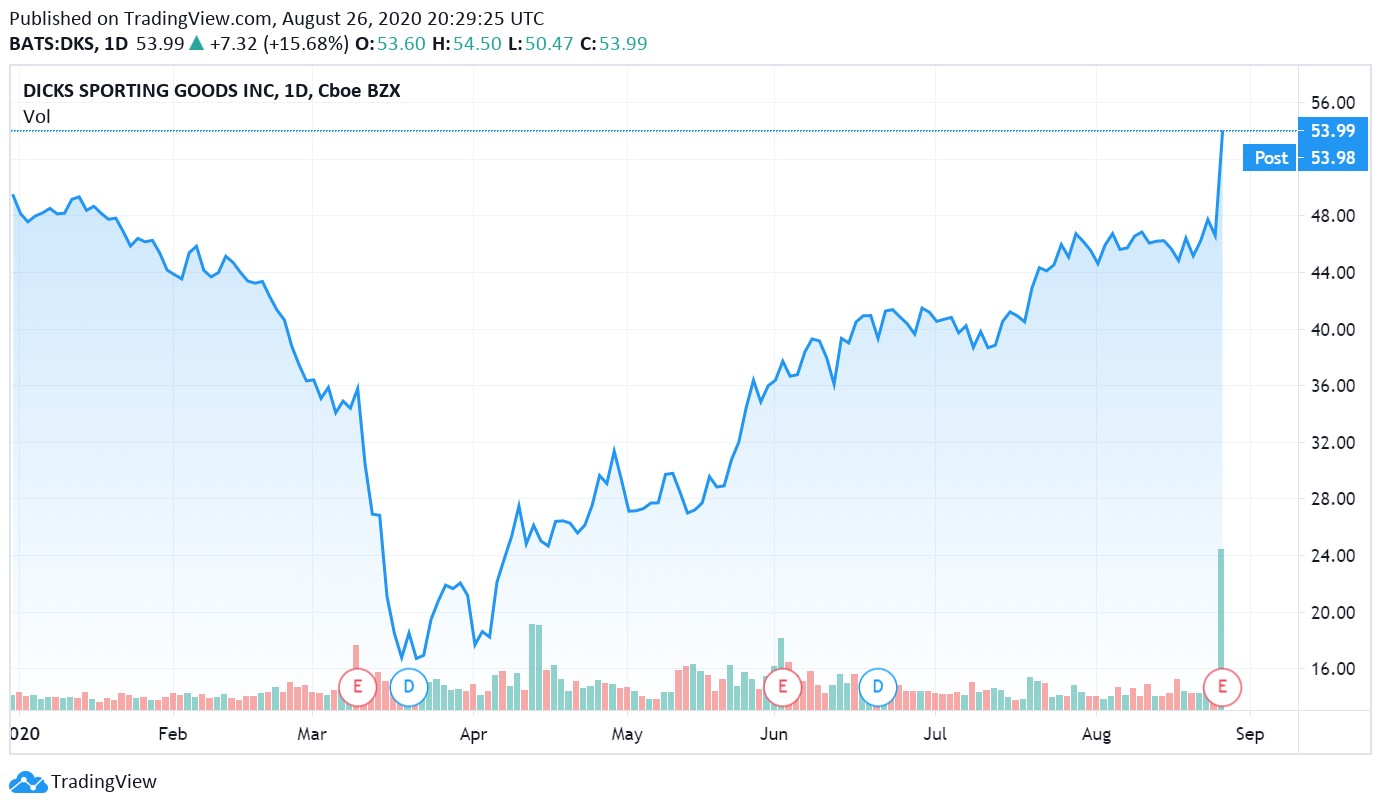 Image Shown: Shares of Dick's Sporting Goods Inc rallied by ~16% during normal trading hours on August 26 after reporting stellar same-store sales growth.
By Callum Turcan
On August 26, Dick's Sporting Goods Inc (DKS) reported second quarter fiscal 2020 earnings (period ended August 1, 2020) that beat consensus estimates on both the top- and bottom-lines. Driving this outperformance was Dick's Sporting Goods' 20.7% year-over-year increase in same-store sales as its e-commerce sales rose by 194%, which includes sales conducted through its curbside contactless pickup option. E-commerce sales represented ~30% of the sporting goods retailer's total sales last fiscal quarter. Average ticket sizes and the number of transactions both grew last fiscal quarter according to management commentary included in the earnings press release.
Shares of DKS shot up by almost 16% after the report was published during normal trading hours on August 26. As of this writing, shares of DKS are trading near the upper bound of our fair value estimate range (which sits at $56 per share). That means shares of Dick's Sporting Goods appear fairly valued at the moment, and we like its strong e-commerce performance and improving outlook. After reinitiating its quarterly dividend program this past June, shares of DKS yield 2.3% on a forward-looking basis (with an annualized payout of $1.25 per share of its common stock). We will cover its financial strength and dividend policy in greater detail in this note.
Quarterly Overview
In the fiscal second quarter, Dick's Sporting Goods' GAAP revenues rose 20% while its GAAP gross margin skyrocketed by over 450 basis points year-over-year, with management citing strength at the firm's hardline, apparel, and footwear sales. The shift towards athleisure wear and "active lifestyle product[s]" has clearly worked in Dick's Sporting Goods' advantage. Management noted that "the majority of our assortment" caters to this space, which has benefited from households turning to fitness and outdoor activities to keep busy and healthy during the pandemic in a socially distant way. During the company's latest earnings call, management had this to say on the issue (emphasis added):
"Over the past few months, the partnerships demonstrated by our strategic vendors, has been unparalleled. During Q2, we leveraged these strong vendor relationships. And our private brand supply chain, to aggressively chase product, in the most in-demand categories.
Certain categories in the marketplace were supply constrained, therefore, less promotional, and our margin rates increased by 325 basis points, during the quarter. This merchandise margin expansion drove significant improvement, in gross margin, which increased 456 basis points." --- Ed Stack, CEO and Chairman of Dick's Sporting Goods
Dick's Sporting Goods' GAAP operating income and margin benefited from growing economies of scale and the significant gross margin increase. Last fiscal quarter, the retailer's GAAP operating income rose by over 150% while its GAAP operating margin rose by over 750 basis points year-over-year. Its GAAP net income more than doubled year-over-year during this period. Please note Dick's Sporting Goods incurred meaningful incremental operating costs to deal with the pandemic last fiscal quarter, which included additional compensation for its employees (particularly frontline employees).
Key Financial Considerations
This strong performance gave management the confidence to reinstate Dick's Sporting Goods' common dividend program back in June after suspending its dividend program and share repurchases back in March. Last fiscal quarter, Dick's Sporting Goods did not repurchase a significant amount (or any) its common stock, though management noted "opportunistic" share buybacks could resume at some point in the future. Dick's Sporting Goods' is still not issuing out full-year guidance for fiscal 2020 due to the uncertainties created by the ongoing pandemic.
As of August 1, 2020, the company had $1.1 billion in cash and cash equivalents on hand versus $0.4 billion in long-term debt (specifically, 3.25% convertible senior notes due 2025). We strongly appreciate Dick's Sporting Goods' net cash position. Please note the $0.4 billion in long-term debt is the carrying amount, the par value is just under $0.6 billion and $0.15 billion of that is considered an equity component and is included in additional paid-in capital. The company generated $0.9 billion in net operating cash flow during the first half of fiscal 2020 while spending just $0.1 billion on capital expenditures (keeping in mind the firm reduced its capital expenditure expectations for fiscal 2020 in the face of COVID-19), allowing for $0.8 billion in free cash flow.
Dick's Sporting Goods' amended its revolving credit line back in March 2020 increase the total aggregate commitments to $1.855 billion. That includes the ability to issue $0.150 billion in letters of credit against the facility. Should the need arise, the company can request to increase the total borrowing capacity by up to $0.245 billion. As of August 1, there were no borrowings against that credit facility, which matures June 2024. We like Dick's Sporting Goods' pristine balance sheet and rock-solid liquidity position.
Looking Ahead
Management noted that uncertainties over the back-to-school shopping period and the resumption of sports activities (such as recreational sports leagues and school leagues for all ages) clouded over Dick's Sporting Goods' near-term outlook, though the retailer's sales remained strong at the start of the fiscal third quarter. During the first three weeks of the fiscal third quarter, the company noted its same store sales were up 11% year-over-year, indicating the strong sales momentum seen last fiscal quarter is continuing.
By the end of June 2020, all of Dick's Sporting Goods' stores had reopened, which supports its near-term outlook. However, should its stores be forced to close again due to the pandemic, that would weigh negatively on its revenue generating abilities, though e-commerce sales channels would help offset some of those headwinds. Dick's Sporting Goods opened two fulfillment centers in the third quarter of fiscal 2019 to enhance its ability to meet (now surging) e-commerce demand, which will come in handy as the upcoming holiday shopping season draws closer.
Here is some additional commentary from management on Dick's Sporting Goods' e-commerce strategy (concerning both its historical and future performance) from its latest earnings call (emphasis added):
"Turning to eCommerce, during the second quarter, our online sales increased 194%, with over 50% mobile penetration. This included curbside pickup, where we focused on improving speed and convenience and the athlete response remained very strong.
eCommerce merchandise margin expanded meaningfully, which along with higher penetration of Curbside and BOPIS sales drove a significant improvement in eCommerce gross margin. We also continue to reduce delivery times to our athletes even as eCommerce demand remained at unprecedented levels.
This success online is a direct result of the technology and fulfillment investments we have made over the years, as well as better integration of our digital and store channels, as we work relentlessly improve the athlete experience, enhance our profitability and build a best-in-class omni-channel platform." --- Lauren Hobart, President of Dick's Sporting Goods
According to the company's Fiscal 2019 Annual Report the "majority of our DICK'S Sporting Goods stores are located in the eastern half of the United States, which exposes us to various regional risks, including those relating to weather conditions," and that includes pandemic-related risks as well. E-commerce sales channels represents the best way for Dick's Sporting Goods to mitigate those headwinds in the short-term.
Concluding Thoughts
Dick's Sporting Goods' is firing on all cylinders and its outlook looks bright. That said, we are not (too) interested in adding shares of DKS to our newsletter portfolios at this time given its extensive exposure to the pandemic, though we appreciate management's ability to grow the retailer's e-commerce sales at a crucial time for the company. We generally continue to prefer ideas in the newsletter portfolios. Dick's Sporting Goods' pristine balance sheet is a source of immense strength during these difficult times, however.
-----
Luxury Goods (Established Brands Industry) – EL LULU NKE PVH REV SIG UA UAA VFC
Specialty Retailers Industry – AAN BBBY BBY GME HD LOW LL ODP SHW TSCO WSM
Related: GPS, ANF, DBI, TLYS, M, JWN, KSS, AEO, GES, BOOT, PLCE, BKE, EXPR, ZUMZ, URBN, CPRI, KTB, RL, ROST, TJX, DDS, JCPNQ, TLRD, ASNA, GCO, GOOS
-----
Valuentum members have access to our 16-page stock reports, Valuentum Buying Index ratings, Dividend Cushion ratios, fair value estimates and ranges, dividend reports and more. Not a member? Subscribe today. The first 14 days are free.
Callum Turcan does not own shares in any of the securities mentioned above. Some of the companies written about in this article may be included in Valuentum's simulated newsletter portfolios. Contact Valuentum for more information about its editorial policies.