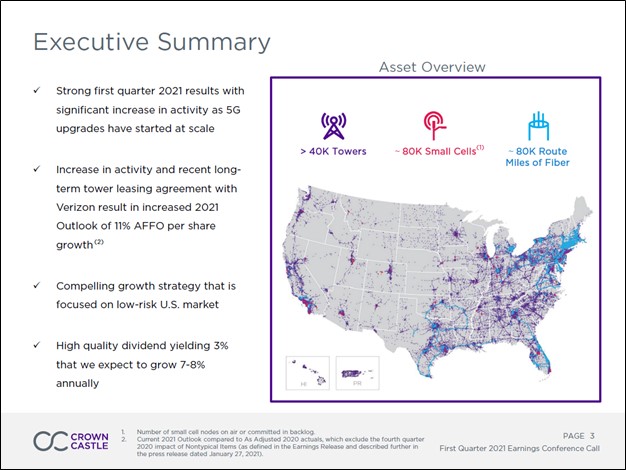 Image Shown: Crown Castle International Corp has an expansive portfolio of shared wireless infrastructure assets that covers every major market in the US. Image Source: Crown Castle International Corp – First Quarter of 2021 IR Earnings Presentation
By Callum Turcan
Crown Castle International Corp (CCI) is a high-quality real estate investment trust ('REIT') that focuses on shared wireless infrastructure assets. Its expansive portfolio includes 40,000+ towers, ~80,000 route miles of fiber, and ~80,000 small cell nodes. According to Crown Castle, the REIT has a presence in every major US market. As of this writing, shares of CCI yield ~2.9%.
Over the long haul, Crown Castle aims to grow its dividend per share and adjusted funds from operations ('AFFO') per share (an imperfect but useful non-GAAP metric) by 7%-8% annually. Crown Castle's adjusted Dividend Cushion ratio (taking its ability to tap capital markets into account) sits comfortably above parity at 1.5, indicating its forward-looking dividend strength is rock solid. Recent debt issuance activity and the strong performance seen at shares of CCI of late indicates Crown Castle continues to retain solid access to capital markets at attractive rates.
We are huge fans of Crown Castle and include the REIT as an idea in the High Yield Dividend Newsletter portfolio given its nice yield and promising payout growth outlook. Looking ahead, the ongoing buildout of 5G wireless infrastructure in the US, the Internet of Things ('IoT') trend, and the potential emergence of smart cities supports the outlook for data demand and ultimately Crown Castle's ability to grow its cash flows. Crown Castle's contracts generally are long term in nature and come with rent escalators and other provisions that are favorable for the REIT.
Earnings Update
On April 21, Crown Castle published first-quarter 2021 earnings that missed consensus top-line estimates but beat consensus AFFO per share estimates. The REIT's 'site rental revenues' rose 5% year-over-year in the first quarter as the uplift from new leasing activity and contractual rent escalations offset the negative impact of tenant non-renewals. We appreciate the REIT's resilient performance in the face of headwinds arising from the coronavirus ('COVID-19') pandemic.
Crown Castle generated $0.3 billion in free cash flow in the first quarter of this year, though it remains a capital-market dependent entity given its large net debt load (~$19.6 billion at the end of March 2021 inclusive of short-term debt and excluding restricted cash) and substantial payout obligations (which totaled $0.6 billion in the first quarter). Being capital-market dependent means Crown Castle needs to retain access to debt and equity markets, ideally at attractive rates, to keep making good on its payout obligations while managing its debt maturities and capital expenditure requirements (among other things).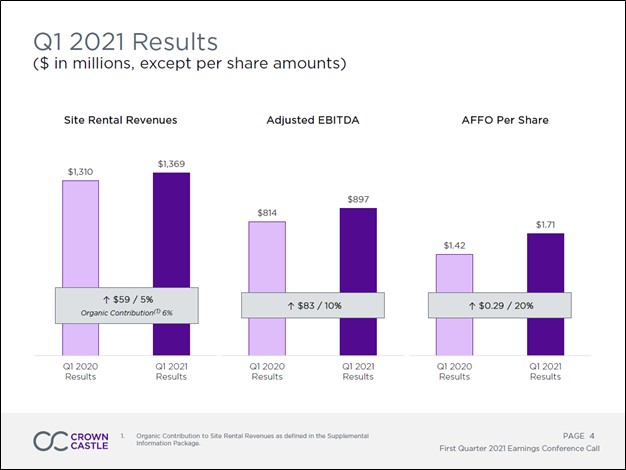 Image Shown: An overview of Crown Castle's financial performance in the first quarter of 2021. Image Source: Crown Castle International Corporation – First Quarter of 2021 IR Earnings Presentation

Most importantly, Crown Castle raised its full-year guidance for 2021 during its first quarter earnings report as you can see in the upcoming graphic down below. When adjusting for the impact the T-Mobile US Inc (TMUS) merger with Sprint (completed in April 2020) had on Crown Castle's financial performance due to the cancellation of certain contacts, along with other factors, Crown Castle now expects its per share AFFO to grow by 11% this year at the midpoint of guidance (up from 10% previously). Additionally, Crown Castle now sees its site rental revenues growing by 7% this year at the midpoint, up from 4% previously.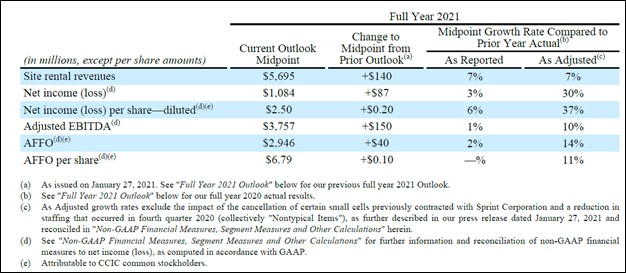 Image Shown: An overview of Crown Castle's updated 2021 guidance published in conjunction with its first quarter earnings report. Image Source: Crown Castle – First Quarter of 2021 Earnings Press Release
Please note that when T-Mobile cancelled ~5,700 small cell node contracts that Crown Castle had secured with Sprint (an action T-Mobile notified Crown Castle that it was going to pursue in December 2020), that prompted T-Mobile to accelerate the payment of all of the related contractual obligations to Crown Castle along with the relevant capital costs that had already been incurred. Crown Castle noted that "the majority of the cancelled small cells were not yet constructed and, upon completion, would have been located at the same locations as other T-Mobile small cells" in its fourth quarter 2020 earnings press release.
Major Deals
In November 2020, Crown Castle signed a major agreement with DISH Network Corp (DISH) to support the company's 5G wireless ambitions after DISH Network acquired Boost Mobile in July 2020 (a former Sprint prepaid brand). DISH Network aims to build out its own standalone 5G wireless network in the US over the coming years as it seeks to become a major US wireless service provider. Its agreement with Crown Castle involves DISH Network leasing space up to 20,000 of the REIT's cell towers. In the meantime, DISH Network is utilizing T-Mobile's wireless network via a long-term arrangement.
Additionally, Crown Castle announced a new long-term agreement with Verizon Communications Inc (VZ) in January 2021. This agreement involves Verizon leasing out 15,000 small cell nodes from the REIT over the next four years (with the initial lease term running for ten years once the small cell node is installed). These strategic partnerships have favorably augmented Crown Castle's growth runway and provide greater visibility as it concerns the REIT's future cash flow performance, given the stable and long lasting nature of these contracts under most circumstances, save for events like major merger and acquisition activities.
Management Commentary
During Crown Castle's first quarter 2021 earnings call, management had this to say (emphasis added):
"Turning back to our focus on generating superior long-term returns, one of our core principles of our strategy is to remain U.S. only, because we believe it represents the best market for wireless infrastructure ownership since it has the most attractive growth profile and the lowest risk. And we believe this dynamic of higher growth and lower risk will continue into the future which is why we expect our U.S.-based strategy to drive significant returns for our shareholders.
Starting with the higher growth we see in the U.S., the demand for our shared infrastructure offering across towers, small cells and fiber is tied to the robust demand for mobile data in the U.S. which continues to increase by more than 30% annually. Because the outlook is so compelling, the U.S. wireless market continues to attract a disproportionate amount of global capital investment. This is likely due in part to the fact that the durability and scale of wireless data growth in the U.S. has repeatedly outperformed expectations." – Jay Brown, President and CEO of Crown Castle
By sharpening its operational focus and securing meaningful long-term partnerships with the leading players in the space, Crown Castle aims to generate substantial shareholder value (ROIC ex-goodwill > WACC). Historically, Crown Castle has done a stellar job on this front, and we expect this will continue to be the case going forward.
Concluding Thoughts
We like Crown Castle as an idea in the High Yield Dividend Newsletter portfolio given its promising payout growth trajectory, solid business model, and bright outlook. The recent strategic arrangements Crown Castle secured with DISH Network and Verizon will go a long way in supporting the REIT's cash flow growth trajectory over the coming years. Crown Castle has been firing on all cylinders of late and the high end of our fair value estimate range sits at $210 per share of Crown Castle. Shares trade for ~$186 at the time of this writing.
Downloads
Crown Castle's 16-Page Stock Report (pdf) >>
Crown Castle's Dividend Report (pdf) >>
----
Telecom Services Industry - CMCSA, LUMN, DISH, T, TMUS, VZ, SBAC, AMT, CCI, VIAC
Related: NFLX, DIS, DISCA, ROKU, FOX, FOXA, FUBO
Valuentum members have access to our 16-page stock reports, Valuentum Buying Index ratings, Dividend Cushion ratios, fair value estimates and ranges, dividend reports and more. Not a member? Subscribe today. The first 14 days are free.
Callum Turcan does not own shares in any of the securities mentioned above. The Walt Disney Company (DIS) is included in Valuentum's simulated Best Ideas Newsletter portfolio. AT&T Inc (T) and Crown Castle International Corp (CCI) are both included in Valuentum's simulated High Yield Dividend Newsletter portfolio. Some of the other companies written about in this article may be included in Valuentum's simulated newsletter portfolios. Contact Valuentum for more information about its editorial policies.