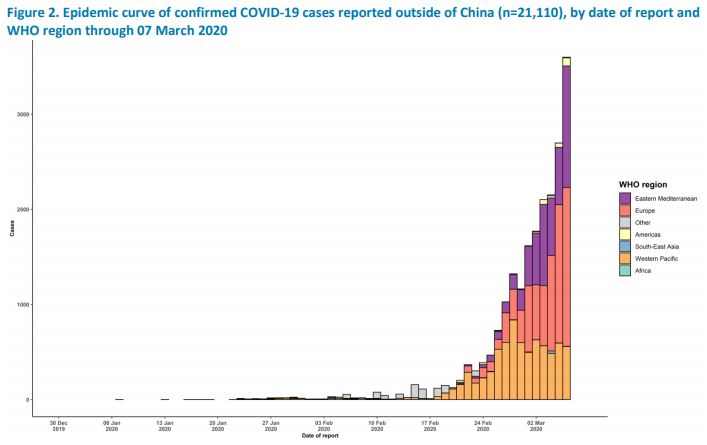 Image: WHO. The epidemic curve of confirmed COVID-19 cases that have been reported outside of China is steepening. Italy remains a hotspot.
By Brian Nelson, CFA
The "Coronavirus Crisis" is worsening.
According to the latest situation report from the World Health Organization (47), dated March 7, Italy (EWI) reported an increase of 778 new cases and 49 deaths as a result of COVID-19, increases of 20.2% and 24.9%, respectively, from the day prior. Total cases in Italy are now over 4,600 and total deaths now nearly 200, but these numbers are sure to rise in the coming days, if they have not already (the latest unofficial tally in Italy suggests new infections have risen to 5,883).
The terrible news prompted authorities to lock down the entire region of Lombary (home of Milan), one of the wealthiest in the country and in all of Europe, placing 16 million people under quarantine. Fourteen neighboring provinces are also impacted, including Venice and Padua, and people living in the now-quarantined areas need special permission to travel. The situation in the third-largest sovereign economy in Europe appears dire. According to the BBC:
Weddings and funerals have been suspended, as well as religious and cultural events. Cinemas, nightclubs, gyms, swimming pools, museums and ski resorts have been closed. Restaurants and cafes in quarantined zones can open between 06:00 and 18:00 but customers must sit at least 1m (3ft) apart. People have been told to stay at home as much as possible, and those who break the quarantine could face three months in jail.
The Italian government has also announced that all sporting events in Italy will be held without fans in attendance until April 3 in efforts to contain the deadly virus. The Vatican also confirmed its first case, and tragically, we're hearing that roughly 10% of positive patients in Italy are being admitted to the intensive care unit, which will almost certainly put too heavy of a load on the country's healthcare system (if the current trends continue).
The biggest concern in Italy, as in the United States (SPY, DIA), is that the current state of the healthcare system will be overwhelmed. A frightening analysis suggests we could see one million cases in the US by the end of April, and more than 4 million by mid-May. However, according to the same analysis, there may only be 330,000 beds available in the US at the moment, suggesting that by mid-May all currently open beds in the US would be occupied.
That doesn't even consider the strain that would be placed on the system due to isolation measures, the need for new masks and healthcare workers that may become infected. Just how contagious COVID-19 truly is seems almost hard to believe. For example, in that Kirkland nursing home in Seattle, it now has been reported that "70 of 180 employees have COVID-19 symptoms." It is looking like the impact of COVID-19 may be closer to the Spanish Influenza of 1918 than anything we've seen in the past couple decades (SARS, MERS, etc).
One study on the impact of COVID-19, for example, "predicts that even the best-case scenario is 15 million dead and a $2.4 trillion hit to global GDP." As it relates to the US, an "expert's worst-case scenario is 96 million infected in the US with up to 500,000 dead." These are simply incredible numbers, and we reiterate that, while others are dismissing this epidemic as merely the seasonal flu, the statistics are saying otherwise. A meaningful percentage of infected people need hospitalization, and according to some estimates, the mortality rates for COVID-19 cases aged 70 and above is 8%+ and with pre-existing conditions such as cardiovascular disease or diabetes is 10%+.
These times call for new tools. At Valuentum, we recently rolled out a new service with options commentary where we plan to highlight ideas that may help members better navigate this environment of extreme volatility, as well as consider ways to generate additional alpha. You can subscribe to this new commentary here. We've also received a number of questions on how to hedge one's portfolio for potential declines without using options, and one of our ideas in the Exclusive publication highlights how to do so. Please consider the Exclusive publication.
Concluding Thoughts
The situation with COVID-19 remains dire. A vaccine may not be available for another 12-18 months, which is simply too long before what could be an overwhelming of healthcare systems around the globe. The WHO has already revised the expected mortality rate of COVID-19 higher, now 3.4%, and its catastrophic impact on the large economies of China (FXI, MCHI, KWEB) and Italy is already being felt.
The US equity markets have largely lulled investors to complacency the past decade or so, and many have been conditioned to largely ignore major events as a result, employing the buy-the-dip-at-any-price mentality and championing "stocks always go up" doctrine. However, the situation with COVID-19 could be setting the stage for an all-out financial crisis, as we outline in this piece here. With the S&P 500 at 2,972, the market continues to largely ignore the long-term risks that may come from changed behavior as a result of COVID-19.
We're reiterating our near-term 2,350-2,750 target on the S&P 500, and we encourage long-term investors to evaluate long-term charts to assess how far we have come since the March 2009 panic bottom, and how even a modest 10-20% sell-off from here (supported by reasonable forward multiples and earnings) would be largely a blip over the long term. This blip, however, may cause an outright panic, made worse by price-agnostic trading. The Fed, for example, made an emergency 50 basis-point rate cut with the market just a few percentage points off all-time highs. Emotions are running high, and investors are simply not ready for COVID-19.
All else equal, panic selling is not selling with the S&P 500 at 2,972, today's levels. Just because stock prices have fallen doesn't make them cheaper. Panic selling, for example, might be selling with the S&P 500 at 2,000 (if it ever reaches those levels), and that's if reasonable valuation expectations don't warrant those levels at that time. Today, we're still at relatively overpriced valuation levels on broader market indices, and the sell-off to this point has been more reasonable than overdone, in our view. Please stay safe out there!
Healthcare Products/Distributors: ABC, CAH, HSIC, MCK, PDCO
Health Care Providers & Services: CERN, DGX, LH, MDSO, TVTY
Health Care Services: DVA, EHC, HCA, UNH, UHS
Managed Care: AET, CI, CNC, HNT, HUM, UNH, WCG, WLP
Medical Devices: EW, ISRG, MDT, VAR, WAT, ZBH
Medical Instruments: ALGN, BAX, BDX, BSX, COO, HRC, MTD, RMD, SYK, TMO
Personal Services: BFAM, HI, HRB, RGS, SBH, SCI, ULTA, WW
Pharmaceuticals - Big: ABBV, ABT, AMGN, AZN, BMY, GSK, LLY, MRK, NVO, NVS, PFE, SNY
Pharmaceuticals - Biotech/Generic: ALXN, AGN, BIIB, BMRN, GILD, MYL, REGN, TEVA, VRX, VRTX, ZTS
REITs - Healthcare: HR, LTC, OHI, PEAK, UHT, VTR, WELL
Please be sure to ask your financial advisor if options may be right for you. Derivatives trading is risky, can result in complete loss of premium (capital), and most options expire worthless.