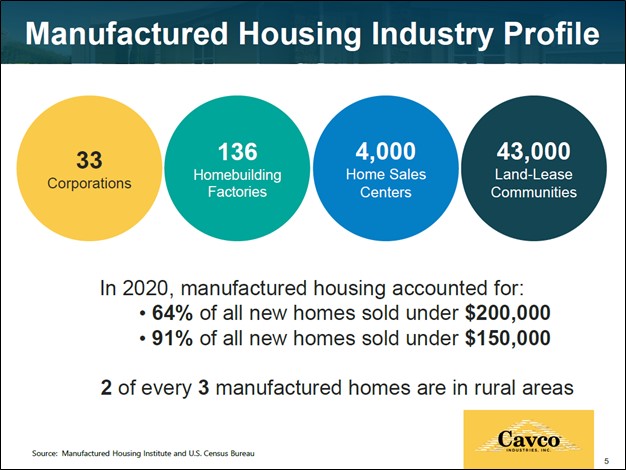 Image Shown: Manufactured and modular housing units, including those made by Cavco Industries Inc, meet a crucial need in the US housing market by offering affordable housing options at a time when home prices are skyrocketing. Image Source: Cavco Industries Inc – July 2021 IR Presentation
By Callum Turcan
We are following up on our recent note covering Cavco Industries Inc (CVCO) as the company just posted its latest earnings report. Cavco Industries designs and builds manufactured and modular housing units for customers in the US and Canada and provides associated financing and insurance products as well. We strongly encourage our members that have not already done so to check out our Cavco Industries Is an Intriguing Capital Appreciation Idea article (link here).
Earnings Update
On August 5, Cavco Industries reported first quarter earnings for fiscal 2022 (period ended July 3, 2021) that beat both consensus top- and bottom-line estimates. The firm reported record revenues and gross margins last fiscal quarter according to commentary provided by its President and CEO, Bill Boor, within the earnings press release as demand for Cavco Industries' offerings remains rock-solid in the booming domestic housing market.
Cavco Industries appears to have ample pricing power as home selling prices were up 19% year-over-year while home selling volumes were up almost 11% year-over-year last fiscal quarter. Beyond pricing increases, its home selling prices benefited from a shift towards more multi-sectional housing unit sales. Increases in its home sales volumes were the product of elevated demand and Cavco Industries doing everything in its power to stay on top of its ever-growing backlog by boosting its production capabilities.
'Home order rates' were up 50% in the first quarter of fiscal 2022 versus fiscal year-ago levels. Cavco Industries' backlog grew to $792 million as of July 3, 2021, up more than 31% sequentially and more than four-fold versus fiscal year-ago levels. With housing prices skyrocketing in the US, Cavco Industries' offerings are some of the only affordable options around. Limited housing supply and low mortgage interest rates underpin Cavco Industries' immense growth runway. The company's financing and insurance division performed reasonably well last fiscal quarter, aided by higher home loan sales and greater insurance policies in force, though its interest income faced headwinds.
Its 'total average plant utilization rate' stood at 75% last fiscal quarter, which was below pre-coronavirus ('COVID-19') pandemic levels (above 80%), though Cavco Industries' sales and margin performance continued to impress. The company's GAAP revenues rose by 30% year-over-year and its GAAP gross margins climbed higher by ~70 basis points year-over-year, hitting ~22.4% last fiscal quarter. Once the COVID-19 pandemic is in the rearview mirror, there is ample room for Cavco Industries to generate upside by running its manufacturing facilities closer to full capacity which should positively impact its margin performance while better enabling the firm to stay on top of its surging backlog.
Cavco Industries' balance sheet remains pristine as it exited the fiscal first quarter with ~$0.35 billion in cash, cash equivalents, and short-term investments on hand (exclusive of restricted cash and long-term investments) with no debt on the books. As we noted in our recent article covering Cavco Industries, the company is in the process of acquiring The Commodore Corporation for ~$0.15 billion in cash (Commodore makes manufactured and modular housing offerings) which is expected to close in the third quarter of fiscal 2022. Please note this acquisition will not significantly weaken Cavco Industries' financial strength. Cavco Industries did not include a cash flow statement in its latest earnings press release, though we would like to stress that historically, the firm has been a tremendous cash flow generator.
Management noted Cavco Industries was contending with various headwinds during the firm's latest earnings call. That included elevated lumber and oriented strand board ('OSB') prices, which while down from recent highs remain elevated, and "persistent labor and supply challenges" that is making it difficult for Cavco Industries to keep up with surging demand for its offerings. Cavco Industries has responded by revamping its workforce retention and skills building processes, launching product rationalization initiatives, and investing heavily in growing its manufacturing capabilities.
In July 2021, the firm announced it had completed the expansion of its Palm Harbor Homes production plant in Fort Worth, Texas, which should improve its ability to keep up with its growing backlog going forward. Back in March 2021, Cavco Industries announced it was building a new production plant in Glendale, Arizona, that would produce park models, cabins, and cottages. Once operational, this development will enable an existing production facility at Goodyear, Arizona, to transition from making park models to manufactured homes and related offerings. This new plant in Glendale is expected to be completed by December 2021, though potential headwinds from the COVID-19 pandemic and various supply chain and labor disruptions need to be monitored going forward.
Concluding Thoughts
We liked what we saw in Cavco Industries' latest earnings report as its revenues and margins continued to trend in the right direction while its backlog posted another quarter of immense growth in the wake of surging demand for its offerings. The recently completed expansion of its production facilities in Fort Worth, the soon-to-be operational production plant in Glendale, the ability to run its operations closer to pre-pandemic levels once supply chain and labor shortages abate, and production optimization strategies should better enable Cavco Industries to stay on top of elevated demand for its offerings going forward, though these efforts will take time given the current environment (keeping the ongoing public health crisis in mind).
Cavco Industries' pricing power, immense growth runway, fortress-like balance sheet, stellar free cash flow generating abilities, improving manufacturing capabilities, and its strong financial performance of late (i.e., margin expansion and sales growth) underpin why we view the firm's capital appreciation upside quite favorably. We are huge fans of Cavco Industries and are excited by the potential synergies its acquisition of Commodore should create once the deal closes.
-----
Related: BRK.A, BRK.B, CVCO, XLF, PSCD, NAIL, XSHQ
Valuentum members have access to our 16-page stock reports, Valuentum Buying Index ratings, Dividend Cushion ratios, fair value estimates and ranges, dividend reports and more. Not a member? Subscribe today. The first 14 days are free.
Callum Turcan does not own shares in any of the securities mentioned above. Berkshire Hathaway Inc Class B shares (BRK.B) and Financial Select Sector SPDR Fund ETF (XLF) are both included in Valuentum's simulated Best Ideas Newsletter portfolio. Some of the other companies written about in this article may be included in Valuentum's simulated newsletter portfolios. Contact Valuentum for more information about its editorial policies.