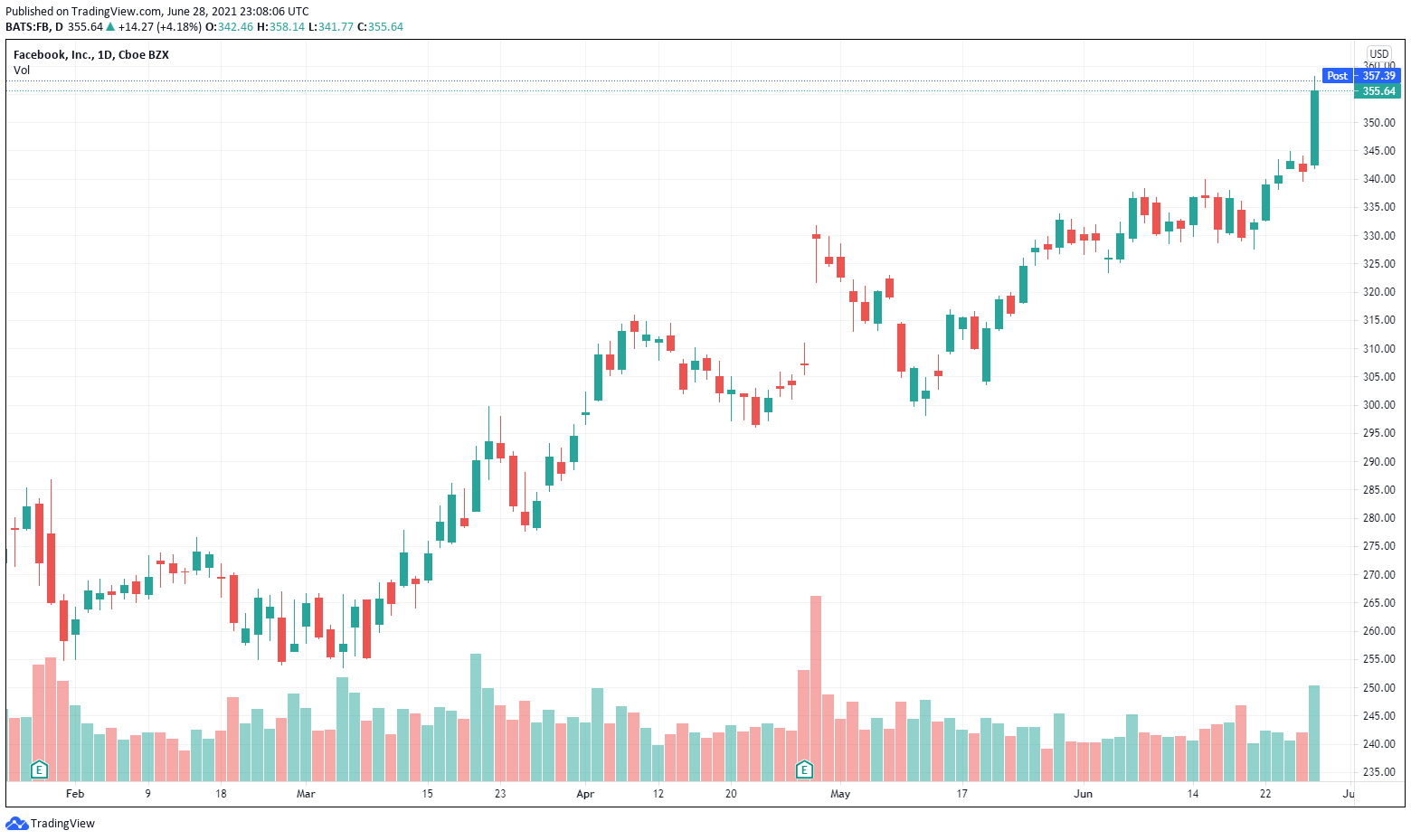 Image Shown: Facebook's shares soared during the trading session June 28 as the company received a favorable ruling regarding a couple complaints that tried to make the case it is operating as a monopoly.
By Brian Nelson, CFA
On June 28, a federal judge ruled that a couple antitrust cases lacked legal merit in their attempt to peg Facebook (FB) as a monopoly. We view the development positively, and while there is a possibility that amended arguments could be filed, Facebook's shares remain cheap whether it is preserved in current form or whether the market is forced to value it on a sum of the parts basis. Shares of Facebook soared to $355+ on the news, and our fair value estimate still stands at $413. The company remains a top weighting in the Best Ideas Newsletter portfolio.
From our perspective, the prosecution's complaints against Facebook never held water. Facebook competes with a number of large and fast-growing social media companies. Platforms such as ByteDance's TikTok, Apple's (AAPL) iMessage, Twitter (TWTR), Snapchat (SNAP), Microsoft's (MSFT) LinkedIn and Google's (GOOG, GOOGL) YouTube are formidable rivals when it comes to capturing consumer attention via social means, and barriers to entry with social networking remain nil (though barriers to success may be large).
Facebook may have sought to acquire Instagram and WhatsApp years ago because they were budding rivals, but it doesn't mean the social media giant did anything wrong or that it has "unfair" market power. Regulators could have put the kibosh on these deals years ago. Today, however, we think the government is misguided in its repeated attacks on Facebook, and we applaud the courts for getting this ruling right.
The prosecution's case is politically-motivated, in our view, and we're glad that U.S. District Judge for the District of Columbia James Boasberg was able to see through the tremendous bias. We even find it highly ironical that Missouri Senator Josh Hawley took to Twitter to announce that he was disappointed the government didn't rule that Facebook was a monopoly. There are plenty of options for consumers to broadcast via social media as Senator Hawley has shown.
We're reiterating our view that Facebook remains one of the most undervalued companies on the market today. The stock registers a 10 on the Valuentum Buying Index (the highest rating), and the share price move today only serves to add to the relative outperformance of one of the top holdings in the simulated Best Ideas Newsletter compared to the S&P 500 this year. We continue to be huge fans of big cap tech, large cap growth, and Facebook, in particular.
Download
Facebook's 16-page Stock Report (pdf) >>
Also tickerized for PINS, SOCL, MILN.
It's Here!
-----

Image Source: Value Trap
----------
Valuentum members have access to our 16-page stock reports, Valuentum Buying Index ratings, Dividend Cushion ratios, fair value estimates and ranges, dividend reports and more. Not a member? Subscribe today. The first 14 days are free.
Brian Nelson owns shares in SPY, SCHG, QQQ, DIA, VOT, and IWM. Brian Nelson's household owns shares in HON, DIS, HAS. Some of the other securities written about in this article may be included in Valuentum's simulated newsletter portfolios. Contact Valuentum for more information about its editorial policies.