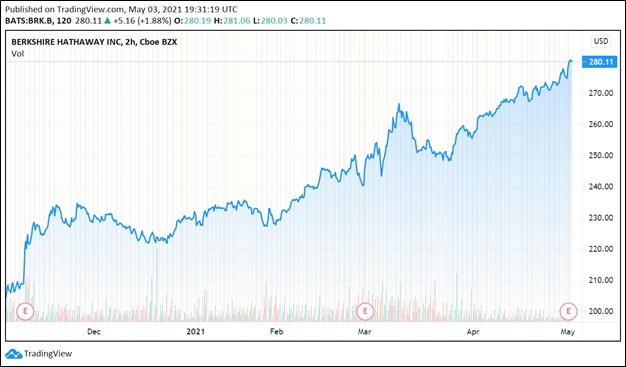 Image Shown: Shares of Berkshire Hathaway Inc Class B stock are on a nice upward climb year-to-date, and we include BRK.B as an idea in the Best Ideas Newsletter portfolio.
By Callum Turcan
On Saturday, May 1, Berkshire Hathaway Inc (BRK.A) (BRK.B) reported first quarter 2021 earnings that impressed, in our view. We include Berkshire Hathaway Class B shares as an idea in the Best Ideas Newsletter portfolio and continue to be big fans of the firm and its management team, led by CEO and Chairman Warren Buffett and Vice Chairman Charlie Munger. Some big news came out recently as it concerns the eventual management transition at Berkshire Hathaway. Reportedly, Greg Abel, who runs Berkshire Hathaway's non-insurance operations, would take over the top job should Mr. Buffett no longer be able to do so. Both Mr. Buffett and Mr. Munger have a lot of respect for Mr. Abel and communicated he would be up to the task, though Mr. Abel would have some big shoes to fill indeed.
Earnings Update
Please note that due its large equity investment portfolio, the trajectory of Berkshire Hathaway's GAAP net income is heavily influenced by how the stock market performed during the relevant quarter. The top four largest positions in Berkshire Hathaway's equity investment portfolio at the end of March 2021 consisted of its $110.9 billion position in Apple Inc (AAPL), $40.0 billion position in Bank of America Corporation (BAC), $21.4 billion position in American Express Company (AXP), and $21.1 billion position in the Coca-Cola Company (KO). As an aside, we continue to be big fans of Apple (shares of AAPL are included as an idea in both our Best Ideas Newsletter and Dividend Growth Newsletter portfolios) and view Bank of America as one of the best US banks out there.
To gauge the underlying strength of Berkshire Hathaway's various businesses, management highlights the firm's operating earnings performance. In the first quarter of 2021, Berkshire Hathaway's operating earnings jumped higher 20% year-over-year as its businesses began to recover from the coronavirus ('COVID-19') pandemic. Berkshire Hathaway's 'insurance-underwriting' operating earnings more than doubled year-over-year while its industrial operations, 'railroad, utilities and energy,' posted 12% year-over-year operating earnings growth. Additionally, the conglomerate's 'other businesses' and 'other' segments posted solid operating earnings growth while 'investment-insurance income' was down moderately versus year-ago levels in the first quarter of this year.
Financial Update
During the first quarter of 2021, Berkshire Hathaway generated $6.8 billion in free cash flow, up from $3.8 billion in the same period last year. The firm spent $6.6 billion buying back its stock last quarter, a sharp increase from year-ago levels. Berkshire Hathaway's share repurchases have been picking up steam of late as its cash-like holdings continue to swell on its balance sheet.
At the end of March 2021, Berkshire Hathaway had a total of $145.4 billion in cash, cash equivalents, and short-term US Treasuries on hand along with $318.7 billion in investments in fixed maturity securities, investments in equity securities, and equity method investments on the books combined. However, please note that Berkshire Hathaway also has ample non-cancellable financial liabilities on the books (beyond its total debt load, the firm has significant insurance-related liabilities). Many are curious to see what Mr. Buffett and his team are going to do with that enormous cash hoard.
Last year, Berkshire Hathaway did put some of its cash to use by acquiring energy infrastructure assets from Dominion Energy Inc (D). This deal, worth ~$9.7 billion by enterprise value, included various domestic natural gas midstream assets (pipelines, storage facilities) along with a 25% stake in the Cove Point liquified natural gas ('LNG') export terminal in Maryland. In our view, these assets complemented the existing operations of its Berkshire Hathaway Energy unit and we view this deal quite favorably. We covered this acquisition in detail in a previous note that can be viewed here.
Additionally, Berkshire Hathaway acquired a material equity stake in five of Japan's top trading houses last year. Here are the five companies in alphabetical order (by ticker): Itochu Corporation (ITOCF), Marubeni Corporation (MARUF), Mitsui & Co. Ltd. (MITSF), Mitsubishi Corporation (MSBHF), and Sumitomo Corporation (SSUMY). We covered this move in a previous note that can be viewed here. Though it is not clear why Berkshire Hathaway made this move, in our view, we see it as a way for the firm to gain greater exposure to the international energy industry.
Exposure to US New Home Construction Activity
Please note that Berkshire Hathaway has a significant amount of exposure to the US home construction market, a space with a long growth runway as new home construction (particularly in the western and northeastern parts of the US) has not kept up pace with household formation for some time (see this note from Harvard's Joint Center for Housing Studies for more). Berkshire Hathaway's 'building products' operations include Acme Building Brands (bricks and masonry products), Benjamin Moore (paint and coatings), Shaw (flooring), MiTek (residential and commercial construction and engineering products and systems), Johns Manville (insulation, roofing, and engineered products), and Clayton Homes (manufactured and site-built construction and related lending and financial services).
Last quarter, Berkshire Hathaway's 'building products' segment posted 16% year-over-year revenue growth and 36% year-over-year growth in its pre-tax earnings. Going forward, this part of Berkshire Hathaway's business should continue to do quite well as new home construction activity in the US remains robust and the space's outlook is incredibly bright. Record low mortgage rates and a dearth of housing supply in key geographical regions are playing an outsized role here.
Concluding Thoughts
We continue to be enormous fans of Mr. Buffett, Mr. Munger, and Berkshire Hathaway's resilient business model and promising free cash flow growth outlook. On May 3, the first business day after Berkshire Hathaway reported its first quarter earnings, shares of BRK.A and BRK.B both moved higher during normal trading hours, a sign investors viewed the industrial conglomerate's latest update quite favorably. We view Berkshire Hathaway as well-positioned to capitalize on the uneven but ongoing recovery in the US economy as COVID-19 vaccine distribution efforts are now in full swing (underpinning the domestic economy's favorable outlook as quarantine measures and social distancing requirements are slowly eased across the country).
-----
Related: BRK.A, BRK.B, AAPL, AXP, BAC, KO, D, ITOCF, MARUF, MITSF, MSBHF, SSUMY, XLU
Valuentum members have access to our 16-page stock reports, Valuentum Buying Index ratings, Dividend Cushion ratios, fair value estimates and ranges, dividend reports and more. Not a member? Subscribe today. The first 14 days are free.
Callum Turcan does not own shares in any of the securities mentioned above. Berkshire Hathaway Inc (BRK.A) (BRK.B) Class B shares are included in Valuentum's simulated Best Ideas Newsletter portfolio. Apple Inc (AAPL) is included in Valuentum's simulated Best Ideas Newsletter portfolio and simulated Dividend Growth Newsletter portfolio. The Utilities Select Sector SPDR ETF (XLU) is included in Valuentum's simulated High Yield Dividend Newsletter portfolio. Some of the other companies written about in this article may be included in Valuentum's simulated newsletter portfolios. Contact Valuentum for more information about its editorial policies.