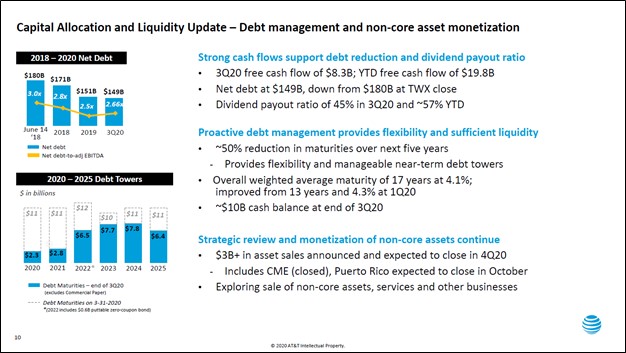 Image Shown: An overview of AT&T Inc's capital allocation priorities over the coming years and a snapshot of its financial position at the end of September 2020. Image Source: AT&T Inc – Third Quarter of 2020 IR Earnings Presentation
By Callum Turcan
The rollout of 5G wireless packages in the US combined with expected growth at its video streaming business has significantly improved AT&T Inc's (T) outlook during the past few months. We include shares of AT&T in the High Yield Dividend Newsletter portfolio (click here to learn more about the High Yield Dividend Newsletter), and as of this writing, shares of T yield ~6.6%. Headwinds caused by the ongoing coronavirus ('COVID-19') pandemic weighed negatively on AT&T's financial and operational performance in 2020, though the company remains on track to generate enormous amounts of free cash flow this year.
AT&T currently expects to generate $26.0 billion or more in free cash flow in 2020, a forecast that the firm reiterated on December 8. The company has guided its dividend cash-flow payout ratio (dividend obligations divided by free cash flow) to come in near the high 50s% area this year. Please note that back in April 2020, AT&T expected its dividend cash-flow payout ratio in 2020 would be in the 60s% range, but its outlook was negatively impacted by the COVID-19 pandemic, something we covered in this article here. Things are starting to turn around in part due to the recent successes AT&T has had at its video streaming business after things got off to a slow start.
Video Streaming Growth Trajectory Improving
Back in May 2020, AT&T launched HBO Max at the same price (more or less) as its traditional HBO offering, largely to encourage existing subscribers (including traditional cable subscribers) to transition to the new video streaming service (which has a significantly larger content library). Many existing HBO subscribers, at the time, received access to the new service at no additional cost.
However, AT&T's initial branding strategy for HBO Max was confusing as there were several HBO offerings on the market which had similar names including HBO Now, HBO Go, and HBO. Since then, HBO Go has been retired and HBO Now has been rebranded to HBO to simplify the branding strategy, which we appreciate. Additionally, AT&T is bundling certain wireless packages with HBO Max to help get the nascent video streaming service off the ground.
Just as importantly, AT&T reached an agreement with Amazon Inc (AMZN), a partner and competitor in this space, this past November. This deal will see Amazon remove HBO from Amazon Channels once an existing deal expires in 2021 and in return, HBO Max was made available on Amazon's Fire TV platform. Given that Fire TV holds a significant market share position in the TV user interface platform in the US, the main geographical market HBO Max is targeting (at least initially), this deal was essential to improving the growth outlook for the paid subscriber base of HBO Max. Looking ahead, AT&T now needs to reach a deal with Roku Inc (ROKU) that will allow HBO Max to be made readily available on that TV user interface platform in order to extend the video streaming service's reach to additional US households.
To further juice its HBO Max growth trajectory, AT&T's Warner Bros. Pictures Group has committed to simultaneously launching its entire 2021 movie releases in theaters and on its HBO and HBO Max services (apparently at no additional cost to the subscriber), upending traditional norms in the movie theater business [AMC, CNK, IMAX, MCS, RDI, NCMI]. For one month (after which, the titles will be removed), subscribers to HBO and/or HBO Max will be able to stream new release titles, at the same time they are shown in movie theaters (but just for a one-month window on HBO and HBO Max). It is likely that after a certain period, those movies will end up back on HBO and HBO Max, but in our view, AT&T wanted to provide movie theaters with a brief period of exclusivity to maintain existing business relationships. AT&T plans to release the movie Wonder Woman 1984 this upcoming Christmas Day (December 25) in accordance with this strategy.
On December 8, AT&T noted in a press release that "HBO Max is seeing improved traction. AT&T has 12.6 million HBO Max activations, up from 8.6 million as of September 30, and the number of hours of engagement per week has increased 36% in the past 30 days." We appreciate the company's recent momentum on this front as that speaks favorably towards the steps AT&T has taken (consolidating its HBO brands, signing a deal with Amazon, bundling wireless packages with HBO Max, and planning to launch Warner Bros. movies on HBO Max) over the past several months to stimulate subscriber growth. The goal is to grow HBO Max's domestic subscriber base to over 50 million by 2025, according to management commentary given during a conference held in early-December.
While HBO Max is moderately more expensive on a monthly basis than some of the other video streaming services out there, AT&T is banking on the service pulling in subscribers due to its deep content library (such as the original content that is only available on HBO Max, along with popular shows with widespread appeal such as the sit-com Friends and movies from its Warner Media unit) and "premium" offerings (TV shows such as Westworld and Game of Thrones are arguably examples of Tier 1 entertainment properties given their high production value and relevance in popular culture).
Though these are still early days, in our view, AT&T has fixed some of the big problems with its video streaming strategy and its last big hurdle, securing a deal with Roku, appears surmountable (unlike Amazon, Roku does not really compete with AT&T in a direct or indirect manner). We are monitoring AT&T's progress as it concerns reaching a deal with Roku, and should a deal emerge, that would help remove a chunk of uncertainty clouding over AT&T's growth outlook.
On a final note here, one of the big hurdles to reaching a deal with Amazon and Roku was reportedly AT&T's desire to keep HBO Max subscribers within its own app. By doing so, AT&T could gain a greater understanding of its subscriber base which in turn could create new revenue generating opportunities, such as targeted digital advertising. The company has contemplated in the past launching an ad-supported version of HBO Max or having some HBO Max content include ads, though nothing is for certain at this point as AT&T does not want to upset its existing subscriber base.
Divestment News
According to the WSJ, AT&T has received bids that value its embattled DirecTV unit north of $15.0 billion when including debt. Reportedly, the auction is in its late stages and a deal could potentially emerge early next year, which might see AT&T retain a majority stake in the business. This acquisition did not go as planned given the rise of "cord cutting" in the US, which saw DirecTV hemorrhage customers. Raising funds to further AT&T's divestment goals is a good move, in our view. AT&T needs to focus on the future, with an eye towards growing its 5G wireless customer base and HBO Max subscriber base.
There are some other assets AT&T could divest to raise funds, including Warner Brothers Interactive Entertainment (its video gaming unit) and Bleacher Report (an online sports-focused news platform), though so far AT&T has opted to keep those operations. AT&T's management team sees value in leveraging the intellectual properties created and built up by its TV and movie production units by creating video games built around those properties, according to management commentary cited by CNBC. We are keeping a close eye on AT&T's potential divestments, and please note the firm intends to close on $3.0+ billion worth of divestments in the fourth quarter of 2020.
Concluding Thoughts
AT&T's total debt load stood at $158.9 billion at the end of September 2020 (inclusive of short-term debt), offset modestly by $9.8 billion in cash and cash equivalents. Deleveraging remains a top priority going forward, which can be achieved through a combination of "excess" free cash flows (after covering AT&T's dividend obligations) and divestment proceeds. AT&T has taken its foot off the gas pedal as it concerns its share buyback program, a move we appreciate as that puts the firm in a better position to pare down its net debt load to more manageable levels.
Management expects AT&T will generate around $26.0 billion in free cash flow in 2020. We expect that AT&T will be able to continue meeting its dividend obligations going forward given the stable nature of its cash flow profile and its ability in the recent past to tap capital markets at attractive rates to refinance its debt. AT&T has solid investment grade credit ratings (Baa2/BBB/A-) with stable outlooks which goes a long way in making its refinancing activities an easier task.
Going forward, AT&T's forward-looking dividend coverage strength will improve as its net debt load shifts lower, though we caution that its Dividend Cushion ratio remains stressed due to its bloated balance sheet. High-yielding equities are inherently risky. We continue to like AT&T as a high-quality income generator and appreciate its recent successes. Should it reach a deal to divest at least part of its DirecTV operations, that would put AT&T in a much better position to highlight its growing operations by removing a business in terminal decline from its portfolio.
-----
Telecom Services Industry - CMCSA, CTL, DISH, T, TMUS, VZ
Related: AMZN, ROKU, NFLX, DISH, CHTR, ATUS, CABO, VIAC, VIACA, FUBO, LUMN
Also tickerized for movie theater chains AMC, CNK, IMAX, MCS, RDI, NCMI
-----
Valuentum members have access to our 16-page stock reports, Valuentum Buying Index ratings, Dividend Cushion ratios, fair value estimates and ranges, dividend reports and more. Not a member? Subscribe today. The first 14 days are free.
Callum Turcan does not own shares in any of the securities mentioned above. Dollar General Corporation (DG) and The Walt Disney Company (DIS) are both included in Valuentum's simulated Best Ideas Newsletter portfolio. Dick's Sporting Goods Inc (DKS) and Home Depot Inc (HD) are both included in Valuentum's simulated Dividend Growth Newsletter portfolio. AT&T Inc (T) is included in Valuentum's simulated High Yield Dividend Newsletter portfolio. Some of the other companies written about in this article may be included in Valuentum's simulated newsletter portfolios. Contact Valuentum for more information about its editorial policies.