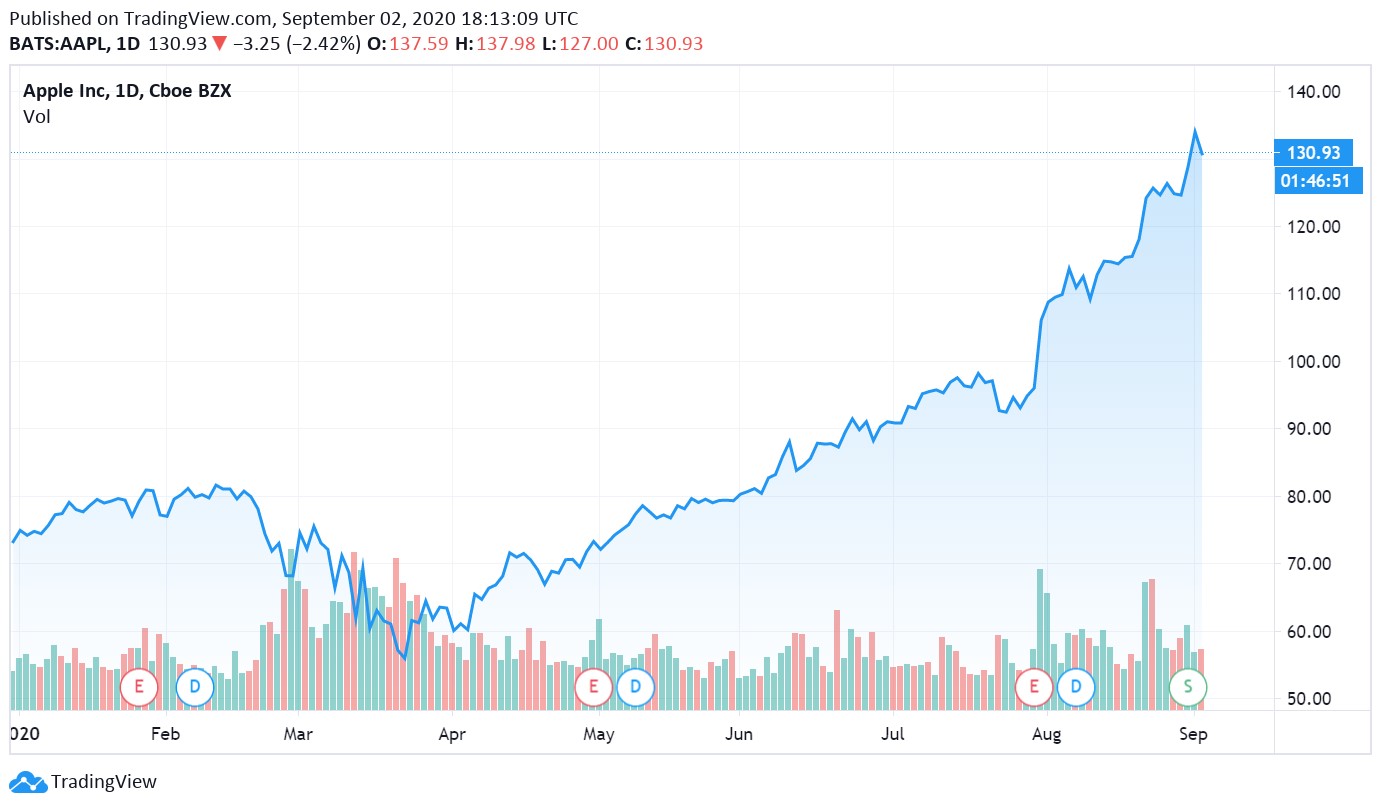 Image Shown: Shares of Best Ideas Newsletter and Dividend Growth Newsletter portfolio holding Apple Inc have continued to surge higher this year. The tech giant is supported by strong demand for its hardware offerings, the launch of new services, and growing demand for its existing services. We are intrigued by the upcoming launch of its first 5G-capable iPhone, which is reportedly due to be released this Fall.
By Callum Turcan
Very recently, Bloomberg reported that Apple Inc (AAPL) is asking its suppliers to get ready to deliver at least 75 million 5G iPhones later this year, which may grow as high as 80 million. What makes these targets particularly noteworthy is that it appears Apple is expecting demand for its upcoming iPhones to either match or exceed that of the demand for its iPhones last year, indicating the ongoing coronavirus ('COVID-19') pandemic has not shaken Apple's confidence in its near-term outlook. Additionally, this would represent Apple's first 5G-capable iPhone if the reports are true, which represents a major potential near-term growth catalyst.
The News
Longer term, Apple's growth story rests primarily on its growing high-margin services segment, though part of the success of its services business comes down to how effective the company will be able at leveraging its installed base of Apple hardware users to launch new services and expand existing ones. For instance, growing the revenue streams from its App Store business is an easier task if Apple's hardware sales are holding up well, particularly for its iPhone.
According to Bloomberg, Apple is getting ready to launch four new iPhone models this Fall with the screen size ranging from 5.4 inches to 6.7 inches, with the latter representing the largest display screen Apple has ever put on the iPhone (assuming the reports are true). Those offerings will utilize Apple's new A14 processor and will come with OLED displays. Taiwan Semiconductor Manufacturing Company Limited (TSM), Largan Precision Company Limited, LG Display, and Goertek Inc are big suppliers of Apple's hardware. Apple is also reportedly getting ready to launch updated versions of its Apple Watch and other products relatively soon.
Concluding Thoughts
We added shares of Apple back to both our Best Ideas Newsletter and Dividend Growth Newsletter portfolios on June 12 and increased our weighting in Apple in both newsletter portfolios on August 20 (link here). As an aside, shares of AAPL split 4:1 on August 28. Large-cap tech companies with pristine balance sheets, high quality cash flow profiles, and growth trajectories that are underpinned by secular growth tailwinds remain our favorite way to ride out the storm created by the pandemic. Members looking to read more concerning why we really like Apple should check out this article here.
-----
Computer Hardware Industry – AAPL BB HPQ IBM TDC
Integrated Circuits Industry – ADI MCHP MRVL NVDA SWKS TSM XLNX
Semiconductor Equipment Industry – AMAT CREE IPGP KLAC LRCX MKSI SNPS TER
Related: SPY, QQQ
-----
Valuentum members have access to our 16-page stock reports, Valuentum Buying Index ratings, Dividend Cushion ratios, fair value estimates and ranges, dividend reports and more. Not a member? Subscribe today. The first 14 days are free.
Callum Turcan does not own shares in any of the securities mentioned above. Apple Inc (AAPL) is included in both Valuentum's simulated Best Ideas Newsletter and Dividend Growth Newsletter portfolios. Some of the other companies written about in this article may be included in Valuentum's simulated newsletter portfolios. Contact Valuentum for more information about its editorial policies.