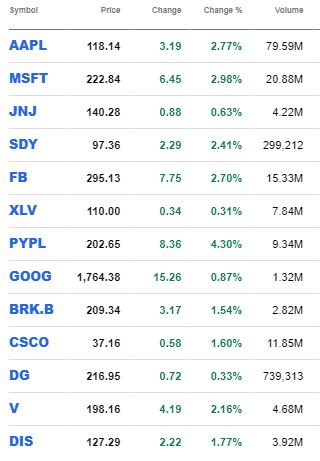 Image: The holdings in the Best Ideas Newsletter during the trading session November 5. We continue to pound the table on our best ideas.
By Brian Nelson, CFA
The votes keep coming in for the Presidential Election of 2020, and it is a very high probability that Democratic nominee Joe Biden will become the next President of the United States. We don't expect incumbent Donald Trump to go down without a fight however, and while we anticipate a bunch of news headlines in the coming weeks about recounts in battleground states, accusations of voter fraud, and the like, we also expect a peaceful transition of power once the dust settles. With many news outlets projecting Joe Biden will win the key states of Wisconsin and Michigan (two states that went red in the 2016 election), Biden only has to hold on to Nevada and Arizona, two states he is already running ahead in, to garner the required 270 electoral votes. An announcement may happen soon enough.
On November 5, Qualcomm (QCOM) stole the headlines with an excellent fiscal fourth-quarter report, propelling the NASDAQ and the broader markets higher, including many of our favorite tech names. We wrote up our thoughts on the widespread launch of 5G services in a prescient note in early September here, and we couldn't be more pleased with the developments since then. We're already quite tech heavy in the simulated newsletter portfolios so we don't include Qualcomm, but we like the name, nonetheless. Frankly, it's hard to be disappointed with the performance of the existing ideas within the newsletter portfolios. Today, for example, top-weighted Facebook (FB) is (again) generating above-market performance, while PayPal (PYPL), Apple (AAPL), Microsoft (MSFT) and Visa (V) are also contributing nicely to the simulated returns. All holdings are green!
We don't traditionally update members on daily performance of the Best Ideas Newsletter portfolio, but we want to continue to emphasize our best ideas (what they are and where to find them). We have written extensively in the past that we put the Valuentum Buying Index and the Dividend Cushion ratio into practice as we manage the Best Ideas Newsletter portfolio and Dividend Growth Newsletter portfolio, respectively. For example, it may not make much sense to be searching for other ideas without at least considering our best ideas first. As the architect behind our process, we believe we have the unique insights to put our methodologies into practice the best. That's why we always say our best ideas are included in the newsletter portfolios.
We cover a great many other companies, too, but we believe there is tremendous merit to the concept of portfolio concentration (generally less than 20 broadly-diversified securities), "The Merits of Concentrated Portfolios," "Overweighting Outperformers," and among the biggest value-adds of our service is actually how we construct the portfolios, themselves, with desired weighting ranges. For example, one can give the same 20 ideas to two different investors, and depending on how they weight those ideas, they can come up with vastly different results. Overweighting outperformers is critical to generating alpha, and while this is sometimes easier said than done, we've been doing a great job of late.
With that said, let the good times continue. Let's enjoy this market rally!
---
Valuentum members have access to our 16-page stock reports, Valuentum Buying Index ratings, Dividend Cushion ratios, fair value estimates and ranges, dividend reports and more. Not a member? Subscribe today. The first 14 days are free.
Brian Nelson owns shares in SPY, SCHG, DIA, VOT, and QQQ. Some of the other securities written about in this article may be included in Valuentum's simulated newsletter portfolios. Contact Valuentum for more information about its editorial policies.