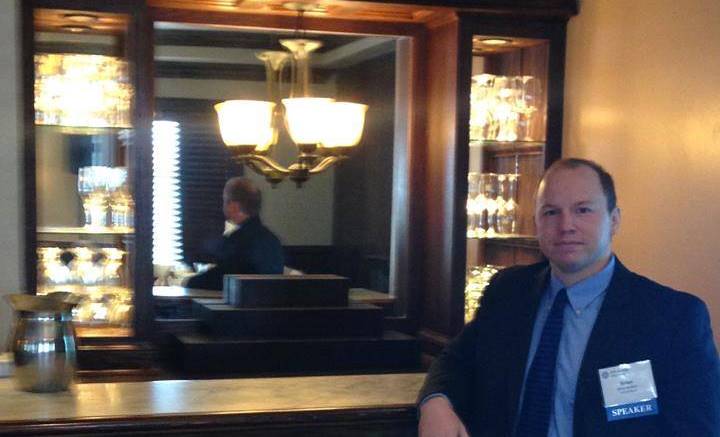 Valuentum's President Brian Nelson pauses for a picture before speaking at the CFA Society of Houston in March 2017.
By Valuentum Editorial Staff
Let's cover Valuentum's 3 major breakthroughs in the field of finance. The first one is big and may challenge you to rethink everything you think you know about investing.
1. On a logical framework, Valuentum has debunked John C. Bogle's landmark syllogism that has paved the way for the concept of index investing. Index investing has been built on a logical shortcoming, whether supported by evidence or not. We think it is important that the investment community know of this.
Read (pdf): The "Luck" and "Randomness" of Index Funds (2018), Brian Nelson, CFA
See video documentation: https://www.valuentum.com/articles/FALLACY_of_Index_Funds
To view on YouTube: https://www.youtube.com/watch?v=8BGWzk9lpRo
2. From a mathematical assessment, Valuentum has shown that it is the absolute amount of economic value that matters (both magnitude and duration), not just duration of economic value as in economic moat theory. Others' application of the economic moat concept is not complete.
See the team's write up: https://www.valuentum.com/articles/Valuentums_Economic_Castle_Rating
More: https://www.valuentum.com/articles/20150506_1
3. Using forecasts and assessing important measures on both the cash flow statement and balance sheet, Valuentum has developed the Dividend Cushion ratio that has shown to be efficacious in establishing a systematic framework for assessing the financial health of a company's dividend. The dividend payout ratio is not good enough.
Read more: https://www.valuentum.com/articles/20150506
---
a. Valuentum continues to emphasize objectively that the dividend is a symptom of a company's value, not the driver behind its value. The value of a company is tied to its net balance sheet and future free cash flow stream. Individual investors deserve to know more about a company than just its dividend.
See video: https://www.valuentum.com/articles/Dividends_Dividends_Dividends
b. Valuentum's breakthrough work when it comes to MLPs has revolutionized how many value these entities. Cash, the source of value, is cash regardless of the business model/structure in which it is generated, and therefore valuation approaches should not change between various business models/structures. We continue to work toward helping investment professionals understand this vitally-important connection.
See Pitfalls of Distribution Yield Analysis: https://www.valuentum.com/downloads/20170312_1/download
See: Linking P/DCF to Enterprise Free Cash Flow Valuation: https://www.valuentum.com/downloads/20170312/download