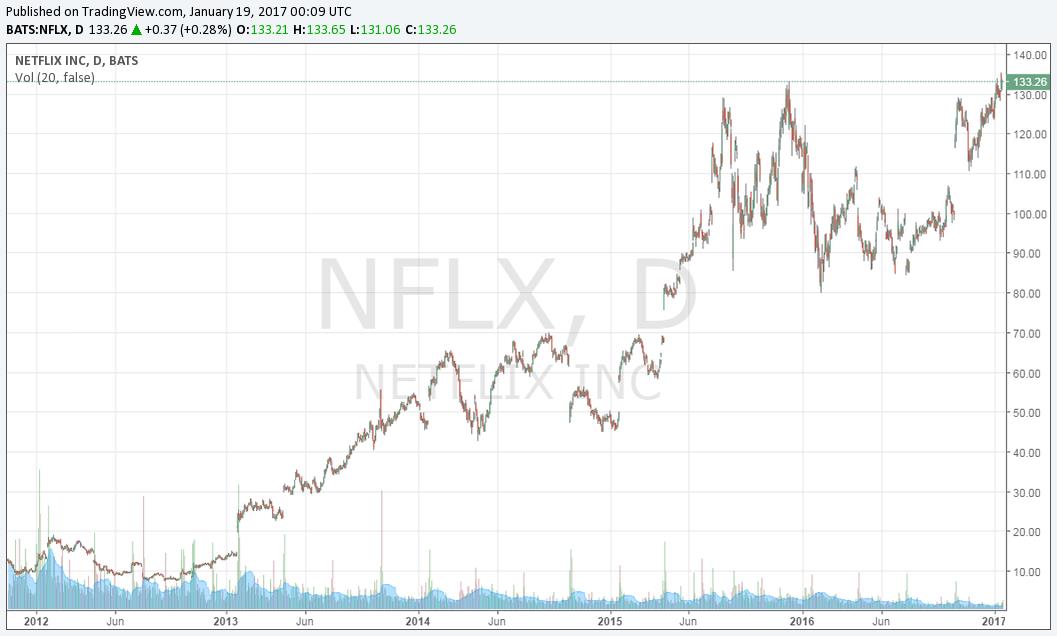 Netflix's shares are soaring, and we are licking our proverbial chops on the opportunity to add puts to the Best Ideas Newsletter portfolio. The bubble in Netflix's shares continues to inflate—and that spells opportunity for bears, but at the right price at the right time. For now, we're going to continue to watch shares run higher until we're finally ready to take a stab at them. It's been about a year since we highlighted our concerns about Netflix's valuation, but our patience has paid off as we watched shares move ever-higher -- timing is pretty much everything when it comes to betting on the decline of a stock price via put options, and we're being careful. Options aren't for everybody.
Brian Nelson, CFA
Netflix (NFLX) is making traditional equity analysis look foolish, and I have no choice but to be okay with it. Markets will be markets. In the introduction to the January edition of the Best Ideas Newsletter, I talked about how we can express our concerns about a sector in our writings, the financials in that case, but still have exposure to that very sector in the newsletter portfolios for tactical and/or diversification reasons. In this piece, I'd like to continue to express our concerns about a given company's valuation dynamics, but it doesn't mean that we're actively "shorting" it, nor does it mean that we plan to "short" it--or that we are pursuing put options in the newsletter portfolio at the very moment. Yes, I'm talking about Netflix.
Almost a year after outlining our "5 Reasons Why We Think Netflix's Shares Will Collapse," we're still considering initiating put options on the company -- and we're still not doing it…yet. Can you believe that? It's true. We continue to let the bubble inflate, and after the company's fourth-quarter results, released January 18, we're going to continue to watch Netflix's shares run higher. We've put our cards on the table, we've put out our long-term thesis, and now we continue to watch. That's what good investors do. What we do with positions in the newsletter portfolios is how we put our research and analysis into practice. You know as well as I do that just because a company is overvalued doesn't mean it can't get even more overvalued, and chasing arbitrary quarterly results really isn't our thing.
After reporting fourth-quarter results, Netflix looks to be indicated up ~8% after hours January 18, to ~$144 per share, now well about the high end of our fair value estimate range of ~$90. Full disclosure – I use Netflix, and I'm starting to warm up to the service (I've been binge-watching the 1980s show Cheers, and I love it). I can see how the company's pricing is attractive, and how Netflix is stealing share from traditional television (Internet TV supplanting linear TV). I think I "get it." But the numbers still don't add up, and it's simply going to take a while for things to inevitably shake out, in my view. Netflix once peaked at about $40 per share in June 2011 and fell to the single-digits by August 2012. Shares will be extremely volatile, and we're still waiting. It may be some time yet.
Netflix's operating profit in the fourth quarter came in at $154 million, while net income for the period came in at $67 million. Annualizing those numbers gets to a run-rate of ~$620 million and ~$270 million, respectively--meaning Netflix is trading at 90+ times annualized operating earnings and 210+ times annualized net earnings (the comparisons with reported 2016 numbers are even worse). The company continues to add subscribers at a nice clip, both in the US and internationally, and it even turned the corner with respect to contribution profit in its 'International Streaming' segment in the quarter ($16 million), but we're not seeing the scale in the model to justify its market capitalization. Contribution profit ignores all overhead costs of the business. Nobody seems to care.
Into perpetuity, Netflix will have to continue to deliver on unique content, and we maintain our view that the market is dismissing its vast overhead costs, virtually as though they are non-existent. Why the streaming content provider continues to grow has a lot to do with how much it is investing in its content, and we believe that in the event the company does start generating meaningful profits, content creators will look for an even greater piece of Netflix's earnings, acting as an ongoing weight on long-term profitability. Separately, the company's marketing and general and administrative expenses (G&A) totaled $1.6 billion during 2016 (or about 18% of revenues -- costs that nobody is talking about). The price of Netflix's stock is simply not adding up, and we wonder if a considerable portion of the company's market capitalization has more to do with the prospect of an unknown suitor emerging at some point in the future than anything else.
Company-defined free cash flow at Netflix continues to worsen, too, with it burning through ~$640 million in the fourth quarter, worse than the ~$500 million cash burn in the third quarter, the ~$250 million cash burn in the second quarter, and the ~$275 million cash burn in the fourth quarter last year. We continue to believe Netflix will one day have to answer to its cash-burn tendencies and increasing leverage, as many companies during the dot-com bubble did. Almost incredibly, management expects its free cash flow burn to be $2 billion in 2017, and instead of raising capital by issuing its overpriced stock, the company continues to access the debt markets, raising $1 billion in senior notes in October at relatively attractive coupon rates of 4.375%. Look at what Moody's had to say about its debt issuance:
Proceeds from the issuance will be used for general corporate purposes and to finance the company's business plan, including increasing investments in original programming and expansion in new international territories. The new senior unsecured notes will rank pari passu with the company's existing unsecured debt and non-debt obligations at Netflix's operating subsidiaries. We estimate that pro forma for the new notes issuance, debt-to-EBITDA (incorporating Moody's standard adjustments) as of 09/30/2016 will be in the 9.5x -- 10x range, which exceeds our 6.0x sustained leverage threshold for the B1 rating. However, based on the company's solid growth trajectory supported by consistent subscriber gains and expectations for positive contributions from international markets in the next couple of years, we anticipate that leverage will decline rapidly (starting in 2017) to well under 5.0x by the end of 2018 and the company will be strongly positioned in its rating category.
It's like nothing matters to Netflix's stock price. It just goes up no matter what. To me, the market price of Netflix's shares makes little sense, but it hasn't made much sense for some time now, and this is what keeps us as spectators. We'll be adding put options at some point, but until we get a sense that the market will eventually care about the bottom-line at Netflix, it won't be for some time. Watching and waiting… and move on if you can! I wish I never would have commented about this company.
Related: Amazon (AMZN) Prime Video, Google's (GOOG, GOOGL) Youtube, Facebook (FB) Live