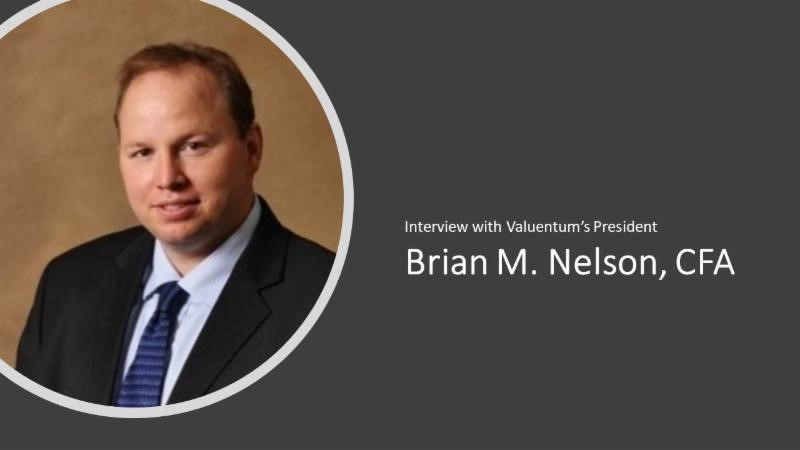 Catch up with Valuentum's President Brian M. Nelson, CFA in a recent interview with dividend growth investor Arne Magnus Lorentzen Ulland of the blog stockles.
By Brian Nelson, CFA
I hope each and every one of you had a wonderful holiday weekend with family and friends. This month, I was interviewed by Arne Magnus Lorentzen Ulland of the blog stockles. Arne is a dividend growth investor like many of you, and I sincerely hope you enjoy the interview he put together. I'm very grateful for his interest. His questions were fantastic.
We discuss why and how I incorporate independence and integrity into the service at Valuentum. We go into detail regarding why Valuentum views stocks the way it does, and how Valuentum combines enterprise valuation and the information contained in prices in its stock-selection process. I discuss the pitfalls of certain valuation multiples, and explain how most all quantitative factor models must converge into enterprise valuation, the free cash flow to the firm process.
In the interview, I touch on my warning in Value Trap if investors don't pay attention to intrinsic-value analysis. I also discuss the importance of fair value estimates relative to Wall Street's price targets, and why we at Valuentum view valuation as a range of fair value outcomes, not a point fair value estimate. I hit on the 5 things that every dividend investor should know and explain why capital preservation is still paramount, even in a dividend growth strategy.
We discuss Valuentum's Dividend Cushion ratio and the best argument for owning dividend-paying stocks relative to the S&P 500 Index. I talk about how I believe that the theoretical underpinnings of index investing are fading, given the growing theoretical evidence that the average active investor can outperform, net of fees, and that active funds and ETFs are just 16% of the corporate equity market in total, any underperformance hardly supporting the idea of indexing.
Finally, we discuss why Valuentum likes Berkshire Hathaway and what might be the reasons why the Valuentum team would remove it from the simulated Best Ideas Newsletter portfolio. I discuss the hazards of making expected return forecasts, particularly over longer periods of time, and we wrap up with suggestions for professional and personal development. I hope you enjoy the interview greatly!
Access the interview by selecting the following link:
https://www.stockles.com/2019/04/21/former-morningstar-director-cfa-we-are-all-market-timers/
Thank you!
Kind regards,
Brian Nelson, CFA
President, Investment Research
Valuentum Securities, Inc.
brian@valuentum.com
Recent Editions of the Monthly Newsletters
The Newsletter Portfolios are Housed in These Monthly Publications
Dividend Growth Newsletter, April 2019 (pdf download), released Apr 1
Best Ideas Newsletter, April 2019 (pdf download), released Apr 15
The Exclusive Archives (password required)
The High Yield Dividend Newsletter archives are only available via email at this time.
Next Up: The next edition of the Dividend Growth Newsletter and High Yield Dividend Newsletter will be released May 1.
In Case You Missed It
Financial Advisor Level Publications
On April 15, we released our Financial Advisor Publications, including the DataScreener, via email to financial advisor level members. If you have not received them or would like to upgrade your membership to do so, please contact us at info@valuentum.com.
The next editions of the financial advisor publications will be released in early July. If you are a financial advisor level member and you haven't yet taken advantage of our fully-populated valuation models, please send an email to info@valuentum.com including the tickers of those you'd like to view. We are available for any questions.
Brian Nelson In Silicon Valley May 11!
The book tour for Value Trap started Saturday April 13 in Chicago. Here is the tentative schedule for the remainder of 2019/2020. We'd be super excited to meet you if you're in town. We'll have more details about upcoming events as the year progresses. If you have any other suggested venues/cities, please just let me know! Let's make it happen. Here's what I have penciled in at the moment.

May 11: Silicon Valley (Shoup Park Garden House, see image below)
August 3: Twin Cities (Jax Cafe in Minneapolis)
September 17: St. Louis
November 16: Los Angeles (Skirball, Magnin Auditorium)
October, 2020: Phoenix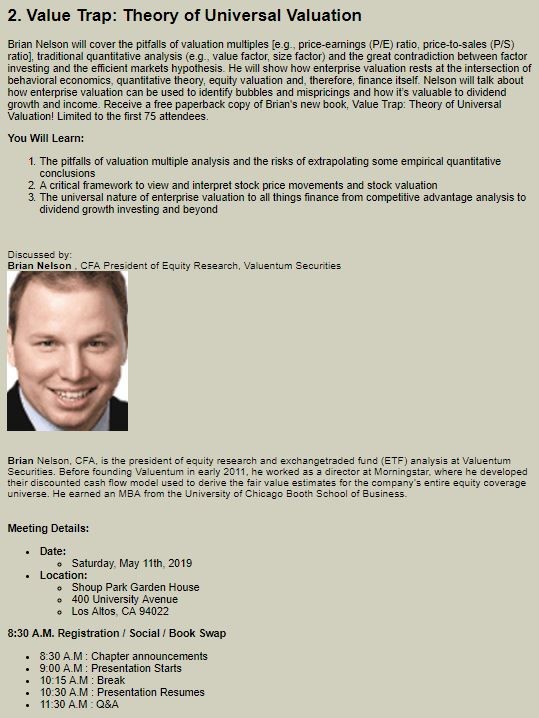 Praise for Value Trap: Theory of Universal Valuation
Value Trap: Theory of Universal Valuation is Valuentum's first book on finance. If you haven't read it yet, please pick up a copy right now! Order a paperback from Amazon here, or the pdf digital copy here.
"This book is a welcome, no-nonsense addition to the many straight-shooting financial guides on the market."
Read more from Foreward Reviews >>
The book also received a starred review from BlueInk reviews, and the review will be published in a future edition of the American Library Association's Booklist magazine!
More Praise from Academia, Money Managers, the Financial Community, the Media, and Beyond >>
Thank you!
Advertise on Valuentum.com or in Our Newsletters!

Our viewership includes some of the most sophisticated individual investors, financial advisors, and institutional money-managers. A large percentage of our customers are paying members and are serious about investing. Advertisers can choose between full-page and half-page layouts in our newsletters and standardized ad unit sizes on our website. We also have the flexibility for customized advertising solutions, including ads within our emails.
Inquire about pricing. Contact us for more details.
Contact Us
Valuentum Securities Inc.
P.O Box 1716
1050 Country Club Road
Woodstock, IL 60098
Brian Nelson, CFA
President, Equity Research and ETF Analysis
Kris Rosemann
kris@valuentum.com
Head of Data, Associate Investment Analyst
Chris Araos
info@valuentum.com
Stock and Dividend Analyst
Callum Turcan
info@valuentum.com
Independent Energy Contributor
Matthew Warren
info@valuentum.com
Independent Banking and Financials Contributor
-----
Tickerized for holdings in the SPDR S&P 500 ETF (SPY).
-----
Valuentum members have access to our 16-page stock reports, Valuentum Buying Index ratings, Dividend Cushion ratios, fair value estimates and ranges, dividend reports and more. Not a member? Subscribe today. The first 14 days are free.
Brian Nelson does not own shares in any of the securities mentioned above. Some of the companies written about in this article may be included in Valuentum's simulated newsletter portfolios. Contact Valuentum for more information about its editorial policies.