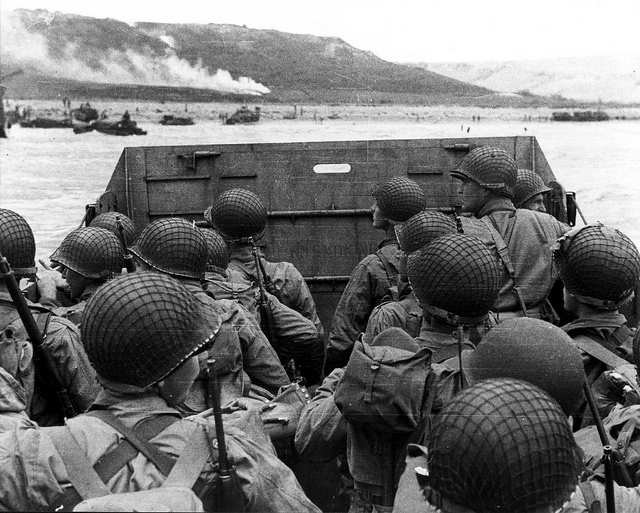 Image Source: The US Army. American assault troops in a landing craft huddle behind the protective front of the craft as it nears a beachhead, on the Northern Coast of France. Smoke in the background is Naval gunfire supporting the land. 6 June 1944.
By Brian Nelson, CFA
Reflections of the Allied efforts on June 6, 1944, in Operation Overlord, more commonly known as D-Day, were on my mind, with today marking the event's 74th anniversary. The brave soldiers, sailors, and airmen that lost their lives in the largest amphibious assault ever carried out should never be forgotten, and it's really no trouble at all for me to hit the keyboard in honor of their remembrance.
School books in the US tend to focus more on the assaults on the beaches of Omaha and Utah as a result of perhaps the carnage at the former, but the Normandy invasion was truly a comprehensive Allied effort, with the Canadians and British storming the beaches of Gold, Juno and Sword to the east. Though much has been said about the attacks, perhaps one of the more interesting facts of D-Day was the deceptive tactics of George S. Patton's "ghost" army in southeast England. Through fake sound trucks and inflatable tanks, Patton's phantom threat across the Pas de Calais, the shortest path of invasion across the English Channel, may have kept Hitler from rapidly reinforcing the Normandy beaches during the attacks, buying the Allied invading force enough time to secure a stronghold in Europe. Berlin would fall in less than a year.
According to statistics by the Veterans' Adminstration, there are as many as ~500 World War II veterans dying each day. Soon, there will no longer be living memories of World War II. What will the world be like when there are no more World War II veterans to share their stories? Will their history be up to re-interpretation? Will the sacrifices be deemphasized like those made by both the Blue and the Gray in the great US conflict of the 19th century, the American Civil War? Will World War II be politicized? Of course there are films and documentaries to preserve (some very good ones, by the way), but surely the world will lose something when all World War II veterans have passed. It is shocking to read the statistics about how many Americans believe the US fought the USSR in World War II, not the Axis powers. In an age of information, how can this be? Preserving and sharing history has become one of my life's passions. I donate frequently to preserve the battlefields of the past for future generations. I love this cause.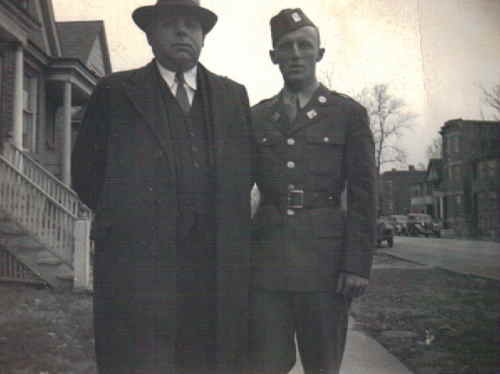 My grandfather, Edwin Stahurski (pictured in uniform right) was a Tech Sergeant in the Army during World War II. We don't know much about his military service record given the 1973 fire at the National Archives, but his enlistment record has some good information. After just a couple years of high school, he enlisted on June 18, 1942, for the duration of the War (plus six months).
I never had the chance to get to know my grandfather who passed away when I was too young to remember, but I would have loved to hear more about what he did during the conflict. Before my nana passed, she gave me his 'Victory' medal, an heirloom that will assuredly pass down to my son as well. She gave his other medals to my cousins. Some day we'll be able to piece his military service record together with them.
The picture is one of my favorites for a few reasons. The man on the left is my great-grandfather, Bernard "Ben" Stahurski, who himself served in the First World War. It's not a happy picture. I can almost feel the tension in both of their faces. Would this be one the last times they'd be together? I wish I could have heard the conversation between the two. What did my great-grandfather think of the times? Surely, he knew the horrors of war, having served as a Corporal in Company G in the 352nd infantry in the 88th Division during the Great War, which later became commonly known as World War I. My great-grandfather passed away when my mom was just a young girl, so we don't know much about his military record either. I have so much to learn about my own past.
There are a few things that we do know, however. The generation that came of age during the Second World War found themselves thrown into conditions that we would find unimaginable today. It affected everybody, everywhere and claimed the lives of 60 million people, with some estimating that the total figure reached 80 million including deaths from war-related disease and famine. One can only hope that the world will never again bear witness to the carnage of World War II.
My son's great-grandfather (my wife's grandfather), also found himself thrust into the times that shaped our definition of freedom today. Andrew Gullikson, pictured right, was barely 18 when he signed up to fight in World War II. As a Corporal in Battery B of the 132nd Field Artillery Battalion in the 36th Division from September 9, 1943 through May 8, 1945, Andrew would see action in Italy, France and Germany.
He was awarded the Bronze Star for his service, which was given for "bravery, acts of merit or meritorious service." Family stories would say that he had played a vital role in maintaining radio communications while in Italy "behind enemy lines." Though some of his stories never made it to my ears, my wife's mother said he cherished a book that he even had rebound after years of wear: The Fighting 36th, a Pictorial History, the Texas Division in Combat." The War would have such an impact on Andrew that he would name one of his sons after General Mark Wayne Clark.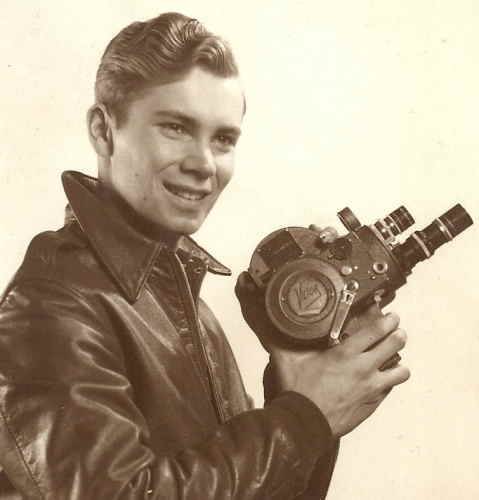 While Andrew was fighting in Europe, Donald Blankenship (my wife's other grandfather), pictured right, was contributing to the air offensive in Japan. The contraption in the photo is actually a camera, from what I've been told, a far cry from the technology we have in today's cell phones. I only had met Donald a couple times, and he was quite modest in talking about his service to the country. Inducted on April 3, 1943, he acted as a photo lab technician during the War. His decorations and citations included a Pacific Theater Ribbon with three bronze battle stars. He was a very nice man, and it was great for him to have met his great-grandson. He passed away just a short while ago.
As I reflect today, I can only be proud of my family heritage and all those that have made the world a better place for the generations that have followed. Thank you to all those that have served and are serving today! You will certainly not be forgotten by this newsletter editor.