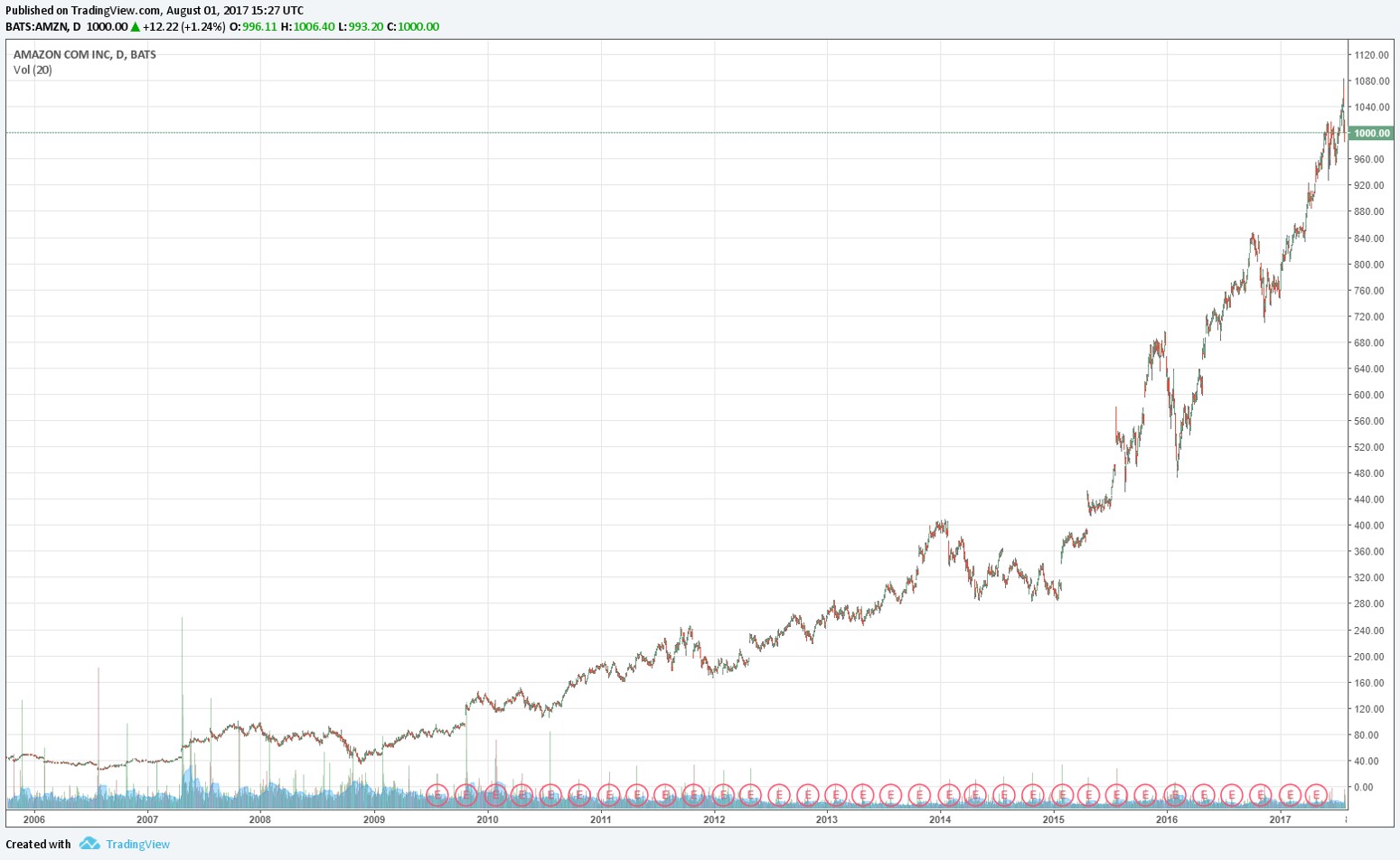 Amazon's share-price performance is a sign of these "frothy" times.
By Brian Nelson, CFA
We love Amazon's (AMZN) products and how it makes millions of people's lives better each and every day. We hear what the "bulls" are saying, too--about top-line expansion and the company's second quarter being a period of greater investment--but earnings and free cash flow matter. If not today or tomorrow or a few years from now, they will eventually. For Amazon, as strong as its free cash flow generation and net cash position on the books are, the combination doesn't justify its current lofty valuation. The stock trades at over $1,000 per share at the time of publishing, and it's almost laughable, by comparison, that we are reporting the company earned a mere $0.40 per share in its second quarter, results released July 27. Annualizing second-quarter results means Amazon's shares are trading at 625 current-year earnings.
Earnings per share can be misleading at times, of course, but it does speak indirectly to the frothiness of the current stock market environment in the US. Thanks in part to Amazon Web Services (AWS), however, Amazon is a mighty cash-flow-generator, something that we like and should be one of the core goals of any company. In the trailing 12 months, for example, operating cash flow increased 37%, to $17.9 billion, compared with $13 billion for the trailing 12 months ended June 30, 2016. Amazon provides a number of measures of free cash flow in its releases, but traditional free cash flow, as measured by operating cash flow less capital expenditures, was $9.7 billion during the trailing 12 months, up from $7.65 billion during the trailing 12 months ended June 30, 2016. At the end of the second quarter, total cash stood at $21.4 billion, a multiple of long-term debt of $7.7 billion.
We simply can't find a strong investment case for Amazon (on the basis of reasonable valuation metrics) that doesn't involve tremendous "castles-in-the-air" thinking. Though we accept the likelihood that the stock can continue to "run" higher, it's not one that we can become comfortable with by any stretch. Amazon, itself, for example, doesn't know if it will be profitable next quarter: "Operating income (loss) is expected to be between $(400) million and $300 million, compared with $575 million in third quarter 2016." How can we possibility be comfortable with long-term forecasting? For us to say Amazon is "investible," we'd have to suspend reason and embrace the "greater fool" theory. It's not going to happen. We're sorry we "missed" this bubble-stock idea, but some of our members would say that some stocks are okay to "miss," and Amazon would be one of them.
See Amazon's stock page: https://www.valuentum.com/search2?searchtext=amzn&searchtype=symbol