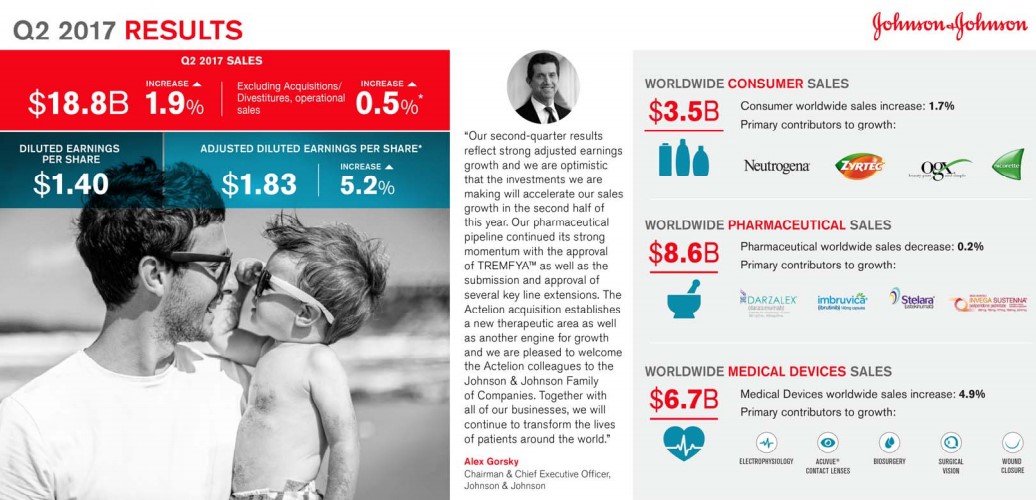 Image Source: J&J
Let's take a deep dive into Johnson and Johnson's pharmaceutical division Janssen Pharmaceuticals. Janssen traditionally serves as an area of clinical innovation adding an element of growth to the more stable product categories such as consumer health. However, there may be a few cracks in the Janssen revenue stream that could make growth at J&J harder to come by over the next few years.
By Alexander J. Poulos
Overview
The venerable Johnson and Johnson (JNJ) has earned the sterling reputation that the firm has built over the countless decades of steady performance. J&J is a bedrock of the health care sector sporting a sterling credit rating along with the ability to seemingly consistently churn out revenue and earnings growth. Though we like J&J a lot, if we were asked what our biggest concern about shares might be, it would be its future revenue growth profile. The lack of meaningful revenue growth from the all-important pharmaceutical division coupled with patent expirations may hamper time-line growth of the parent going forward. Let us be clear: In no way are we suggesting J&J is in any danger of failing to raise its dividend; our concern is that top-line growth may become increasingly more difficult for this $70 billion+ in yearly revenue behemoth. Let's provide a detailed overview of J&J's pharmaceutical division to help explain our concern.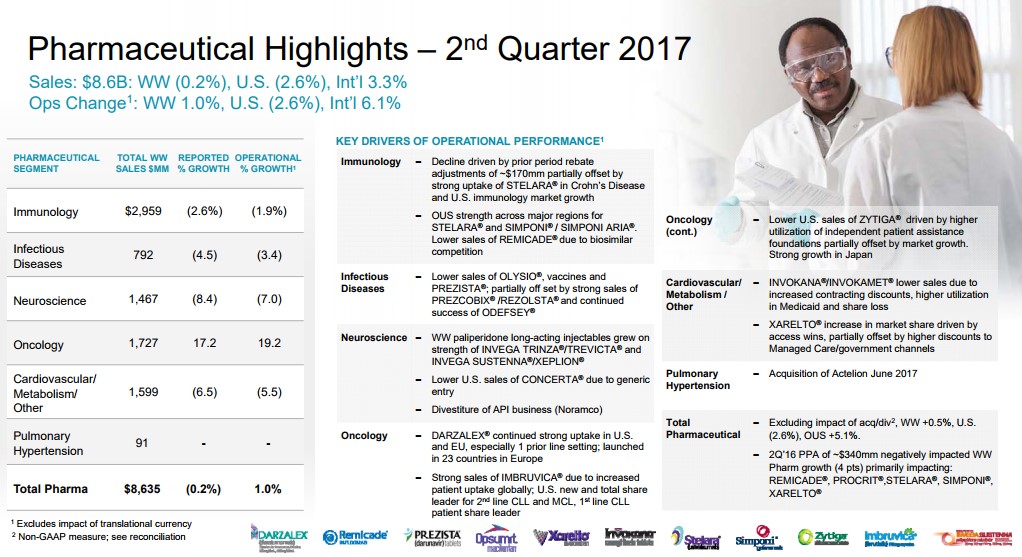 Image Source: J&J
Immunology
Immunology is the largest individual sub-group of the Janssen pharmaceutical group. The Immunology category houses some of the all-time top selling products such as industry leader Humira, which is marketed by Abbvie (ABBV). J&J is no slouch in this regard with Crohn's disease stand-out Remicade--an asset J&J shrewdly acquired with the purchase of Centocor over 15 years ago for $4.9 billion in stock. One of the primary reasons for J&J's stellar ability to grow revenues is the company's ability to utilize its balance sheet to make what have been timely and value-creating purchases. The merits of the deals may take some time to materialize, but in the Centocor case, for example, the key asset Remicade generated lifetime sales in excess of $60 billion—quite the payoff!
The overreliance on a top-selling product can be financially rewarding but once the patent expiration lapses, the patent cliff tends to be steeper than usual due to pricing dynamics in the industry. It has become exceedingly difficult to bring forth a billion dollar product to market not to mention the time it takes for acceptance in the prescriber community and the inherent sales growth. J&J has recently lost patent protection on Remicade, which continues to plague the Immunology group's sales growth. Remicade sales, for example, contracted to $1.53 billion in the second quarter of 2017 from $1.78 billion in the second quarter of 2016, pressuring the overall unit's performance.
The continued growth of Stelara helped to overcome some of the downward pressure exerted by Remicade, though we are generally not bullish on the continued growth of Stelara as more efficient products have entered the marketplace. J&J is hoping to offset the expected loss with sales of newly-approved Tremfya (Guselkumab) for the treatment of plaque psoriasis. We view Tremfya as a more efficient, next-generation version of Stelara with a notable difference--what we believe to be superior head to head comparison studies versus industry-standard Humira. We do believe in time Tremfya growth will offset the decline in Stelara, but to move the revenue needle, additional indications will be needed to broaden the prescribing label.
Cardiovascular/Metabolism
The Cardio/Metabolic division remains on the forefront of attempting to bring solutions to the diabetic pandemic that continues to ravage the globe. One of J&J's lead products to combat diabetes is Invokana--a leading member of the Sodium-glucose co-transporter-2 (SGLT2) inhibitors. J&J had gained a commanding market share aided by a significant first-mover advantage coupled with an aggressive marketing push that included a plethora of copayment waivers for commercially insured patients as J&J worked to gain favorable formulary placement. J&J exploited its advantage to the tune of annual sales of over $1.4 billion in worldwide sales, solidifying blockbuster status for Invokana.
JNJ's primary competition in the class is Jardiance, which is marketed by Eli Lilly (LLY). A recent study demonstrated a cardiovascular-risk reduction for patients utilizing Jardiance, a powerful marketing tool. J&J is conducting its own set of trials, but in a stroke of awful luck, recent trial results indicated an increased risk of foot and leg amputations in diabetics that are using Invokana to control their diabetes. The FDA stepped into the fray, requiring a dreaded box warning discussing the risk included in the prescribing data for Invokana.
The results of the study are having an outsize impact on revenue growth of Invokana— sales dropped over 20% in the recent quarter. Meanwhile, sales of Jardiance have continued to zoom higher since the beginning of the year thanks to more favorable formulary placement. We believe the Lilly reps armed with superior outcomes trial data plus the boxed warning on Invokana will continue to erode the Rx count of Invokana. In a worst case, sales growth of Invokana may now be permanently impaired, depriving J&J of an engine of growth.
The final product worth highlighting in the cardiovascular division is Xarelto, a next-generation treatment for blood clots. J&J did not internally develop the product—it licensed the product from Bayer (BAYRY) with JNJ in charge of US marketing. We remain befuddled with the recent loss of sales momentum as twice-a-day-dosing Eliquis has captured a larger share of the new Rx and overall prescription data. Xarelto posted growth of 8% in the recently-concluded quarter, but we feel results should have come in better than reported. J&J once had a commanding market share lead thanks to its convenient once a day dosing, but full credit goes to the marketing team at Pfizer (PFE) and Bristol-Myers (BMY) for the outstanding job they have done with Eliquis--the duo has muscled past JNJ's Xarelto as the new-generation, anti-coagulant with the highest market share..
J&J is funding additional studies to broaden the prescribing label for Xarelto, which may help arrest some of the declines, however. J&J announced the COMPASS trial was halted earlier than expected—a positive development for Xarelto. The COMPASS trial is a 27,000 random trial of patients afflicted with Coronary Artery Disease (CAD) and Peripheral Artery Disease (PAD) that were treated with either 2.5mg or 5mg of Xarelto twice a day--a notable departure from the current dosing regimen of once a day. The trial was halted due to a clear cut advantage of the group treated with Xarelto. The results will be unveiled at an upcoming conference--we will continue to monitor the events pertaining to Xarelto as they unfold. Xarelto has a PDUFA date issued by the FDA set for the October 28 for approval of use in the treatment of CAD and PAD. Assuming the FDA bestows its blessing, we feel J&J may have ample ammunition to regain market share lost to Eliquis.
Oncology
The oncology division remains an area of strength for J&J backed by the stellar growth of Imbruvica. Imbruvica continues to position itself as the preferred choice for the treatment of lymphoma with Gilead Sciences' (GILD) meager offering, the highly toxic Zydelig a very distant second. We remain impressed with the clinical profile of Imbruvica, and we feel the market position is generally secure for the foreseeable future as the sales ramp continues to press higher. As we have alluded to in our earlier description of the Centocor deal, we remain perplexed that J&J allowed AbbVie to come in and acquire a 50% stake in Imbruvica via the purchase of Pharmacyclis. AbbVie is now counting on Imbruvica to help offset the revenue decline from the expected revenue cliff once top-selling product Humira comes off patent.
One of the inherent strengths of big pharma is the industry's ability to use its balance sheet to acquire upstart biotechs with promising products. Cutting-edge research continues to emanate from biotech with big pharma preferring to play the critical role of facilitator and marketer. We are in no way impugning the industry dynamic—instead, we are attempting to convey the different investment dynamics per market cap. For example, big pharma should be viewed as a solid mid-single digit revenue growth cohort coupled with generally attractive dividend profiles. Conversely, the small to mid cap biotechs may offer the most appealing growth characteristics once a new product is on the cusp of being brought to market. Recent examples are the stellar run in Vertex Pharmaceuticals (VRTX) and Regeneron Pharmaceuticals (REGN).
We would have preferred if J&J had utilized the resources spent to acquire Actelion ($30 billion) for the purchase of Pharmacyclics, but we do agree that Actelion's portfolio of treatments for Pulmonary arterial hypertension (PAH) plus its late stage portfolio has synergistic merits when combined with J&J formidable Cardiovascular division. We continue to maintain that innovative Oncology properties are the premier healthcare assets to own. To further expand its reach in oncology, J&J has entered into a licensing agreement with Genmab (GNMSF) for the worldwide marketing rights to Darzalex, an innovative new treatment for Multiple Myeloma. J&J will pay a royalty to Genmab based on overall sales of the product. Sales remain in its infancy with net sales of $554 million thus far in 2017, but we expect Darzalex has the potential to generate a multi-billion dollar revenue stream as the product continues to gain additional indications. The critical need for new and innovative oncology remains as payers are reluctant to restrain spending, which offers pharma/biotech a highly appealing target market.
Conclusion
All told, J&J has been a strong performer since being added to the newsletter portfolios, and we remain fans of the steady income and reliably-growing dividend that it delivers. We have some concerns with the Janssen pharmaceutical division's future path to meaningfully grow revenues, but we're not removing the company from the newsletter portfolios by any stretch. We continue to monitor revenue trends at J&J closely for any signs that a heightening of our concerns may be warranted.
Healthcare and biotech contributor Alexander J. Poulos is long Gilead Sciences and Regeneron Pharmaceuticals.