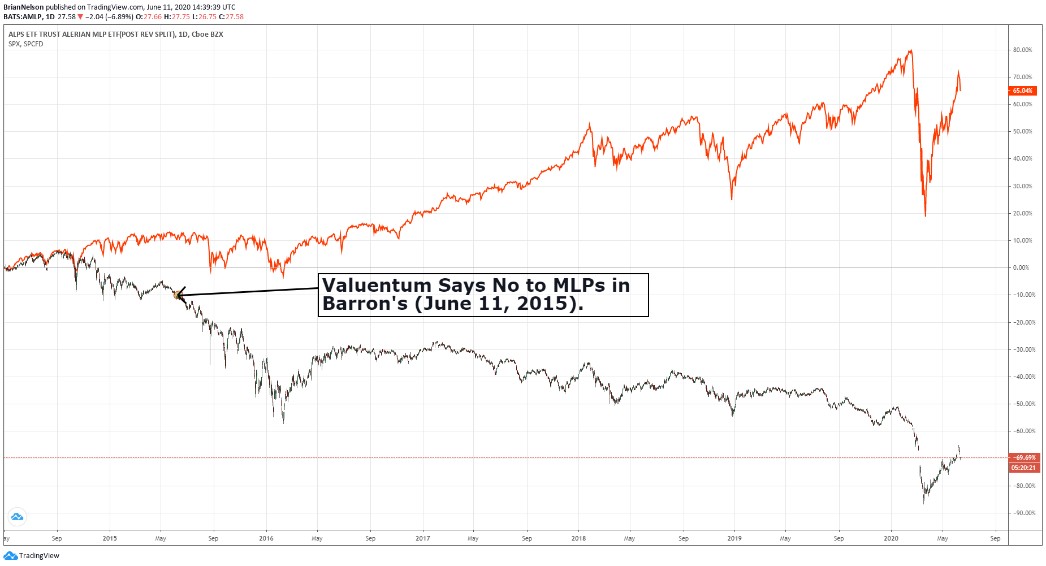 Image: Since Valuentum warned against the significant risks of the MLP business model June 11, 2015, on a price basis, the Alerian MLP ETF (AMLP) has fallen by more than 65%, while the S&P 500 has surged nearly 50%. There have been dozens and dozens of explicit (or phantom) MLP distribution cuts since we released our thesis 5 years ago to this day, and many MLPs have subsequently simplified their business models, rolling up into C-corps, as we predicted.
By Brian Nelson, CFA
5 years ago, on June 11, 2015, Valuentum released its bearish case on Kinder Morgan (KMI) and the MLPs, a view that was highlighted on Barron's.com and debated for months thereafter on various social media and website platforms.
In the piece, we explained the universal nature of enterprise valuation with respect to Kinder Morgan and the MLPs, something we also explained in the preface of Value Trap: Theory of Universal Valuation and throughout the text. The experience 5 years ago is one we will not soon forget.
We continue to encourage you to read Value Trap: Theory of Universal Valuation to establish a framework to think about the markets. The discounted cash-flow valuation model is not just a way to value stocks. In my opinion, it is the central theory in finance.
Thank you for your interest and support. We were among the few sounding the alarm bells on MLPs in June 2015, long before the fallout. There could be bounces in MLP prices every now and then from severely depressed levels, but the underlying trend for MLPs has been and will likely continue to be lower.
We've been working hard for years and years, building your trust. Don't forget to fill out the survey!
-----
Tickerized for the top weightings in the Alerian MLP Index.
Valuentum members have access to our 16-page stock reports, Valuentum Buying Index ratings, Dividend Cushion ratios, fair value estimates and ranges, dividend reports and more. Not a member? Subscribe today. The first 14 days are free.
Brian Nelson owns shares in SPY and SCHG. Some of the other securities written about in this article may be included in Valuentum's simulated newsletter portfolios. Contact Valuentum for more information about its editorial policies.