The Brazilian equity markets are in free fall.
"Brazil is in a deepening recession, which may grow into depression, as unemployment continues to rise and corporate credit quality deteriorates. Those that made a bundle investing in Brazil's commodity-driven export boom have been looking to cash out, if they haven't already, and the real continues to weaken on deteriorating sovereign credit and rampant inflation. Any interest rate hike by the US could have the unintended effect of sending Brazil's local yields to the mid-teens to account for incremental currency risk and credit deterioration, which would only exacerbate debt service costs as a percentage of the country's shrinking GDP. This, in turn, could be the catalyst for even more asset flight out of the country, and a full-blown currency crisis…" -- La Decada Perdida Revisitado?, Brian Nelson, CFA
By The Valuentum Team
Many of us have avoided the fallout that is plaguing Brazil (EWZ) during the trading session May 18. President of Investment Research Brian Nelson's note in September 2015, "La Decada Perdida Revisitado? Brazil's Economy Is Teetering on Disaster" said it all. We won't belabor the point for those that are gambling on this emerging economy. We wish we could tell you that we have insight into the latest new political scandal in Brazil, but it's "unknowable" at this point.
According to recent reports, Brazil's President Michel Temer had been caught on tape "in an alleged cover-up scheme." Spokespeople for the President have "vehemently denied the allegations," but it may not matter. The political risks of the Brazilian market and its commodity-dependent economy make for one of the most uncertain investment climates around. Many hoping to play a recovery in commodity prices have been blindsided May 18. It could get worse.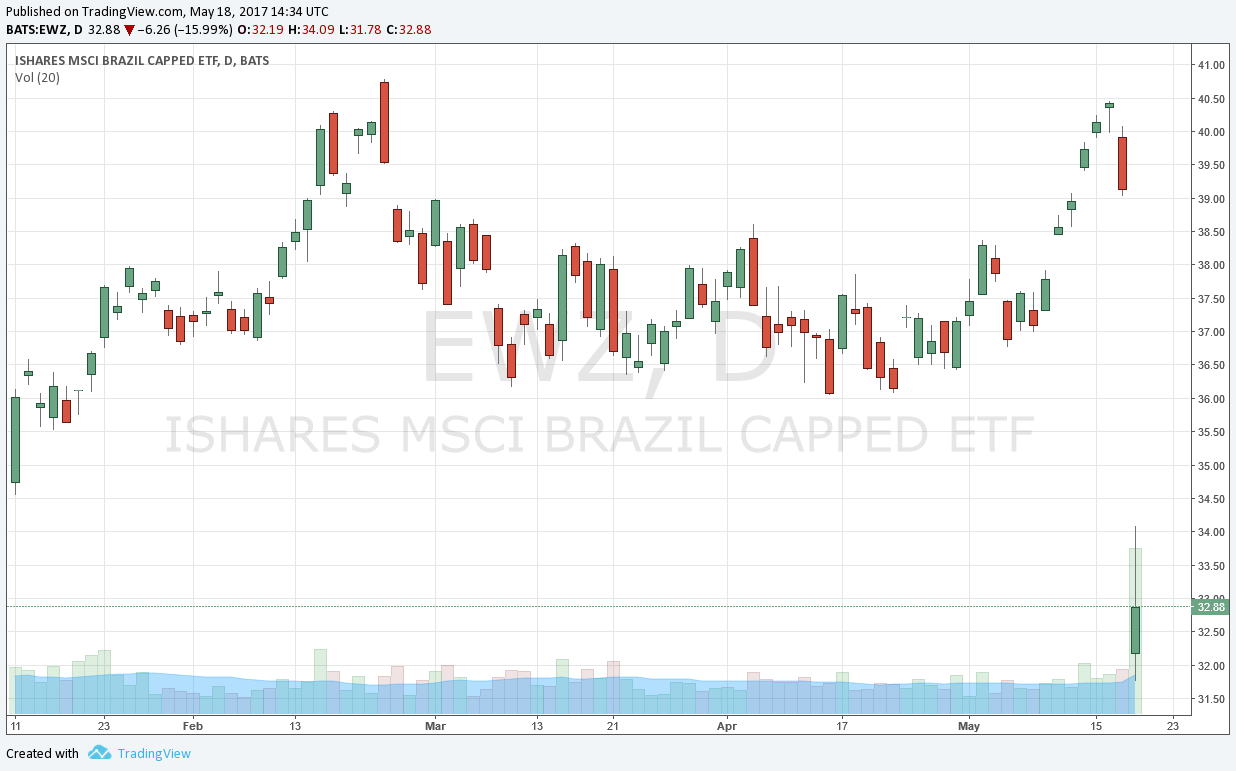 Related: BRF, BRZU, BZF, EWZS, BZQ, BRAQ, BRAZ, UBR, DBBR, FBZ
Other Brazilian-tied equities: PBR, VALE, BSBR, ITUB, BBD, ABEV, MELI, ARCO, SAN, ERJ, CIOXY, CIOXF, KROTY, KROTF, LRENY, GGB, JBSAY, BAK