#1: Buffalo Wild Wings Has Captured the Hearts of Children
"Plant the Brownie acorn and the Kodak oak will grow."
George Eastman knew all too well about winning the hearts of children. The inventor-entrepreneur popularized flexible film in the 1880s, and his first Kodak camera was available for purchase by the end of the decade. But the breakthrough was too expensive, and it wasn't until the Kodak Brownie, released a dozen years later, that photography was democratized. The camera sold for just a $1 and was easy to use. But importantly, Eastman focused his marketing and advertising efforts on children. When these children grew up, the seeds had been planted, and Eastman had built an empire. The Kodak oak grew.
Though Eastman Kodak (KODK) failed to properly adjust to the digital era, of no fault of founder George Eastman himself, we think one company in particular is planting an acorn in the restaurant arena, and the chain might surprise you. No, it's not McDonald's (MCD), which arguably accomplished as much in the 1980s and 1990s, nor is it Chik-fil-A, which while kid-friendly, is not independently publicly-traded. It's Buffalo Wild Wings (BWLD). Our latest channel checks reinforce the view that the company is capitalizing on a younger "tween" demographic. We're not kidding.
Parents absolutely love Buffalo Wild Wings: their restaurants offer hand-held video games to keep toddlers busy, menu coloring pages and fresh crayons, and are loud enough where "nobody cares if kids whine or cry." Parents don't love the food, but that may not matter. Buffalo Wild Wings has become a retreat for parents, and from what we can tell, kids aren't pushing back against the Boneless Wings Meal or Macaroni & Cheese Kids Meal. Throw in milk and mandarin oranges, and Buffalo Wild Wings has hit a homerun. We underestimated the magnitude of the restaurant's kid-friendliness, and this will be a huge driver behind the chain's continued success.
#2: Buffalo Wild Wings' Store Base Could More Than Double
As of May 2015, the company had 588 franchised and 498 company-owned restaurants in the US, Canada, Mexico and Philippines for a total of 1,086 restaurants. Though it by no means is a small company, we think Buffalo Wild Wings is only in the middle-innings of its growth story. International franchising efforts have begun in Mexico, the United Arab Emirates and the Philippines, but the greatest opportunity may still reside in the US and Canada. Management is targeting 1,700 locations in the US and Canada, but we think the opportunity is much greater.
If Buffalo Wild Wings reaches a restaurant-per-population ratio of its founding state of Ohio for all of the US, or 11.6 million divided by 91 for example, or 1 per ~127,000 consumers, the number of potential Buffalo Wild Wings restaurants in the US alone could reach ~2,500. Rivals such as Wingstop (WING) may impair its growth trajectory a bit in smaller markets, but we think Buffalo Wild Wings has the right business model for most markets. Wingstop's stores are a quarter of the size of Buffalo Wild Wings' and lack the kid-friendly draw—not to mention TVs and a bar.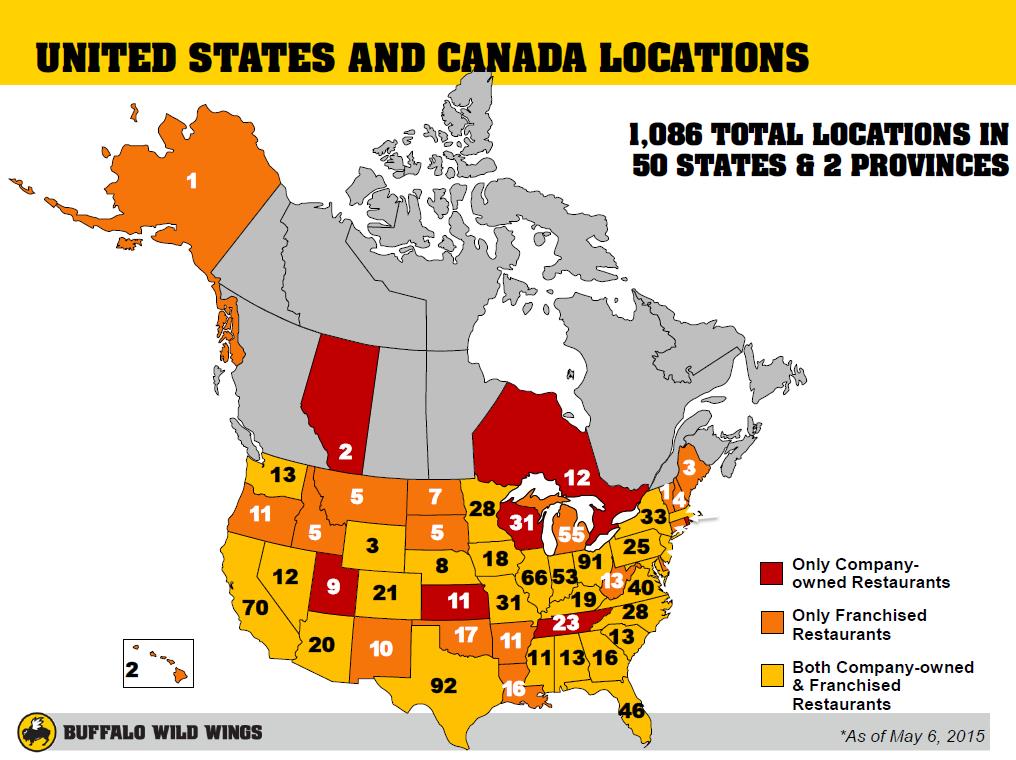 #3: PizzaRev Is Buffalo Wild Wings' Hidden Gem
Buffalo Wild Wings isn't just "beer, wings, and sports" either. The company has a minority interest in Pie Squared Holdings, which operates and franchises PizzaRev, one of the dozens of fast-casual pizza companies that have popped up in the US during the past several years. We think fast-casual will revolutionize the pizza industry much like it has done in other segments of the restaurant arena. We walked through the fast-casual pizza industry in this piece here, and we expect Buffalo Wild Wings' backing to help drive PizzaRev to a top position in the industry sub-segment.
We recently took profits on Buffalo Wild Wings in the Best Ideas Newsletter portfolio, and we think we exited a bit too early. Frankly, we missed just how well the chain connects with parents and children. Buffalo Wild Wings has very much planted an acorn, and we continue to expect its business to grow into a powerful oak. It may very well be our favorite idea in the restaurant space for investors seeking long-term capital appreciation. We're just looking for a better re-entry point.