Gilead investors' only thing to fear is fear itself?
I never thought I would refer to the first inauguration speech of Great Depression and World War II President Franklin Delano Roosevelt in explaining the situation with Gilead Sciences (GILD), but I just did.
The psychology of the markets is perhaps the most difficult to assess, and I can almost feel portfolio managers behind their multi-screen terminals just scratching their heads, saying "Am I missing something?" To them, I say "No, you're not." Gilead's shares are trading at bargain-basement levels, and its fourth-quarter results were stellar.
Yet, to their dismay, they will wake up tomorrow to find Gilead's shares trading lower than the day prior. It is almost as though the market's pricing of Gilead's shares is "so off" that it is making everyone nervous. In my view, Gilead investors' only thing to fear is fear itself. Nod to Mr. Roosevelt.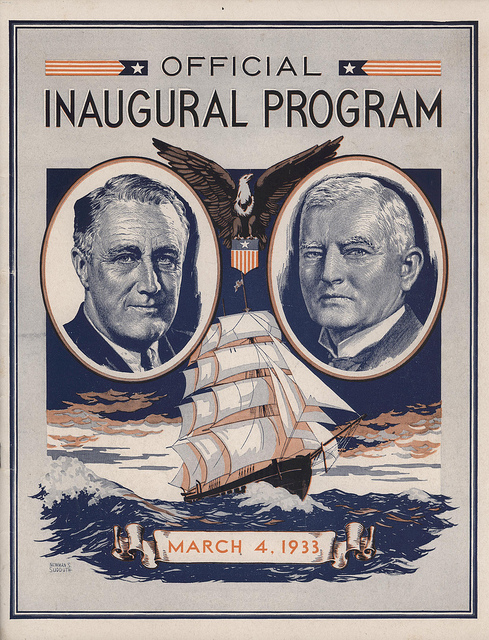 Gilead's fourth-quarter performance showcased revenue more than doubling, to $7.3 billion, propelling more than a 4-fold increase in non-GAAP diluted earnings per share, to $2.43. Both of these figures exceeded the consensus estimates, and many more higher than that.
The firm's HCV treatment Solvadi notched $1.73 billion in sales during the three months ended December 31, while its successor Harvoni surpassed $2.1 billion. Sales of HIV-1 treatments Truvada ($897 million) and Stribild ($385 million) also expanded nicely in the quarter, the latter almost doubling. Sales of Atripla ($925 million), another HIV-related drug, were roughly flat.
Gilead is hardly a one-trick pony, and it continues to invest in its antiviral (liver disease) and oncology portfolios. The company ended the year with nearly $12 billion in cash and cash equivalents.
Looking to 2015, net product sales are expected to be within the range of $26-$27 billion, but we fully expect Gilead to beat that mark. Our revenue expectation for 2015 is ~$28.6 billion, and that level is still lower than the measure achieved by annualizing its most-recent quarterly mark ($29.2 billion). Gilead's product gross margin is expected to reach 90% at the high end of its guidance range during the year, and both R&D and SG&A are expected in the range of $3-$3.3 billion.
To please income investors, Gilead will now pay a quarterly dividend of $0.43 per share, and to capitalize on its underpriced stock, management approved the repurchase of an additional $15 billion of common stock. Just about everything went right in the quarter, and management's actions are about as shareholder friendly as it gets, so what gives?
Why isn't the stock soaring?
In our word: discounts. We have a unique take on the topic, however. In our view, management doesn't want to bring on any more scrutiny regarding the pricing strength of its HCV portfolio, so it is talking up discounts in the public domain. Such talk, in our view, will result in a series of quarters going forward where management under-promises and over-delivers, much like it did during the most recently-completed period. Frankly, we like the strategy. The more management emphasizes discounts, the less pricing pressure it will face from exogenous forces. Would Congress and other regulatory bodies instead want to hear Gilead brag about its pricing power? We think not.
The impact on Gilead's HCV portfolio from AbbVie's (ABBV) Viekira Pak is still to be determined, but we're not worrying too much. For one, the HCV market remains vastly underserved. According to the World Health Organization, 130-150 million people globally have chronic hepatitis C infection, and a significant number of those who are chronically infected will develop liver cirrhosis or liver cancer, with as many as 350,000-500,000 people dying each year from hepatitis C-related liver diseases.
According to Gilead, "the worldwide potential for all oral antiviral pan-genotypic HCV cure is sizable with over 12 million infected individuals in commercial markets alone." There's plenty of room for a number of players, and there's a very strong argument that Gilead's single-pill once-daily Harvoni is not only the most convenient but also the most efficacious (cure rates of 94%-99% versus Viekira Pak's 91%-100%).
We're disappointed that the market is not seeing through the executive suite's savvy strategy of keeping pressure off price by (somewhat contradictorily) emphasizing discounts. A firm can't exceed expectations on the top and bottom lines by such a large margin if it truly were facing material pressure. We're staying patient as we anticipate price-to-fair value convergence.
We value shares north of $160 per share, or approximately 20 times last year's non-GAAP earnings per share.