I just wanted to send a quick reminder out there because frankly this is amazing, and I'm very, very concerned readers aren't focusing on the right things. First, I wanted to start with a couple examples.
Example 1: If you pull up a 16-page report and, let's say, it is dated from late April, and the company had registered a 9 on the index and shares were trading $24 at the time. If the stock is now in the mid-$30s, your response should be: "Wow, the stock registered a 9 and now has advanced significantly. The methodology really highlighted this one." Your response should not be that the report is dated from April. Micron Tech (MU).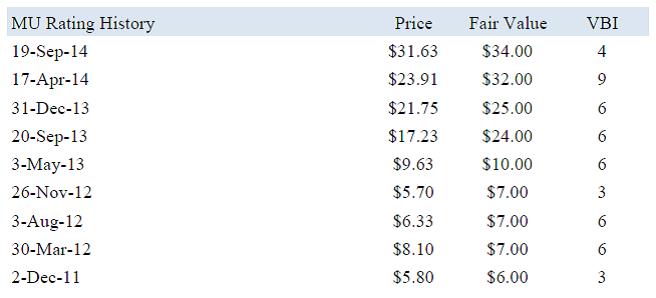 Excerpt Micron Report, page 16
The standard update cycle for any investment research firm is generally on a quarterly basis. If a broker on a sell-side firm made a buy recommendation at $24 per share and the stock surged to the mid-$30s, he'd be getting a bonus. If a portfolio manager scooped up shares when they were a 9 and sold in the mid-$30s, he'd be well on his way to outperformance. Use the real-time charting functionality on a company's landing page, if you are interested in real-time pricing data.
Example 2: If you look at the Best Ideas portfolio and are wondering why a holding's Valuentum Buying Index has moved from an 8 to a 3 over time – it is because the stock has performed unbelievably fantastic. It has moved from undervalued to less attractive. It has gone up. This is a good thing. It should not be viewed that the system is too confusing or random or not robust. A stock is added when it has a high rating (generally 9 or 10) and removed/trimmed (generally 1 or 2) when it has a low rating. Precision Castparts (PCP).

Excerpt Best Ideas portfolio
A stock's Valuentum Buying Index is based on our view of the attractiveness of a company's DCF valuation, its relative valuation versus peers, and an overall technical assessment. If our views on any of these three investment pillars change, a firm's VBI score will change to reflect this new view.
The Valuentum Buying Index does not change step-by-step (e.g. 5 to 6) as more than one dynamic can change at any given time. Remember: it is not purely a value-based system, nor is it purely a technical-based system. It has components of both and assesses the firm on its attractiveness at any point in time.
Example 3: Today, eBay (EBAY) has decided to split its business into two standalone publicly-traded businesses in a tax-free spin-off in the second half of 2015. Shares are up ~7% at the time of this writing, approaching all-time highs. We use eBay as the prime example of how we use the Valuentum Buying Index. See here >> This is good.
We've been pounding the table on eBay's shares. We've been expecting a split to unlock shareholder value. We continue to believe shares are underpriced. The company is a holding in the Best Ideas portfolio. Here's its landing page >>
What you are witnessing here is good call after good call after good call. Pay attention please! If you do not like any companies within the newsletter portfolios, it's very likely you're missing out on 30-40 of the best ideas on the market today. The VBI is working. The Dividend Cushion is working.

Image Source: FAQ: What's the Best Way to Use the Valuentum Process
Are you seeing what I'm seeing? If not, what is your perspective? Let me know. You can reach me at brian@valuentum.com.
Interested in higher-yielding equities, inquire about the Dividend100 publication or consult the Dividend Growth portfolio.