Tulip mania was a period in the 17th century during which prices for tulip bulbs reached irrationally high levels and then collapsed almost overnight. The picture to the right is a tulip, known as "the Viceroy", as displayed in a Dutch catalog of the time. The picture serves as a reminder to us of the potential madness of crowds, perhaps no better popularized by Charles Mackay's 1841 book Extraordinary Popular Delusions and the Madness of Crowds, which outlined such behavior:

Many individuals grew suddenly rich. A golden bait hung temptingly out before the people, and, one after the other, they rushed to the tulip marts, like flies around a honey-pot. Every one imagined that the passion for tulips would last for ever, and that the wealthy from every part of the world would send to Holland, and pay whatever prices were asked for them. The riches of Europe would be concentrated on the shores of the Zuyder Zee, and poverty banished from the favoured clime of Holland. Nobles, citizens, farmers, mechanics, seamen, footmen, maidservants, even chimney sweeps and old clotheswomen, dabbled in tulips.
At the peak of the tulip mania, "the Viceroy" bulb cost between 3,000 and 4,150 guilders (florins) depending on the size. A skilled worker at the time earned roughly 300 guilders a year for comparison. Tulip mania was one of the first recorded bubbles, where asset prices deviated significantly from intrinsic values. People knew the disconnect between the price of the bulb and intrinsic value, but as long as the market held up, they were content with facilitating the bubble.
Today, there is a bubble in small capitalization stocks, or those with market capitalizations less than $2 billion, and we think market participants know it. According to reports, small capitalization stocks, as tracked by the Russell 2000 Index (IWM) "have rallied for seven straight quarters, the longest stretch ever, sending valuations 26% above levels at the height of (the Internet bubble in) the 1990s rally. Gains in (small cap) stocks have pushed the gauge up 248 percent since the bull market began five years ago, leaving price-earnings ratios about three times as high as for shares in the Standard & Poor's 500 Index (SPY)...The outperformance (of small caps) accelerated this year even as earnings growth trailed large-caps. Profits from Russell 2000 companies climbed 6.8 percent in the last quarter, compared with 8.6 percent in the S&P 500. While bigger companies exceeded analysts' estimates by a combined 4.6 percent, smaller firms missed by 13 percent."
Caveat emptor is prudent counsel for a buyer of small capitalization stocks in this over-heated market. Here is a list of stocks that have more than doubled in less than three months this year. Bubbles almost always end badly.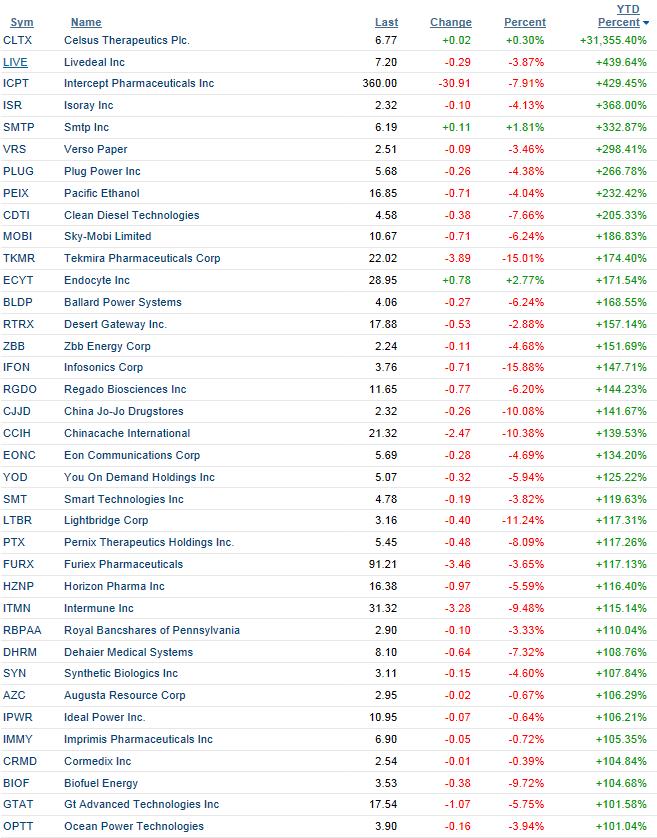 Image Source: Barchart.com