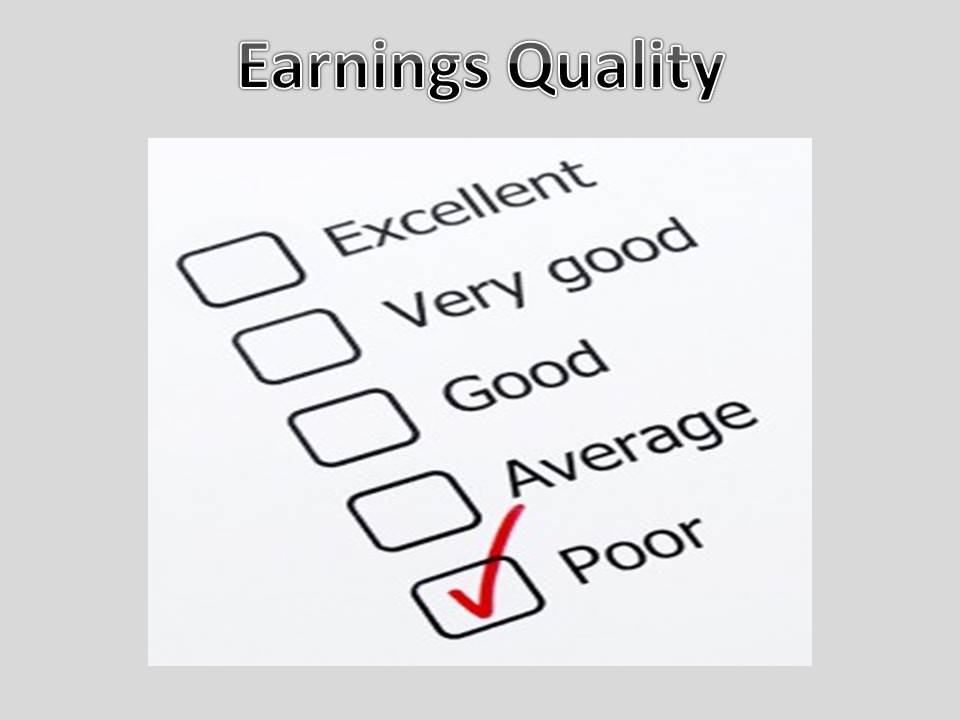 A version of this article appeared on our website January 22, 2014.
Let's first become acquainted with why assessing earnings quality is important. According to the Research Foundation of the CFA Institute:
Understanding the quality of earnings is an essential part of processing and interpreting information. A high-quality earnings number will (1) reflect current operating performance, (2) be a good indicator of future operating performance, (3) and fairly annuitize the intrinsic value of the company.
With that said, at Valuentum, there are five basic areas that we evaluate to assess the quality of a firm's earnings:
a) is the company's earnings growth driven by higher-quality revenue expansion or lower-quality cost-cutting measures (can the trajectory of earnings be sustained with continued revenue increases because cost-cutting, by definition, is a finite activity?);
b) has the company benefited from one-time items and/or an abnormally low tax rate to bolster net income (is the company shifting items from one period to the next?)
c) has the company engaged in aggressive share buybacks to bolster earnings per share (is management incentivized based on return on invested capital or accounting earnings per share, the latter not always in the best interests of shareholders?);
d) does the company convert 100%+ of its net income into cash flow from operations (are the earnings it generates truly cash earnings or are they more an accounting measure?);
e) was there a large re-classification of costs and/or segments that muddied the performance (is the company trying to hide something?).
There are other items to consider in evaluating the quality of earnings—including assessing depreciation methods and other more fraudulent activity that can impact reported net income such as creating fictitious revenue and/or failing to record expenses—but for the most part, the five reasons outlined above cover the topic quite well in practice. Never did we ever think we'd be using Big Blue (IBM) as an example of poor earnings quality, but its fourth-quarter 2013 results, released January 21, 2014, fit the mold. We're using IBM as a case study in this piece. Shares once traded for more than $200 each prior to the collapse. Let's get started with the analysis.
In IBM's fourth-quarter 2013 income statement shown above, we have encircled three items that stood out to us.
Can't view images? Download income statement here. See page 7.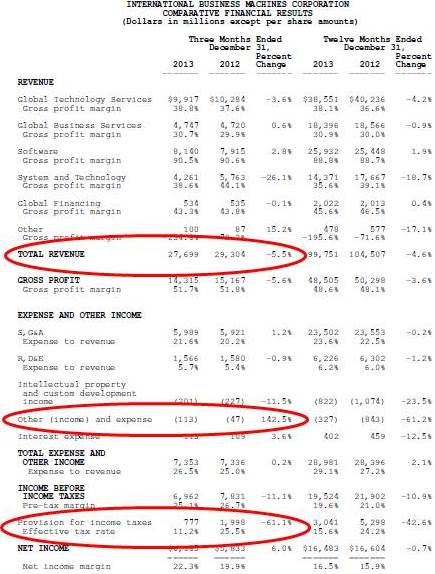 Image Source: IBM
The first is revenue growth. IBM's fourth-quarter 2013 revenue dropped 5.5%, a pace that exceeded that of the 4.6% drop for the year, indicating an acceleration of the revenue decline. At the time of this original writing in early 2014, we had been viewing the revenue decline as a sign that the worst may still be ahead of Big Blue as it tries to steer the company back to growth. Without a solid backdrop of revenue growth, earnings-per-share expansion will have to come either from lower quality cost-cutting, one-time items, or share buybacks. Interestingly, IBM didn't cut operating costs faster than the revenue declines in the period, as SG&A and RD&E as a percentage of revenue expanded, to 21.6% (up 140 basis points) and 5.7% (up 30 basis points), respectively. Clearly, revenue and costs had been moving in the wrong direction at IBM.
But IBM still reported a 6% increase in net income and a 240 basis point improvement in its net income margin for the quarter (see bottom two lines of the image above). Let's examine how it did so by looking at the two other encircled items on its income statement. 'Other (income) and expense' advanced by $66 million—the measure is an offset to expenses, which is why it is a negative. Second, IBM's tax rate ('Effective tax rate') tumbled significantly. Big Blue's net income was more than $1 billion higher than it otherwise would have been (the 'Provision for income taxes' declined more than 60%). Given the declining revenue, increasing costs, and the one-time items that have benefited the firm (other income and a lower tax rate), the company's earnings quality in the fourth quarter of 2013 was very poor.
The quality of earnings expansion, however, was muddied even further. IBM bought back more than 50 million shares of stock (1,072.5 million versus 1,124.7 million), which further boosted headline earnings per share. On a diluted basis, IBM recorded 11% earnings-per-share growth, but there wasn't anything fundamental in the quarter that should have driven such strong bottom-line expansion. Said differently, the buybacks acted as an artificial means to hide weakening underlying fundamentals.

Image Source: IBM

Another important consideration in assessing earnings quality is to ascertain whether cash flow from operations is increasing at a pace (or is at a level that is) consistent with net income expansion. If it isn't, then the earnings the firm is posting on the income statement are more accounting-based than cash-flow based. For IBM, net cash from operations per GAAP is slightly higher than accounting earnings on the income statement (in the quarter and on an annual basis), so the possibility of any serious financial shenanigans at Big Blue is remote, in our view. On an annual basis, however, the decline in net cash from operating activities ($18.79 billion versus $22.49 billion) was much steeper than the fall in net income for the year ($16.5 billion versus $16.6 billion). Free cash flow trends weren't that great either. As a percentage of net income, free cash flow fell to 91.1% in 2013 from 110% in 2012. The pace of the free cash flow decline was much steeper than that of net income on an annual basis.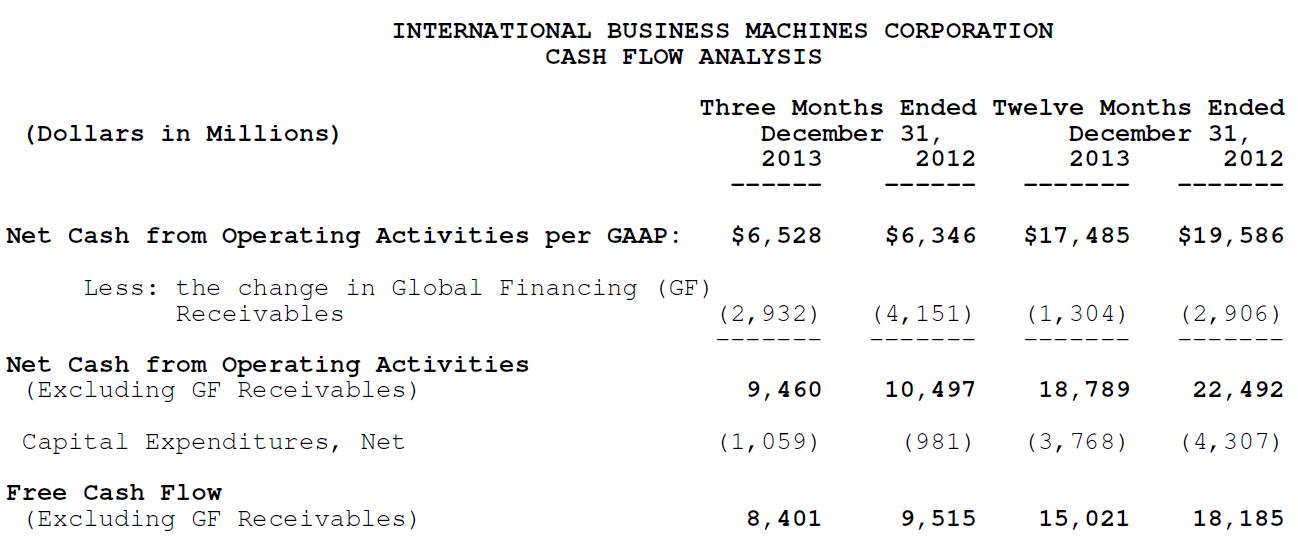 Image Source: IBM
The steeper drop in cash flow (both operating cash flow and free cash flow) relative to the fall in net income shouldn't be that surprising. A look at the breakdown in incentive compensation in IBM's proxy statement, for example, reveals more of a focus on operating net income (60% weighting in executives' annual incentive program) and operating earnings per share (an 80% weighting in executives' performance share unit program) than anything else. Please see page 34 of 2013 proxy statement here and/or image below. As shareholders (owners of the company), we often get what we incentivize management to do.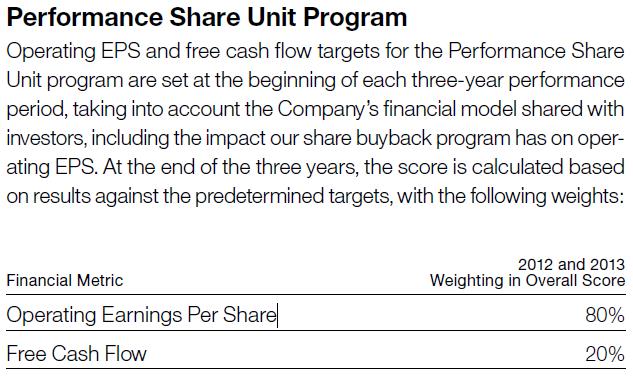 Image Source: IBM
Incentives based on accounting "EPS," however, tend to do more harm than good. In this case, a strong case could be made that IBM's management "fell asleep at the wheel" by depending more on share buybacks to target operating earnings per share goals, instead of concentrating on tangible operating improvements to drive higher-quality ROIC. The result: IBM ended up dropping its long-held operating earnings-per-share target for 2015 of $20 per share in late 2014. The company's share buyback "buffer" had not been enough to offset underlying business weakness, and the stock suffered as a result.
Valuentum's Take
As a matter of better corporate governance, we'd like to see a greater focus on return on invested capital (ROIC) and economic profit (EVA) than accounting measures, not only at IBM but at all other companies, too. We think long-term performance will benefit from this focus. IBM didn't engage in any large re-classifications to complicate year-over-year comparisons, but the firm's quarterly results had flown in the face of what we and the Research Center for the CFA Institute characterize as high-quality earnings. The fourth quarter of 2013 at IBM was not (1) reflective of current operating performance, (2) a good indicator of future operating performance, and (3) helpful in assessing the intrinsic value of the company.