The 1980s were filled with ideas that robots would take over our personal lives. There was, of course, The Terminator, which ingrained a sense of fear within society about the potential dangers of advanced robotic use. But there were other "friendlier" movies, too. Who could forget the beloved 'Johnny 5' in Short Circuit or Paulie's robot "girlfriend" in the fourth installment of the Rocky series? Unlike depicting a robotic assassin from a post-apocalyptic future, these movies showed the humanization of robots with feelings like fear and love.
Are we now re-living a bout of 1980s nostalgia, with Amazon (AMZN) and UPS (UPS) recently talking about unmanned flying drones delivering packages to consumers' door steps? It's probably not too far of a stretch to then imagine that one the greatest corporate innovators of our time, Google (GOOG) would also be interested in artificial intelligence. It turns out Google certainly is interested.
The search giant, on Friday, confirmed that it has acquired Boston Dynamics, a developer of advanced robots for US military applications, marking its eighth "technology" acquisition in the past half-year. Boston Dynamics' suite of robots is certainly eye-catching, and the military and security uses appear to be many. For example, the 'Legged Squad Support System (LS3)' shown below mimics the motions of a horse and is designed to go anywhere marines and soldiers go on foot to help carry their equipment and loads. Thanks to advanced computer-vision technology, the LS3 can follow marines and soldiers without a dedicated driver.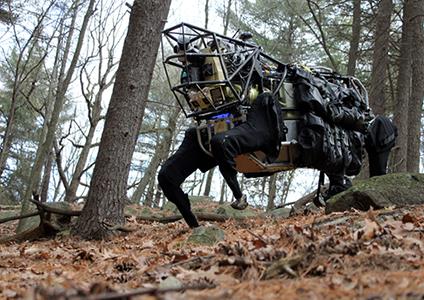 Image Source: Boston Dynamics
Boston Dynamics' intellectual portfolio expands well beyond the LS3 and includes humanoids such as the Atlas and Petman, the "fastest legged robot in the world," the Cheetah, a rough-terrain robot called the BigDog, a remote controlled robot called the SandFlea, which can jump 30 feet into the air, and a variety of others. The BigDog, shown below, is the size of a large dog or small mule and is powered by an engine that drives a hydraulic actuation system. At 240 pounds, it can carry a 340-pound load.
Image Source: Boston Dynamics
Boston Dynamics' technology largely competes for military dollars with a number of iRobot's (IRBT) tactical ground applications such as the combat-tested 510 PackBot line of small, unmanned ground robots, the 310 SUGV and XM1216 SUGV (Small Unmanned Ground Vehicle) multi-purpose ground robots, the 110 FirstLook small, light, throwable robot, and the 710 Warrior multi-purpose robot capable of carrying heavy payloads. Though iRobot's defense and security revenue has faced pressure as a result of troop withdrawals in Afghanistan, program cancelations and ongoing budget reductions within the US government, defense and security robots perform tasks such as battlefield reconnaissance, bomb disposal, and multi-purpose tasks, which save lives and will only become more valuable in future combat and security applications.
Robotic applications for military use serves a very important purpose, but Google's foray into robotic technology likely builds on its dreams of having self-driving cars, Google Glass and a number of other techie, retail applications, including improved mapping technology and perhaps even developing ground-based e-commerce delivery solutions to compete with the likes of Amazon Prime Air. Though these concepts are years away from coming to fruition and the obstacles will be many, at the very least, sharing military technology for consumer applications is valuable and nothing new; we've seen this many times in history from GPS to the EpiPen to duct tape. Google's purchase of Boston Dynamics may be the starting point of the creation of other widely-used military-turned-everyday items.
There are more controversial topics regarding robotics brewing, however. On Fox News, CEO of itsyourbiz.com Susan Solovic noted that anything that is "linear in nature or anything that it sort of menial labor" will eventually be replaced by robots, alluding to recent pressures to raise the minimum wage to $15 per hour at fast-food restaurants such as McDonald's (MCD) and Wendy's (WEN) and discount retailers such as Wal-Mart (WMT). Robotics may offer corporations another avenue to replace increasingly more prohibitive labor costs, though political obstacles will be immense. In any case, technology and automation have been replacing manual labor for decades, and this trend will likely continue or even accelerate should robotic use proliferate in the years ahead.
Valuentum's Take
Robotics in military applications to save human lives is the way of the future, but recent military drawdowns in Afghanistan and program cancellations have sent iRobot's defense and security revenue tumbling in recent years. Defense and security revenue at the firm had been 40% of total revenue in 2011, but now hovers at about 10% due to the reduced war efforts. At least for the next few years, iRobot's revenue expansion will be fueled by its rapidly-growing home technology business – the Roomba 800 series vacuum robots and Braava mopping robots.
Little financial information is available on Boston Dynamics other than at least one $10+ million contract with Darpa (Defense Advanced Research Projects Agency), but its 'Jobs' page suggests funding appears to be adequate. Under the Google umbrella, research and development will now be able to flourish, given the search giant's resources. We're not expecting anything soon from Google as a result of its recent flurry of robotic acquisitions, but it certainly is positioning itself well for all that robotics may bring. Robotics have already made in-roads in surgical applications as with Intuitive Surgical's (ISRG) da Vinci, so more civilian and retail applications are not only likely but should be expected. We're watching developments closely, but the news does little to alter our fair value estimates at the moment. Google remains a holding in the portfolio of our Best Ideas Newsletter.
Related Companies: ADEP