I guess you can say a 'Red Letter Day' for our Best Ideas portfolio can be more appropriately called a 'Green Letter Day,' as stock-market advances are typically colored in green. Today is such a day for two holdings in our Best Ideas portfolio: Ford (F) and Precision Castparts (PCP). These are two companies that we have pounded the table on repeatedly during the past couple years.
Ford Posts Record 3Q Pre-Tax Profit
On Thursday, Ford (F) posted excellent third-quarter results that showed fantastic top and bottom-line performance. Total company revenue advanced an impressive 12% thanks to wholesale volume expansion of 16% and year-over-year share gains in all regions. The auto maker also posted record third-quarter pre-tax profit of $2.59 billion, an increase of $426 million (19.7%) compared with a year ago – and marks the 17th consecutive quarter of profitability. Bullet points in press releases from Ford haven't been this good in a long time, and we expect them to get even better:
• Record third quarter pre-tax profit for Automotive sector; continued strong results in North America and a combined profit for regions outside North America for first time since second quarter 2011; record third quarter profit for Asia Pacific Africa; profitable in South America; loss in Europe, but improved substantially from second quarter and a year ago (we picked up on this on Honeywell's quarter here). Ford Credit remained solidly profitable
• Record third quarter Automotive operating-related cash flow of $1.6 billion; 14th consecutive quarter of positive operating-related cash flow; strong liquidity of $37.5 billion, an increase of $400 million from the end of the second quarter
• Improved full year company financial guidance: Ford now expects total company pre-tax profit to be higher than 2012, improved from prior guidance of equal to or higher than 2012. Ford also now expects Automotive operating margin to be higher than last year rather than about equal. Ford continues to expect Automotive operating-related cash flow to be substantially higher than 2012
Wow! We've been highlighting Ford as one of our best ideas since 'We Outline(d) Our Bullish Case for Ford' in August 2011. It's hard not to like the firm's progress on operational metrics, and the auto maker continues to exceed originally-planned financial metrics for 2013.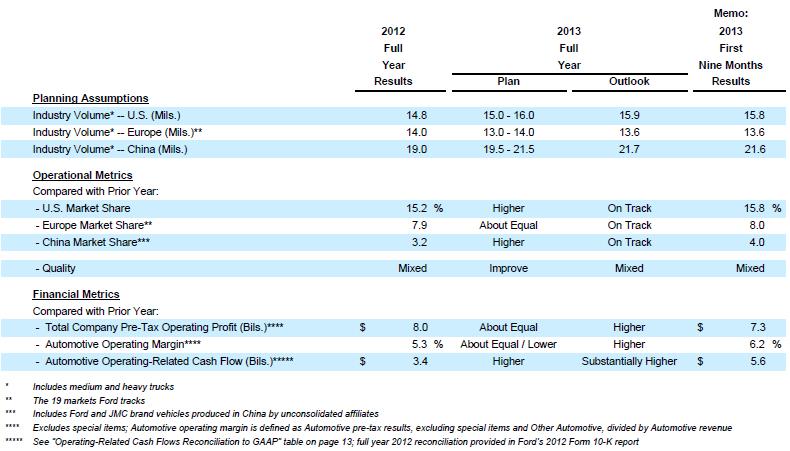 Image Source: Ford
Our fair value estimate for Ford is $22 per share, but we could see valuation upside to as much as $30 per share (the high end of our fair value range), if North American performance continues to be strong and Europe turns the corner. We're still holding the outsize position in Ford in the portfolio of our Best Ideas Newsletter.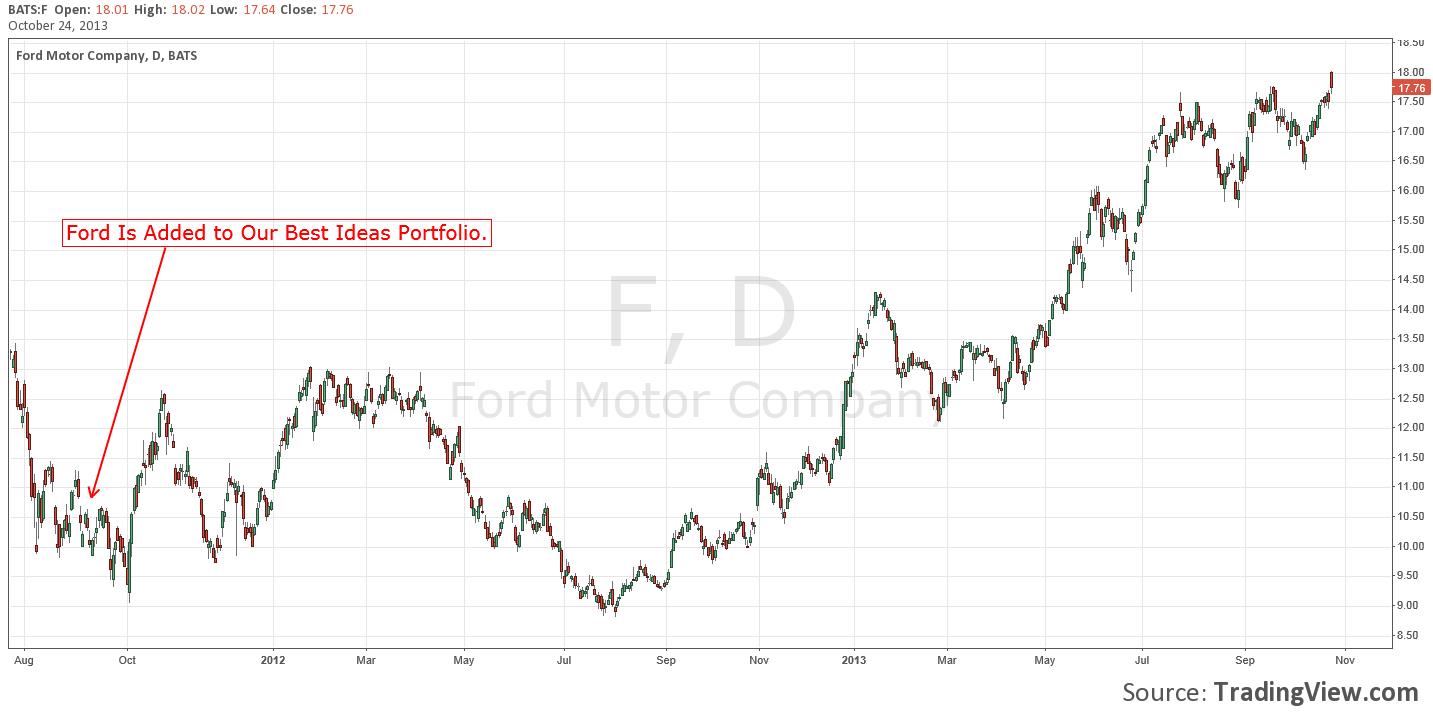 Precision Castparts Blows By Fiscal 2Q Expectations
Thursday was also very good for Precision Castparts (PCP), as the metal-bending aerospace supplier posted fantastic second-quarter fiscal 2014 results. The company registered record sales of $2.36 billion (up 23%; 6% organic), record diluted earnings per share of $2.90 from continuing operations (up 28%), and a record consolidated segment operating margin of 27.5%. Management credited strong commercial aerospace demand, a steady recovery in power markets, and top- and bottom-line contributions from TIMET. The firm's commentary continues to be very positive, and the following is what management had to share about the outlook for each of the firm underlying business segments:
Investment Cast Products: "Going forward, accelerated sales gains will be driven by further demand from production rate step-ups on existing platforms, continued frequency of takeoffs and landings, and the segment's increased penetration on the new development engines for re-engined narrow-body aircraft platforms, which are scheduled to ramp up quickly into full production."
Forged Products: "Similar to Investment Cast Products, the segment is well-positioned to benefit from ramps in commercial aircraft build rates and the acceleration of the new re-engining narrow-body platforms."
Airframe Products: "From a performance point of view, the segment is successfully moving higher volumes over an improving cost structure and is rapidly integrating new acquisitions into the overall operations."
Our thesis regarding Precision Castparts' potential for significant operating margin expansion remains intact (notice it set a record in that department this quarter). We're huge fans of CEO Mark Donegan and his demonstrated ability to continue to take costs out of the business. Valuentum members should be aware of our well-documented positive view on the burgeoning aerospace cycle. Precision Castparts remains a core holding in the portfolio of our Best Ideas Newsletter.
"At this moment in time, the opportunities for this Company are better than ever." – CEO Mark Donegan, today (October 24, 2013).