First of all, we'd like to thank you for your ongoing support and wonderful emails about the performance of the dynamic duo today: Google (GOOG) and Baidu (BIDU), two holdings in the portfolio of our Best Ideas Newsletter. We very much appreciate your kind words. Though we (and hopefully all of our members) have profited greatly from these two behemoths in the 'Internet Content & Services Group,' we could have done a better job alerting you to Facebook's recent meteoric rise.
Today, we've raised our fair value estimate of Facebook (FB) to $76 per share (the high end of the fair value range is now $93 per share) as a result of more optimistic assumptions related to the firm's opportunity in mobile and an even more rosy upside scenario that we have previously outlined on the website as 'Facebook Manages to Become the New Internet.'
From an analytical standpoint, the upside scenario is incredibly difficult to model given the substantial infrastructure changes that would be needed at Facebook and the resulting uncertainty of the timing of cash flows that would take place. However, in many respects, we think this potential upside scenario has a place within our valuation framework, as it is certainly reflected in Facebook's 55 times earnings multiple on 2014 earnings. Here's what we think Facebook might become within the next decade or so:
It is possible Facebook is the new Internet, and we don't even know it yet.
Though firms such as eBay (EBAY) and Amazon (AMZN) like to boast about how many users they have, the companies simply don't have the wealth of information and access to information that Facebook has. Facebook is composed of 900+ million users willingly sharing personal information about their tastes and likes/dislikes, while spreading word of mouth advertisements throughout their networks. Naturally, we think Facebook could enter e-commerce and revolutionize the industry. Under this scenario, eBay could potentially become a target for its PayPal platform.
Of course, this also assumes that users willingly go along with it. The technology may not be available yet, but we could see Facebook replacing traditional websites as e-commerce platforms.
Say a user is looking at a friend's pictures, and he notices a pair of shoes he likes on someone in the picture that he doesn't know. It might be uncomfortable to message the stranger and ask him where he got the shoes. Instead, a user can just click on the shoe, see it's a Nike (NKE) running shoe, and immediately add it to his cart (on Facebook) and order via Footlocker (FL), without ever leaving Facebook. Facebook then receives a processing fee or a fee for powering the site like GSI Commerce (a division of eBay).
Conversely, a different user can view shoes on Footlocker's Facebook page. Say she finds a pair of adidas soccer shoes she really wants, and Facebook has already processed orders and scanned uploaded photos to identify friends and other people who have previously purchased the shoe. She can easily access reviews or see a picture to see how they look on actual feet (maybe on her friend's foot). This brings a new social element to shopping that we've yet to really see on the Internet.
Facebook could become the hub for social and shopping. We think there's a chance that Facebook truly reinvents e-commerce.
Valuentum's Take
We're not rushing to add Facebook to our Best Ideas portfolio. We're quite happy with the performance of its industry peers, Google and Baidu, but we're not dismissing the upside possibility that suggests Facebook may still be undervalued, despite its nosebleed earnings multiple. If we do decide to get involved in Facebook, it would be in the form of an out-of-the-money call option.
We think the likelihood of a single-stock bubble in Facebook is equal to or perhaps even greater than that of InfoSpace (*) during the dot-com era. In the latter, InfoSpace was expected to become a monopoly in emerging wireless technologies, bringing the Internet to everyone's cell phone (making it the first trillion-dollar company). If the talk of Facebook possibly becoming the new Internet starts to expand across social media, the trajectory of InfoSpace's price increase may look minor to what Facebook could experience.
Remember, you read it here first.
(*) In this comparison, we're only talking about overly-optimistic projections and its pricing trajectory -- not any financial shenanigans.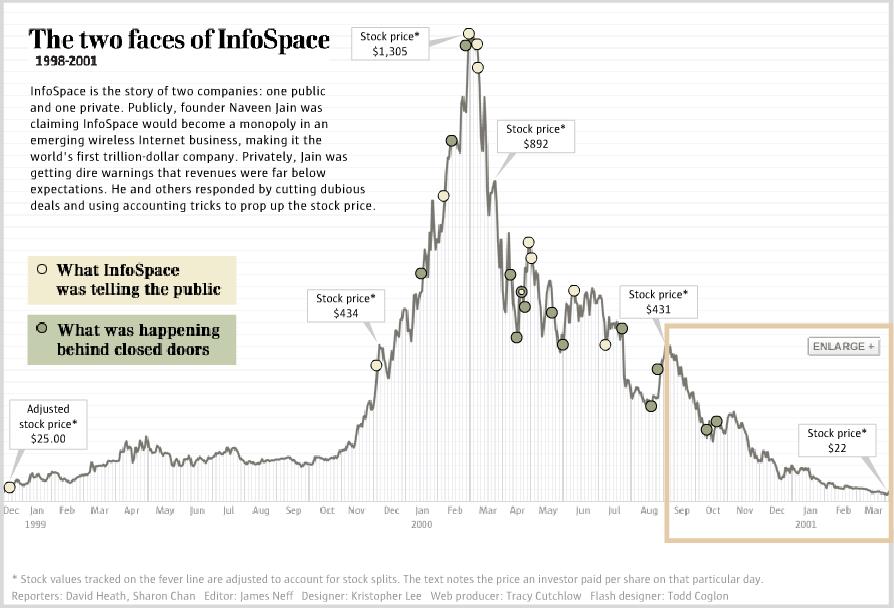 Image Source: http://seattletimes.nwsource.com/art/news/business/infospace/infospaceTimelineDay1_2_intro.swf