"How poor are they that have not patience!" – William Shakespeare, Othello
Dear Member:
If you've been following firms that have recently scored a 10 on the Valuentum Buying Index, and by extension, monitoring the holdings of our Best Ideas portfolio, Google's (GOOG) performance after-hours today is quite exciting. We like to use Google as an example of how we use our Valuentum Buying Index ratings in our portfolio management process. A read through our 'FAQ on the topic' hits on a number of important points we try to convey, but the Google example is perhaps the best one for a couple reasons.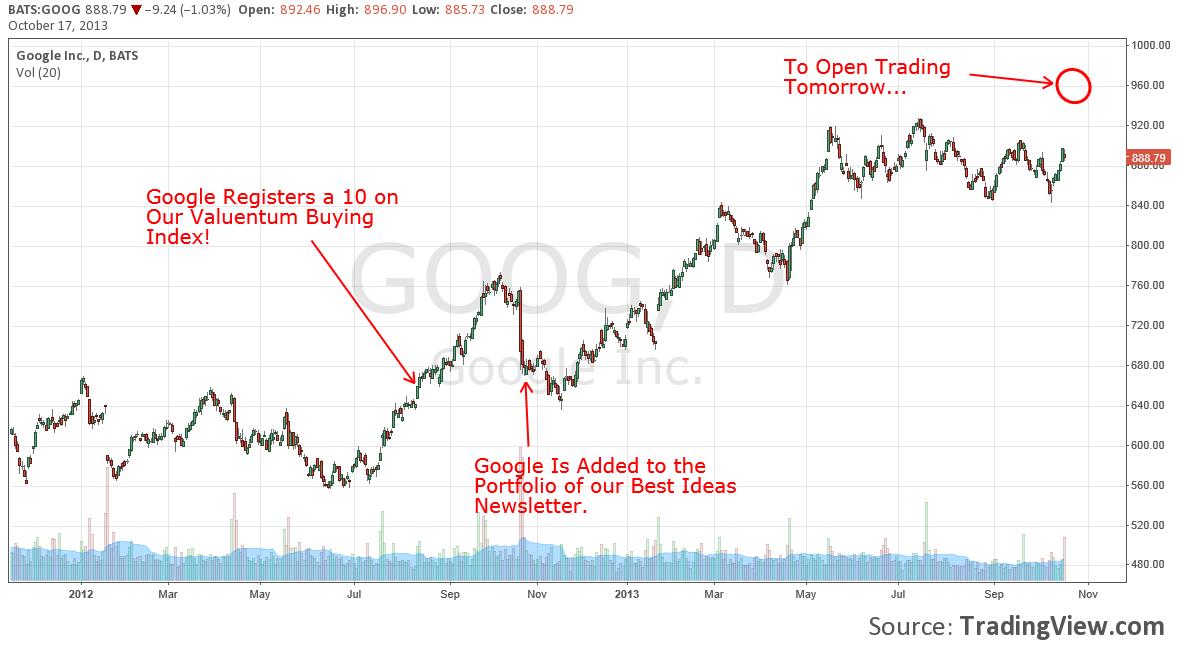 First, we received a number of membership cancelations to our service in October/November 2012 (last year) citing Google's performance after it registered a Valuentum Buying Index rating of a 10. Some of these ex-members even told me that it was unfortunate to have bought Google. We admit there was a move lower shortly after it scored a 10, but this is to be expected at times. Stocks are inherently volatile, and our time horizon for ideas to work out is over a 12-24 month period.
Second, you'll notice that we didn't immediately add Google to the portfolio of our Best Ideas Newsletter when it registered a 10. Just like a value manager doesn't own every stock that is undervalued in the market in his or her portfolio, we don't own in our actively-managed portfolios every stock that scores a high rating on the Valuentum Buying Index. Our Best Ideas portfolio and Dividend Growth portfolio have a portfolio management overlay that serves as a filter to allow only the best-of-the-best ideas to become holdings. Google scored a 10 on the Valuentum Buying Index in August 2012, but we didn't add it to our Best Ideas portfolio until November of that year.
We know we're not perfect. We do have a non-100% hit rate (number of ideas that we add to our Best Ideas portfolio that beat the market divided by number of firms that we add to our Best Ideas portfolio in all), but nearly all of our ideas have been working out wonderfully. Google, once again, continues to be a great illustration of the POWER of a 10 on the Valuentum Buying Index, as we outlined as much in the October 2012 (last year's) edition of our Best Ideas Newsletter.
Please be patient, our friends. Let's keep this fantastic performance going!
Brian Nelson, CFA
President, Equity Research
Valuentum Securities, Inc.
P.S. I couldn't resist including a link to Guns N' Roses Patience in this note. Stay well!