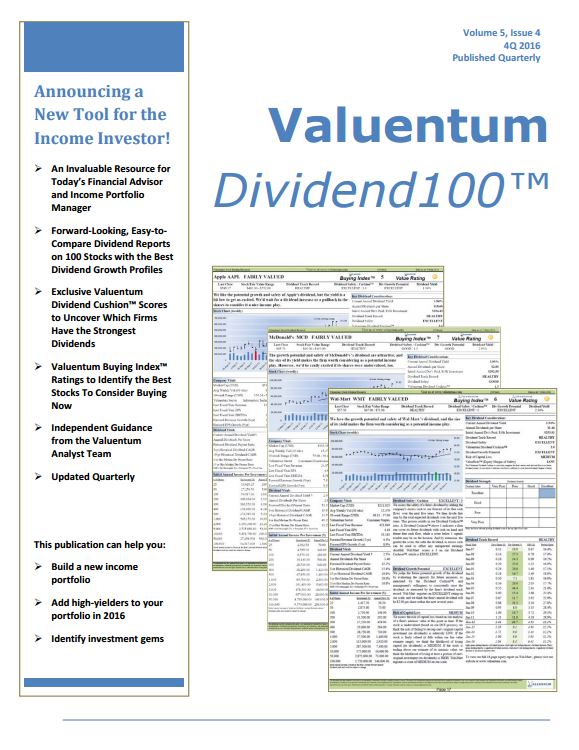 Dividend investors literally have thousands of income stocks to choose from. So what are they to do, and where can they go for the most trusted forward-looking opinions on dividend growth and safety? That's the question we seek to answer with our Valuentum Dividend100 publication.
In this document, we showcase the top 100 high-quality, dividend growth gems within our coverage universe. Whether you're looking to build a portfolio consisting of high-yielding, dividend-growers or simply seeking to augment it with a few income gems, the Valuentum Dividend100 is an essential resource for any income investor. We outline some of the key components of our Dividend100 publication below, and explain how you can get the most from each of one
Sign Up for our Advisor Suite Membership and Get This Quarterly Publication as Part of Your Subscription!
Our Dividend Methodology – the Valuentum Dividend Cushion™ (VDC)
As followers of Valuentum know, all of what is known is in the past, and all of what has value is in the future. This truism is especially relevant for income investors. Though we give credit to firms that have strong track records of increasing their dividends in decades past, we care more about dividend-growth gems that have both the capacity and willingness to raise their dividends long into the future. At the beginning of this publication, you'll find several articles that explain the relevance and importance of Valuentum's innovative, forward-looking dividend methodology to income investors interested in uncovering high-yielding, dividend growth stocks in today's volatile market.
Company Index, Yield Table, VDC™, and VBI™ Rankings
Before you dive into the latter pages of this expansive document, it may be useful to first start with the company index, yield table, Valuentum Dividend Cushion™ (VDC) rankings, and Valuentum Buying Index™ (VBI) rankings at the front of this publication. The company index showcases some of the most important information about the firm: its industry, investment style, market capitalization, etc. And the yield table ranks firms based on their current annual dividend yield, helping you quickly identify the top high-yielders with the greatest prospects for long-term dividend growth. Firms that top our Valuentum Dividend Cushion™ scale have the greatest capacity for future dividend growth, in our opinion.
Although there are a plethora of companies that have higher annual yields than those at the top of our yield table, we're fine with that. As many investors know, firms can often become cheap for good reasons. That is, they are not trading cheaply because of Mr. Market's irrational behavior, but instead are trading at depressed levels due to deteriorating underlying fundamental characteristics that actually justify its current share price, even if traditional valuation techniques (read multiple analysis) suggest the firm's shares are inexpensive. On a similar note, firms that boast high dividend yields may do so because the market has little confidence in the sustainability of its dividend and believes a cut may be just around the corner.
In this publication, we want to make sure that the firms we include have the strongest dividend profiles (with respect to dividend growth and safety) and can deliver on their respective outsize payouts long into the future. We also show how these top dividend-paying firms stack up on our innovative Valuentum Buying Index™.
Forward-Looking Dividend Reports
In the heart of the Dividend100, we provide our forward-looking dividend reports of the top 100 high-quality, dividend-growth gems within our coverage universe. Each page is filled with valuable information about the company in general and its dividend more specifically, including but not limited to our assessment of its growth potential and safety (as well as its VDC™ score). Plus, we don't use fancy language, but instead scale our assessment of each company's dividend profile in easily-understood terms (Excellent, Good, etc.).
We also provide future estimates of a firm's annual dividend payout. In many cases, we may have a different view of a firm's dividend growth potential than what may be widely held in the investment community. That's fine by us, as our dividend-growth investment horizon is often longer than others. We want to make sure that the firm has the capacity and willingness to increase the dividend years into the future and will not be weighed down by an excessive debt load or cyclical or secular problems in fundamental demand for their products/services.
If at any time, you need further explanation about a data point in our reports, please refer to the Glossary at the end of the publication for more information. Or contact us at info@valuentum.com.
Sign Up for our Advisor Suite Membership and Get This Quarterly Publication as Part of Your Subscription!