Valuentum's subscriber base enjoys reading the latest and greatest investing books. As a result, Valuentum requests and receives business and investing books before they are officially released. Our editorial staff took a look at the following book, and here's what we thought after reading it:
The Vigilant Investor: a Former SEC Enforcer Reveals How to Fraud-Proof Your Investments
By Pat Huddleston. AMACOM, 2011. 256 p. ISBN 978-0-8144-1750-8.
Book Release Date: October 25, 2011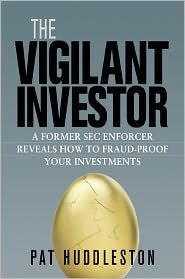 With the misdeeds of Bernie Madoff still fresh in our minds, this humorous yet insightful look at how to protect yourself from scams and con men is sure to be a hit. Divided into two parts, part 1 covers all aspects of investment fraud, while part 2 focuses specifically on the US securities industry. Huddleston (CEO of Investor's Watchdog and former SEC Enforcer) provides examples of fraud followed by "Due Diligence for the Vigilant" at the end of each chapter, which is where he shares tips and strategies including doing your homework before investing, checking the credentials of your advisor, and really understanding how money is made in the investment instead of being blinded by fancy financial jargon. As Huddleston says, "if your investment advisor spends money like a trust fund baby on a weekend shopping bender, he is spending your money, not his own" and that is reason enough to be vigilant.
Valuentum's Take: This book should be required reading for investors. According to Huddleston, "the FBI estimates that Americans lose $40 billion annually to investment fraud." The SEC does not have the manpower to catch all of these criminals, nor does it have the authority to punish them. The investor has to find a way to look beyond the easy answers and do their own due diligence – which can save them and countless others from losing their savings.
Come back to Valuentum to check out the review on our next business and investing book!