Actionable and Forward-Looking ETF Ratings
At Valuentum, we think the best exchange traded funds (ETFs) are those that have low or reasonable expense ratios, have positions that are collectively underpriced, and are showing bullish technical and momentum indicators. In each ETF report, we provide a bird's eye view of the category and assess each underlying ETF in terms of its valuation, timeliness, and cost of ownership. Please select the image below to download a sample report.
<< Become a Valuentum Subscriber Today!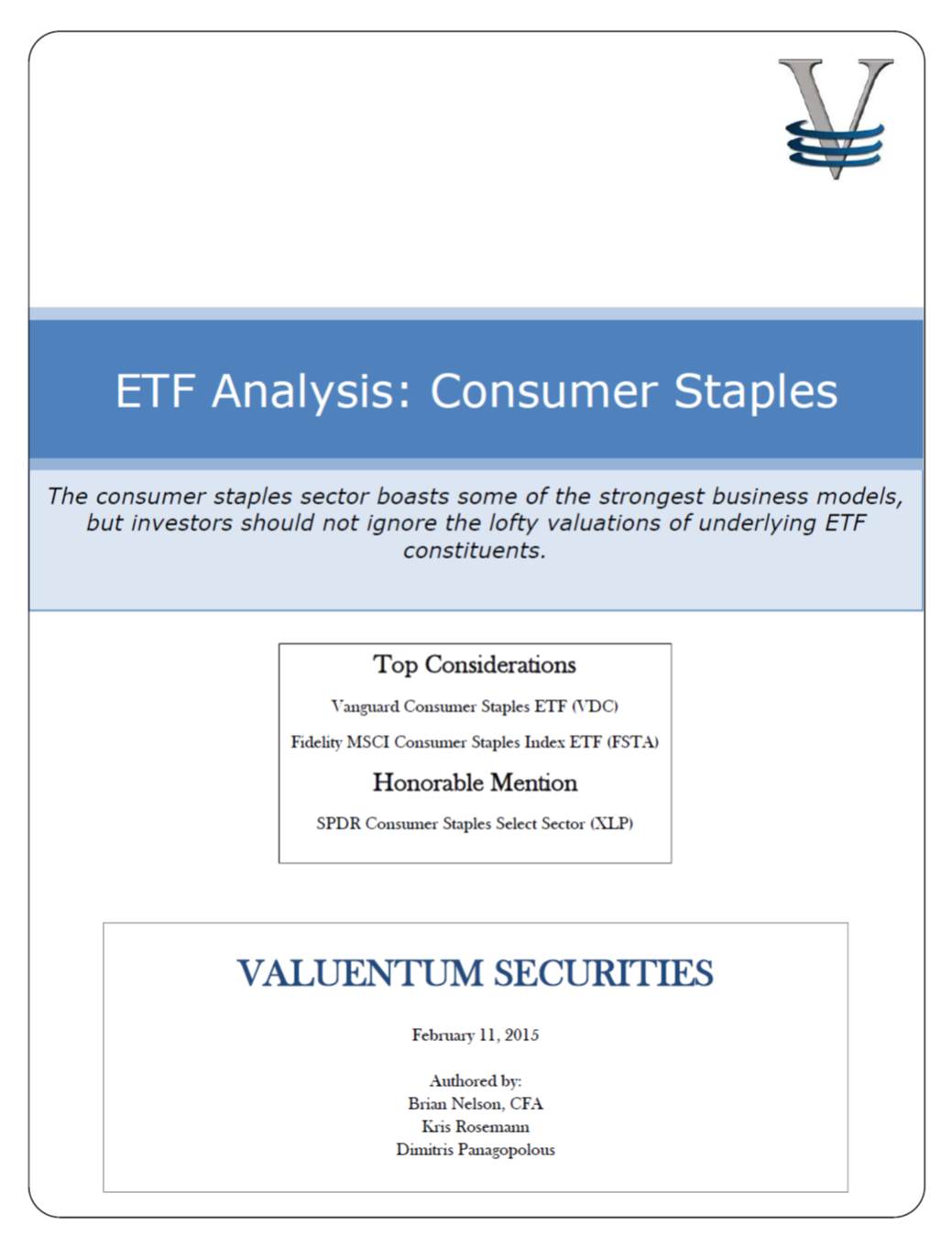 In addition to ETF analysis, with a subscription to the website, you gain access to all of our in-depth stock and dividend reports, premium commentary/articles on our site, receive the our market-beating Best Ideas Newsletter and Dividend Growth Newsletter in your inbox every month (including email transaction alerts), and have access to our analyst team.
If you're new to the site, please be sure to also access our stock research (click here) and dividend research (click here) as part of your membership. Our stock and dividend reports together provide a complete picture of each firm's investment potential, from value through income through momentum strategies. To request a report of an ETF we do not currently cover, please contact us.
--------------------------------------------------
About Our Name
But how, you will ask, does one decide what [stocks are] "attractive"? Most analysts feel they must choose between two approaches customarily thought to be in opposition: "value" and "growth,"...We view that as fuzzy thinking...Growth is always a component of value [and] the very term "value investing" is redundant.
-- Warren Buffett, Berkshire Hathaway annual report, 1993
At Valuentum, we take Buffett's thoughts one step further. We think the best opportunities arise from a complete understanding of all investing disciplines in order to identify the most attractive stocks at any given time. Valuentum therefore analyzes each stock across a wide spectrum of philosophies, from deep value to momentum investing. And a combination of the two approaches found on each side of the spectrum (value/momentum) in a name couldn't be more representative of what our analysts do here; hence, we're called Valuentum.
--------------------------------------------------
Valuentum has developed a user-friendly, discounted cash-flow model that you can use to value any operating company that you wish. Click here to buy this individual-investor-friendly model now! It could be the best investment you make.
--------------------------------------------------
Our Best Ideas Newsletter and Dividend Growth Newsletter are for information purposes only and should not be considered a solicitation to buy or sell any security. Valuentum is not responsible for any errors or omissions or for results obtained from the use of our newsletters, reports, and other publications and accepts no liability for how readers may choose to utilize the content. Valuentum is not a registered investment advisor and does not offer brokerage or investment banking services and adheres to professional standards and abides by formal codes of ethics that put the interests of clients and subscribers ahead of their own. Valuentum, its employees, and affiliates may have long, short or derivative positions in the stock or stocks mentioned on this site.