Long-term investing is a great proposition. You have an incredible advantage over most professional investors that have to deliver on a quarterly or annual basis. The reason is due to something called time horizon arbitrage.
For example, where most professionals are focused on near-term economic data or near-term earnings, you can focus on how the broader earnings trajectory might look like in 2022 and beyond.
I think we'd both agree that the economic data or earnings performance for the remainder of 2020 won't matter much when we turn the calendar to 2021 in just a few months--and in 2021, the market will be looking at 2022 numbers.
Markets will always be forward-looking, and stocks are long-duration financial instruments. Here is what I wrote in the second edition of Value Trap:
Stock prices and returns will always be driven by future expectations, and this fact was illustrated yet again by 1) the stock market's crash during February/March 2020 as investors began to incorporate future expectations corresponding to the impact of COVID-19 on fundamental performance, and 2) the stock market's considerable bounce back on news of aggressive Fed and Treasury support, which fundamentally served to inflate the value ascribed to later phases of the enterprise valuation construct...

The impact of lower interest rates and increased pricing/inflation expectations on the long-duration component of equity value is worth emphasizing in a simple hypothetical example. Let's assume the market expects a company to generate $100 million in enterprise free cash flow in 2030, ten years from now. At a simple discount rate of 10%, that $100 million is worth $38.6 million today. Let's now assume the discount rate falls to 5%. That $100 million is now worth $61.4 million today. The value of that long-duration cash flow in 2030 has increased nearly 60%, even though the market's expectations for the company to generate $100 million in enterprise free cash flow ten years from now has not changed. Importantly, the terminal/perpetuity value, or the value ascribed to the long haul or long-run continuing operations of a company, is not the stock price or value 10, 20 or 30 years from now, but rather it is a component of equity value today that impacts the price and value of the stock today.
---


The COVID-19 pandemic has all but shown it is not the current year's economic data, or next quarter's earnings, or last year's book-to-market ratio--as a few representative examples--that drive share prices and returns, it is the components of enterprise valuation (see page 108 of Value Trap for the key drivers behind the process of enterprise valuation)...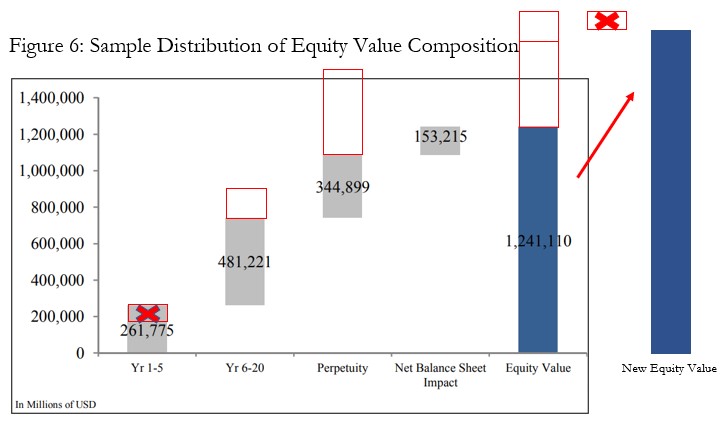 Image: Why are stock prices increasing while the near-term economy and near-term earnings outlook isn't as bright as before...How unlimited quantitative easing, runaway government spending, increased inflation expectations impact equity values...Why this year's earnings expectations or next year's earnings expectations don't matter much...Why Valuentum thinks equity values are rising today, even as the near-term outlook remains unclear. Scribbles on page 76 of Value Trap.
On June 12, I wrote a note explaining what I thought was a good fair value estimate for the markets. The S&P 500 is now trading at ~3,545, now within that fair value estimate range of 3,530-3,920 established in mid-June. Here is an excerpt of that note from June:
---
The Right Multiple
Many of you use multiples in your work, and that's fine, but I want you to understand the multiple that you are using. Every multiple expands into enterprise valuation, or a discounted cash flow model. So, for example, if you say you want to use 15x or 20x P/E to value the markets, there's a DCF model (and thousands of forward-looking assumptions) that back it up--you know, one of the themes of Value Trap. Where investors get into trouble is when they start throwing multiples on the market (and companies) and don't realize it is the DCF that drives the multiple and price.
There are bears on Wall Street, for example, that are merely throwing a 15x multiple on next year's expected earnings to come up with a ridiculously low S&P 500 price target. This approach makes absolutely no sense. For starters, stock prices are based on expectations long into the future, and Fed and Treasury policy have all but created an environment where higher multiples should be applied. In the image at the beginning of this article (the one immediately above), I show what is happening to DCF models (values and prices) today as it relates to both the impact of COVID-19 and aggressive Fed/Treasury policy stimulus.
As shown by the red adjustments, the near-term composition of the value of companies is declining (COVID-19 is depressing near-term earnings), but this reduction is more than offset by expansion in the intermediate and long-term values, which are driven more by normalized expectations, not the least of which is a lower discount rate (lower interest rates) and higher inflation (pricing power, growth) driven by Fed/Treasury actions. This means that the net overall value and price of equities is actually rising during this pandemic and recession.
Prior to COVID-19, for example, a 15-16x multiple on long-run normalized earnings (not next year's or the year after that) may have made sense, but today, perhaps an 18-20x multiple on long-run normalized earnings may be most appropriate. The multiple on this year or next year's earnings should then be astronomical. Don't worry about the talking heads on TV talking about lofty multiples on this year's earnings. Multiples on this year's earnings expectations should be enormous. With that out of the way, what are normalized earnings and how should we think about them?
The Right Earnings
Let's first throw out historical earnings numbers. Markets are forward-looking. You're not investing for last decade's dividend, are you? Good. That's why markets are forward-looking because you're investing for next quarter or next year's dividend (or dividend growth in the long run). Next, we know using this year's earnings or the year's after that doesn't make much sense. Just because a company has negative earnings doesn't mean it's worthless, for example. Therefore, we know there's a time element to valuation (as well as the balance sheet, etc) that we must embrace. So if not historical and if not next year's earnings, or the year's after that, what earnings should be put on that 18-20x multiple?
You guessed it: long-run normalized earnings (not peak, not trough, but normalized). We know the U.S. has managed to prevail through just about everything that has been thrown at it, and we expect COVID-19 to be no different. We already survived a prior pandemic early last century, which was far worse than COVID-19. We also know that pre-COVID-19 2021 earnings numbers (~$196), as shown below, were within reach and achievable, prior to the pandemic. It's reasonable to assume we're going to get back to those levels eventually, and as history has shown (even from the Great Recession), those pre-COVID-19 numbers might turn out to be low toward the middle of this decade, much like 2018 earnings numbers doubled from those in 2010 (see below). Therefore, on a conservative basis, we think the right normalized earnings number to use for a higher multiple is ~$196.