Valuentum Investment Research Services for Institutions
From building out your firm's valuation infrastructure through performing research on under-followed investment ideas, Valuentum is equipped to meet all of your institutional research needs. Only with Valuentum can you get an independent, insightful systematic equity evaluation process that combines a rigorous discounted cash-flow and relative-value methodology with the critical importance of timeliness via technical and momentum indicators. We not only strive to identify undervalued equities at the best time to buy, but we also help you avoid value traps and the opportunity cost of buying a great company at the most inopportune time.
<< Contact Sales for Pricing Information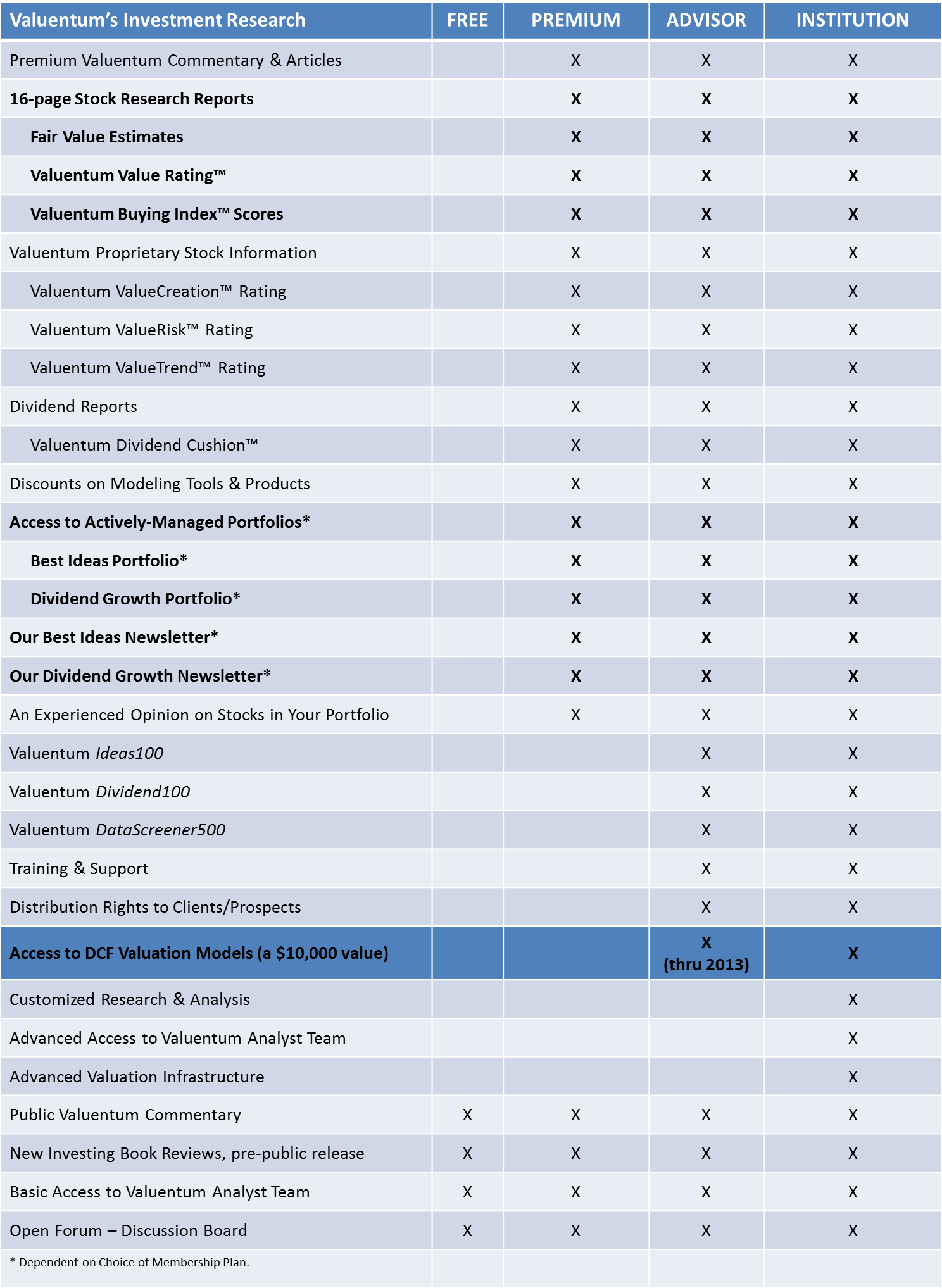 Valuation Models
We offer institutional investors (and those that sign up to our annual financial-advisor package before the end of 2013) fully-populated discounted cash-flow models that contain at least three years of historical financial detail and five years of future explicit forecasts. Institutional and financial-advisor subscribers can access models on companies spanning our entire stock coverage universe to evaluate future estimates, or alter key inputs to generate a customized fair value estimate.

Our model, built by Brian Nelson, CFA, who has developed valuation models and has trained hundreds of financial analysts for such large organizations as Morningstar, is academically sound and professionally-tested and includes a three stage process, with fading returns on new invested capital to a company's cost of capital over time (competition will eat away at returns over time causing economic profit creation to cease). Other research firms charge as much as $5,000 to $10,000 for such access, but we offer complete access to our in-depth valuation models for a fraction of that cost.

Market-beating, Actively-managed Portfolios

We offer ongoing access to our market-beating Dividend Growth portfolio and Best Ideas portfolio. Both portfolios are actively-managed by Brian Nelson, CFA, President of Equity Research, and represent the cream of the crop in terms of investment ideas for income and opportunistic investors, respectively. The returns of both portfolios continue to outperform their respective benchmarks.
Best Ideas Newsletter
Each monthly issue of our Best Ideas Newsletter reveals our best picks and pans constructed in a portfolio. We write commentary associated with the companies in our portfolio or stocks in the news and notify you immediately via email if our thoughts or opinions have changed on any company or position in the portfolio. Consistent with our investment methodology, the Valuentum Buying Index, our best ideas may span investing disciplines, market capitalizations and asset classes in order to maximize the return while minimizing the risk of the portfolio.
<< About Our Best Ideas Newsletter
Dividend Growth Newsletter
At Valuentum, we seek to deliver to our institutional customers the very best of investment ideas. And our Dividend Growth Newsletter does just that for income investors. In each monthly edition of our newsletter, we provide a portfolio of the best dividend growth stocks that we think will generate a safe and growing stream of cash flows in your portfolio, as well as a forward-looking assessment of the dividend safety of hundreds of firms through our innovative, predictive dividend-cut indicator, the Valuentum Dividend Cushion™. We also provide commentary and analysis about the firms we hold in our portfolio and on any new dividend growth ideas for you to consider. Helpful screens that overlay our Valuentum Buying Index™ with dividend-payers that have safe and growing dividends are provided, and we send email alerts notifying you of any changes we may make to our portfolio.
<< About our Dividend Growth Newsletter
In-depth Equity Research Reports
In our 16-page equity reports, we offer a fair value estimate for each company, opine on the attractiveness of the stock based on a firm-specific margin of safety assessment, and provide a relative valuation comparison in the context of the company's industry and peers. Each report includes detailed pro forma financial statements, explicit fundamental forecasts, and scenario analysis. A cross section of our ValueCreation and ValueRisk ratings provides a financial assessment of a company's business quality (competitive position), while our ValueTrend rating offers insight into the trajectory of a firm's economic profit creation (ROIC versus WACC). Included in each report is a firm's score on our Valuentum Buying Index (VBI), which combines our rigorous financial and valuation analysis with an evaluation of a firm's technicals and momentum indicators to derive a score between 1 and 10 for each company (10=best). We believe our methodology helps identify the most attractive stocks at the best time to buy, helping to avoid value traps and lagging performance due to the opportunity cost of holding a stock with great potential but at an inopportune time.
<< View a sample company report
Insightful, Forward-looking Dividend Reports
At Valuentum, we understand the critical importance of income for the dividend investor. As a result, we've developed the most comprehensive dividend analysis out there. As a supplement to our 16-page stock reports, our dividend reports assess the safety of a firm's dividend through our Valuentum Dividend Cushion™ ratio, the potential growth of a firm's dividend by evaluating its capacity and willingness to increase the dividend, the historical track record of the company's dividend performance, and the overall strength of the dividend by putting all of this analysis together. Each report offers our estimate of the future growth rate of the firm's dividend. No other research provider does the type of in-depth analysis that we do for our subscribers.
<< View a sample dividend report
Valuentum Ideas100
We provide our Valuentum Ideas100 publication to you. In each quarterly edition, we highlight 100 of the highest-quality stocks in each of the major market sectors to help you generate new ideas for a diversified portfolio. Companies that make the publication are best-in-class within their respective sectors based on our assessment of their competitive position and underlying business risk. Though quality is our first consideration in this publication, firms that make this expansive report can also be undervalued on the basis of our rigorous, discounted cash-flow process.
<< About our Valuentum Ideas100
This quarterly publication puts the top 100 high-quality, dividend-growth gems at your fingertips. We believe the Valuentum Dividend100 to be a must-have for any income portfolio manager.
<< About our Valuentum Dividend100
Valuentum DataScreener500
You'll receive our proprietary data and metrics for 500 of the top firms in our equity coverage universe to help you pick and screen the best stocks for either you or your clients. Our Excel-based data feed and screener runs the gamut of Valuentum data points from our estimated fair value, price-to-fair value, Valuentum Buying Index to normalized earnings and EBITDA and a variety of technical and momentum measures. All stocks can be sorted by any key metric to uncover hidden investment gems.

<< Order the Valuentum DataScreener500
Customized Research & Analysis
We offer customized research solutions (analysis and reports) to meet your every need. Our customized reports include an assessment of a firm's competitive position, valuation, risk, stewardship, scenario analysis, and a variety of other customized analytical parameters. Our research is completely independent and focuses on addressing all of your questions, regardless of your methodology or investment process.
Analyst Access
Institutional investors have access to the Valuentum Analyst Team, including President and newsletter editor, Brian Nelson, CFA. Most conversations center on industry insights and firm-specific valuation assumptions.
Advanced Valuation Infrastructure
Valuentum has experience building out the discounted cash-flow valuation infrastructure of some of the largest independent research providers in the world. Further, our institutional clients depend on us for our valuation expertise and rigorous, yet easy-to-use, platforms. We build to suit, and we've yet to meet a dissatisfied customer.
Training and Support
All Valuentum institutional services are supported by highly-trained staff that is available from Monday through Saturday, including market holidays. Valuentum also offers training sessions to help you get the most from your institutional subscription. Call or email with questions.
----------------------------------------
Contact a Sales Representative
To learn more about our institutional offering and our process, please view the narrated slide show below, or contact us to speak with a sales representative.